Some technical questions we've received about the Pages product are answered below. For more information about Pages, refer to the Pages Overview module on our Help Site, or contact your Client Success Manager.

What is the high-level architecture of the Pages product? Where is it located?
The content in Yext's Knowledge Graph (KG), along with the infrastructure used to generate and publish pages, is served from a private data center in New Jersey. When pages are published, the relevant data are pushed into S3 buckets in multiple redundant global regions and cached by our CDN, Cloudflare.
When a consumer visits a page, their browser loads its pre-built HTML from the Cloudflare CDN cache. This architecture lowers page-load latency to ensure that your web pages are delivered to consumer devices with minimal delay.
The only time that the page-serving infrastructure is in contact with the Knowledge Graph is when pages are being published or updated. As a result, page availability is not dependent on KM availability.
How are HTTPS certificates managed?
HTTPS certificates are generated and managed through Cloudflare. When a subdomain is registered in the Pages UI, HTTPS certificates are automatically created and deployed.Because Cloudflare detects that the subdomain has been pointed at Yext servers in DNS, HTTPS certificates can be authorized and renewed without the need for any human intervention.
What kind of monitoring does Yext have on Pages?
Yext uses third-party and proprietary software to monitor all live pages. We track and keep historical records for page-availability metrics like uptime, latency, and timeouts.
If any abnormalities are detected, alerts are pushed to appropriate in-house Engineering teams for review. Critical issues are escalated to a 24⁄7 on-call rotation that handles emergencies immediately.
Do we provide reporting from our monitoring systems to customers?
Currently, we do not surface reporting from our internal monitoring systems to customers. However, customers can visit https://www.yexttrust.com/ to view the operational status of the Pages Serving system. From this page, users can subscribe to receive status-update notifications, view upcoming scheduled maintenance periods, and access incident-history logs. Incident reports show the current status of any ongoing system-level events and include postmortem analyses upon incident resolution.
Can customers run regular vulnerability scans on their Pages?
Yes, customers can run their own vulnerability scans on the pages they create with Pages. However, customers should alert Yext before running any scans so that we can anticipate and handle any potential side effects.
What should customers do if they are experiencing problems while publishing pages?
Your Client Success Manager is the first line of defense for any Pages-related issues. If needed, your CSM can escalate urgent problems to Yext Support.
Will Yext drop cookies on our site?
Cloudflare will drop a necessary cookie on your Pages (to protect against malicious visitors) and Yext will include a tracking pixel (to calculate consumer traffic provided Pages have been built by the Yext Consulting team and they have a standard configuration). For more information, see Yext's Data Processing Agreement.
Additionally, if you decide to use Conversion Tracking and enable it on your Pages, you will be walked through the steps to select your desired cookie settings and both technical information and usage will be tracked. For more information on Conversion Tracking and privacy, see How to Respect Data Privacy with Conversion Tracking and Yext's Data Processing Agreement.
Does Yext collect personally identifiable information about Page visitors?
The Cloudflare necessary cookie and the Yext tracking pixel will collect IP addresses which are kept for a limited period. Note there is no matching of IP addresses to any other personal data about consumers. For more information, see Yext's Data Processing Agreement.
Do I need to update my firewall settings for Yext Pages
This depends on the firewall. Some firewalls operate on an allow-list basis as opposed to a block-list.
The Page Builder Live Preview is an iframe serving content from an actual domain, as illustrated below: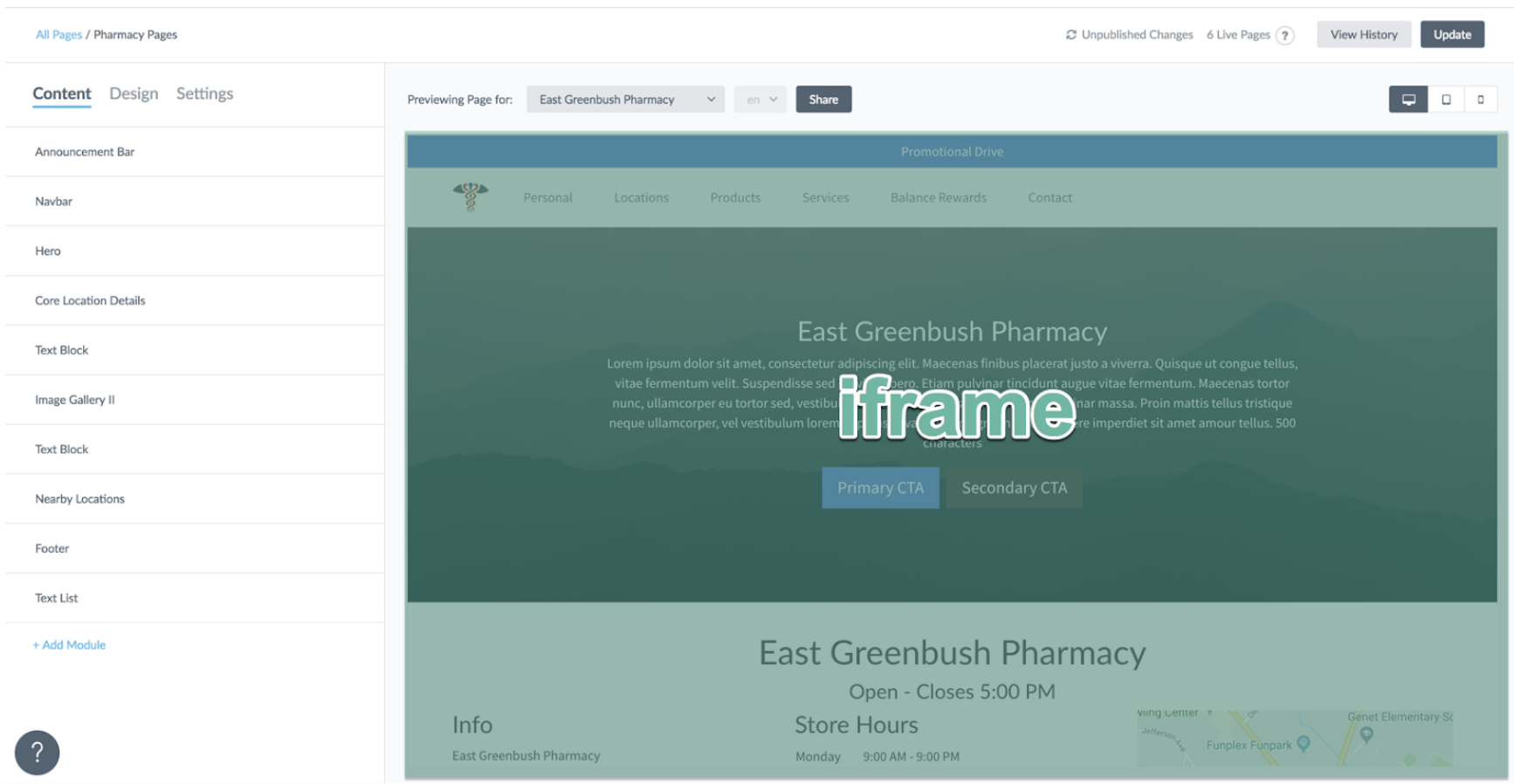 If your firewall does not allow the domain of our preview, you may see something similar to one of the images below. If you see either of those scenarios, you will need to explicitly whitelist the following domain: *.landingpagespreview.com.