Escalate Listings
| Yext Hitchhikers Platform
What You'll Learn
In this section, you will learn:
When to escalate Not Synced listing issues to Support
How to escalate Not Synced listings
Process overview and what to expect
---
Escalating Issues
Sometimes you may need more help troubleshooting listing issues. If that happens, our Support team and Publisher Operations teams are here to help you make the most out of your investment. If you've purchased Premier Support, you can select one or more listing that isn't synced in the table on the All Listings page and click More Actions > Escalate Issues.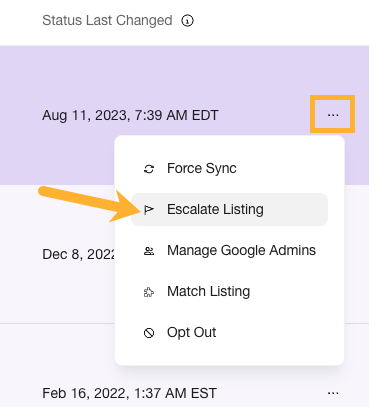 What happens when you escalate an issue?
When you choose to escalate an issue, we'll provide information on what will happen to each listing you chose to escalate. For example, it may look something like this:
It is important to review the information in the dialog box, as this will tell you how many listings will be sent to Yext, how many require your input to resolve, how many are not actionable, and how many have already been escalated.
Only Yext-actionable issues will be sent to Yext. So in the example above there are 374 total not sycned listings, 56 require customer action, 245 are not actionable, and 0 were already escalated, so 73 issues will be escalated to Yext.
Once issues are escalated, it will display an Issue Escalated message under the Not Synced status for each escalated listing. The Issue Escalated indicator will reset once the listing status is updated. Until the indicator is reset, listings can only be escalated once.
Basically, we'll triage the selected listings into the following buckets:
Will be sent to Yext: Escalated Issues to be sent to Yext.
Require your input to resolve: Listings that require your input, not Yext's, to resolve. These tend to be data issues that must be fixed in Content or Linked Account Issues.
Are not actionable: Unactionable Listings are left as-is since there is no action to take.
Were previously escalated: Issues that have already been escalated and are still under review
Our team will then get to work on any of the Escalated Issues sent to Yext. The resolution time varies greatly. If the issue is something that is under our control, it could take 1-3 days to resolve. If the issue is something that the publisher must fix in their systems, it could take days or weeks to resolve. You can check in with the Support team or your Client Success Manager on the ticket if you have any questions.
Daily Quiz Streak:
0
Quiz Accuracy Streak:
0
Question 1 of 2

Which listings cannot be escalated to Yext? (Select all that apply)

Question 2 of 2

How can you tell if a listing has already been escalated?

Wahoo - you did it! 🙌

You've already completed this quiz, so you can't earn more points.

You completed this quiz in

1

attempt and earned

0

points!

Feel free to review your answers and move on when you're ready.
Sign up for Hitchhikers to start earning points!
If you're already a Hitchhiker, log in to access this content.
Feedback