Yext's Integration with Facebook
| Yext Hitchhikers Platform
What You'll Learn
In this section, you will learn:
What features we support for Locations
What features we support for Events
---
Locations
Yext's integration with Facebook supports the following features:
Listings Sync with Real-time Integration
Review Monitoring and Response
Listing Impression and Click Analytics
Data Suggestions for User Suggested Edits
User Content Post Monitoring
Posting
We are constantly updating the Yext platform to reflect new features in the Facebook Pages API. Some notable features that are not currently supported are:
Facebook Offers and Services
Video Syncing and Cover Videos
Listing Sync Integration details
As part of the Listing Sync capability, there are some Facebook-specific fields that can be updated in Yext, including:
Cover Photo: The header photo at the top of Page.
Profile Photo: Icon in the top left corner of the page. Updates to this field in Yext create a post on Facebook by default.
Facebook Call-to-action button: Facebook allows you to add a clickable Call-To-Action button to your Facebook location pages.
Facebook About: This allows you to send a short business description to Facebook. This allows users to sync an additional field to their Facebook listing and comply with any specific Facebook limitations.
Username: The username will appear in the Facebook listing URL to help customers find and remember a brand's Facebook page. This field can also be used for tagging the Facebook page in other users' posts, and searching for the Facebook page.
Additionally, the following general fields will also be synced to Facebook:
Description: A short overview of the business and its specialties or history. This syncs to the Facebook Additional Information field.
Emails: Contact Email Address. Note, Facebook will only accept the first email address listed.
Payment Options: Payments accepted at the location (e.g., Visa, Cash, etc.).
Photo Gallery: Various images (excluding the logo). Updates to this field in Yext create a post on Facebook by default.
Below is an image with examples of how these fields would appear on a Facebook home page: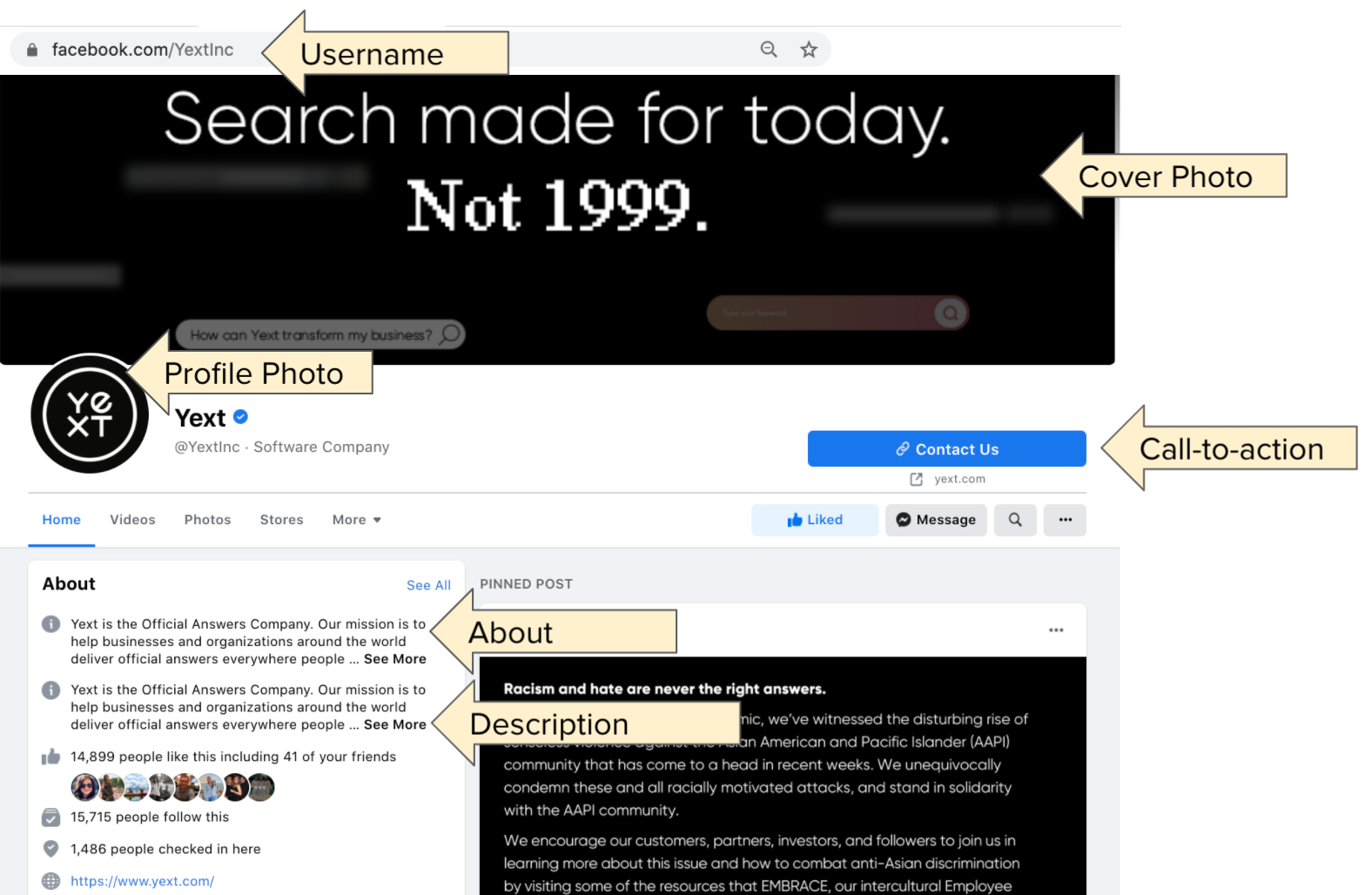 Events
For events on Facebook, you can include all of the relevant information including:
Name of Event
Description
Website
Ticket URL
Start Date and Time
End Date and Time
Location
On Facebook, all events will live on a "host" page, so when syncing events from Yext, you can choose which Page you want to sync your event to. This can either be a Brand page or a Location page that you're already powering through Yext.
Daily Quiz Streak:
0
Quiz Accuracy Streak:
0
Question 1 of 2

Yext's integration supports which of the following features? (Select all that apply)

Question 2 of 2

Which Facebook-specific fields can you update in Yext? (Select all that apply)

Wahoo - you did it! 🙌

You've already completed this quiz, so you can't earn more points.

You completed this quiz in

1

attempt and earned

0

points!

Feel free to review your answers and move on when you're ready.
Sign up for Hitchhikers to start earning points!
If you're already a Hitchhiker, log in to access this content.
Feedback