Search Implementation Process
| Yext Hitchhikers Platform
What You'll Learn
In this section, you will learn:
The Search Implementation framework
How each stage works
---
Overview of Process
This module should serve as an introduction to all things Search implementation, from configuration to optimization. Don't panic! It's a lot — we know, but by the end of this training track you'll be an expert on all things search. It may even help to re-read this module after you've had some hands-on experience to help reinforce a lot of the concepts and terminology. We are here to help you learn more not only about how the Search product works, but also the best way to implement it for your brand or customers.
At Yext, we've developed an implementation framework that takes you through five phases:
Strategy: This is where you kick off with your team or the customer to align on what you are going to build, KPIs, data sources, identify any other dependencies, and establish a timeline. You'll also spend time determining how to structure the Knowledge Graph and integrate Search in with the other products or initiatives happening.

Build: Once you have the Knowledge Graph set up, you can start building. You'll build out the Search Configuration in Search and the frontend in Pages. You'll customize the Experience to the brand's needs.

QA: You'll thoroughly test the experience both for search quality and UI issues. You may circulate this internally with your team to gather more feedback. You'll also want to test on multiple browsers and devices. Then, you'll hand it over to the customer or other stakeholders for feedback and iterate based on that. It may require collecting more data, adding or removing verticals, or adjusting the search configuration and/or frontend. Remember — you don't need to focus on answering every potential question through the Knowledge Graph during QA. While you should focus on getting the Graph as complete as possible, you can use search metrics post-launch to guide your content strategy to most efficiently answer questions people are looking for.

Integrate & Launch: Once everyone has signed off, you'll need to integrate the experience on the website. This requires integrating a search bar that calls the Yext experience and integrating the search results, which can either be hosted by a page on Yext or embedded on a page within an existing CMS.

Post-Launch Optimization: After launching, your job is not done, in fact it's just the beginning. Search requires continuous optimization. You'll want to review queries, score entity relevancy, and update the Knowledge Graph, Search Configuration or front end based on new user data and trends.
This is the Hitchhikers Lifecycle: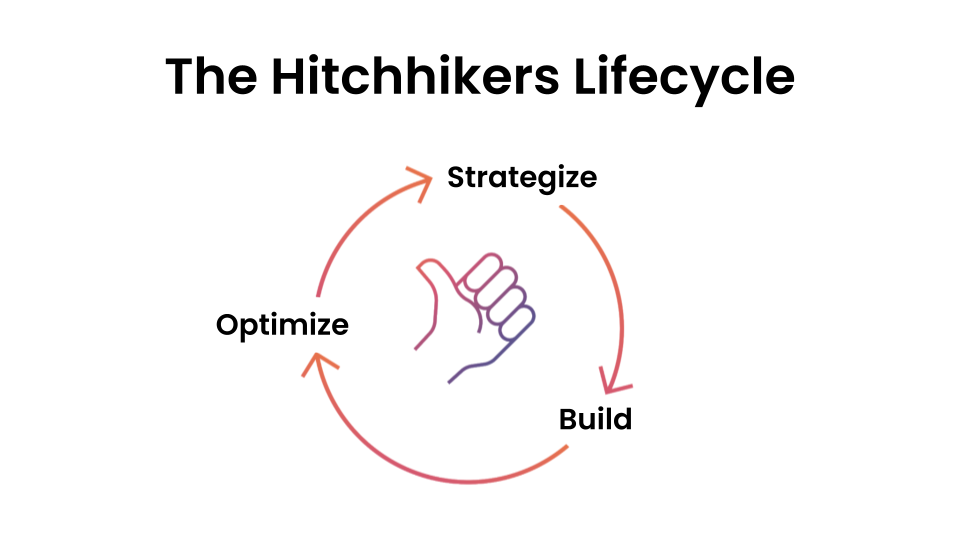 Throughout this training, you'll learn how to do each of these steps in the context of Turtlehead Tacos.
Daily Quiz Streak:
0
Quiz Accuracy Streak:
0
Question 1 of 3

What are the stages of implementation? (Select all that apply)

Question 2 of 3

What do you do in the QA phase?

Question 3 of 3

True or False: Once you've launched, you will not need to update your search experience.

You're a star! ⭐

You've already completed this quiz, so you can't earn more points.

You completed this quiz in

1

attempt and earned

0

points!

Feel free to review your answers and move on when you're ready.
Sign up for Hitchhikers to start earning points!
If you're already a Hitchhiker, log in to access this content.
Feedback