Ready to be your brand's hero?
Sign up to become a Hitchhiker and build skills that will enhance your career, get access to exclusive Yext resources, and be your brand's hero by driving consumer engagement.

If you're already a Hitchhiker, log in to access this content.
How to Navigate the Knowledge Graph
| Hitchhikers Platform
What You'll Learn
In this section, you will learn:
How to navigate around Knowledge Graph
Common UI elements
Common terms
---
Welcome to the Knowledge Graph
You've made it! The Knowledge Graph is where we store all of the entities about your brand and how they're related. The Knowledge Graph is the core of the Yext platform and understanding how to navigate around it is critical to your success in Yext. Before we get into learning about Entity Types, Fields, Data Modeling, Updating your Data in Yext, let's take a quick moment to make sure you know how to navigate around the Knowledge Graph.
Most Important Screens & Terms
There are a number of screens and terms that will be used throughout the Knowledge Graph. Feel free to refer back to this module if you see a term and you can't remember what it means.
Entity Search: Entity Search is the main screen you see when you click on Knowledge Graph. It is where you can search and filter for your entities, as well as initiate important actions like uploading entities, exporting entities or assigning services. The table you see here is a common Yext table with standard options to Advanced Filter, Show X Entities, and add Additional Columns. The left-side navigation helps you to know more about the entities in your graph at a glance, while also being able to quick-filter to entities.
Entity Edit: Entity Edit is the screen where you can see an entity's fields – or in the case of bulk edit, multiple entities at once. This screen is where you can edit the values for an entity's fields, or do things like Schedule Updates or manage Multi-Language Profiles.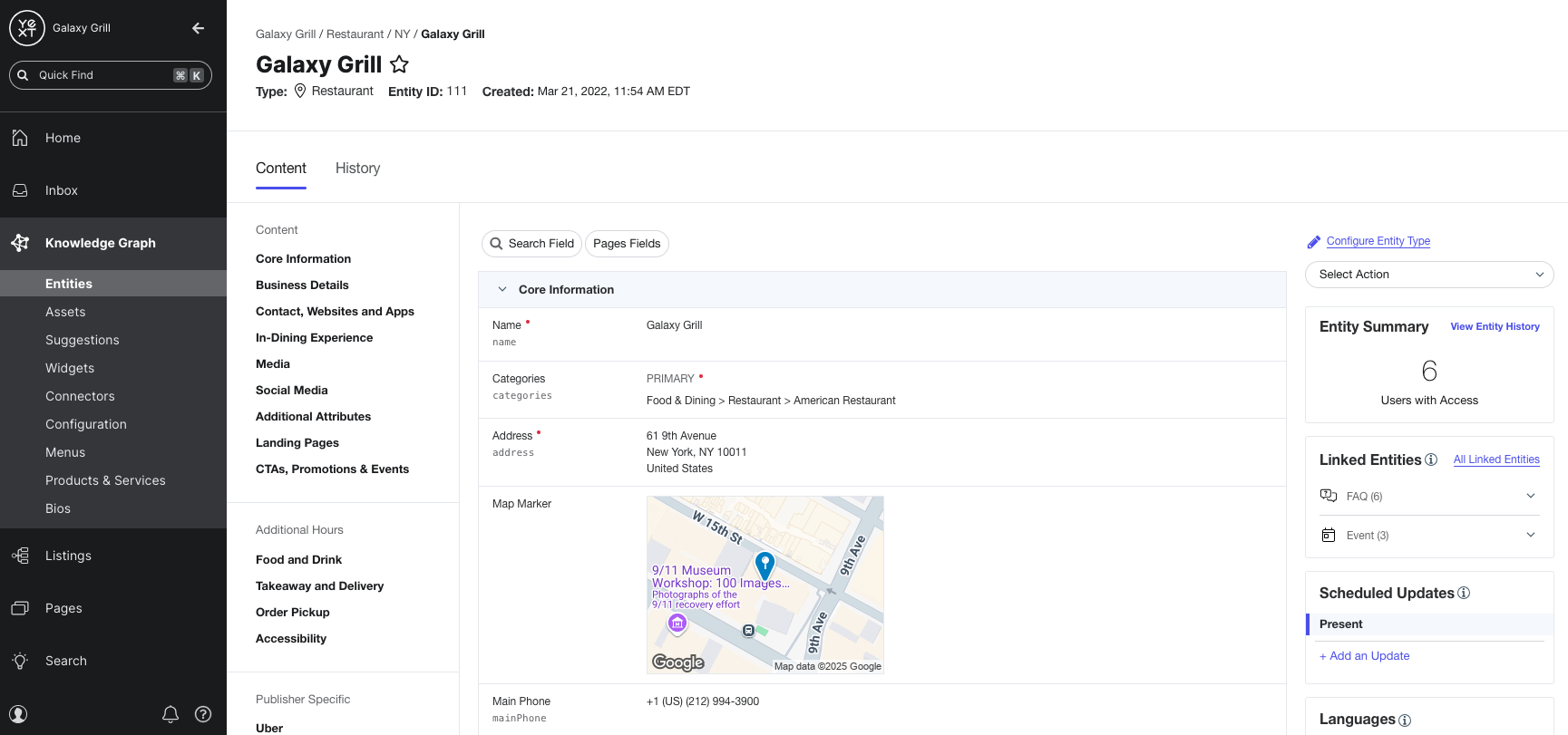 Enhanced Content Lists: Menus, Bios, Products & Services Enhanced Content Lists, or ECLs, are a way to send structured data around Menus, Products & Services, or Staff Bios to Listings (and at times, Pages). You will at times also store this data as Entities, all depending on your brand's requirements. If we refer to ECLs, remember that they're in the Knowledge Graph and typically used in conjunction with Listings. You can enable or disable these in the Account Features screen.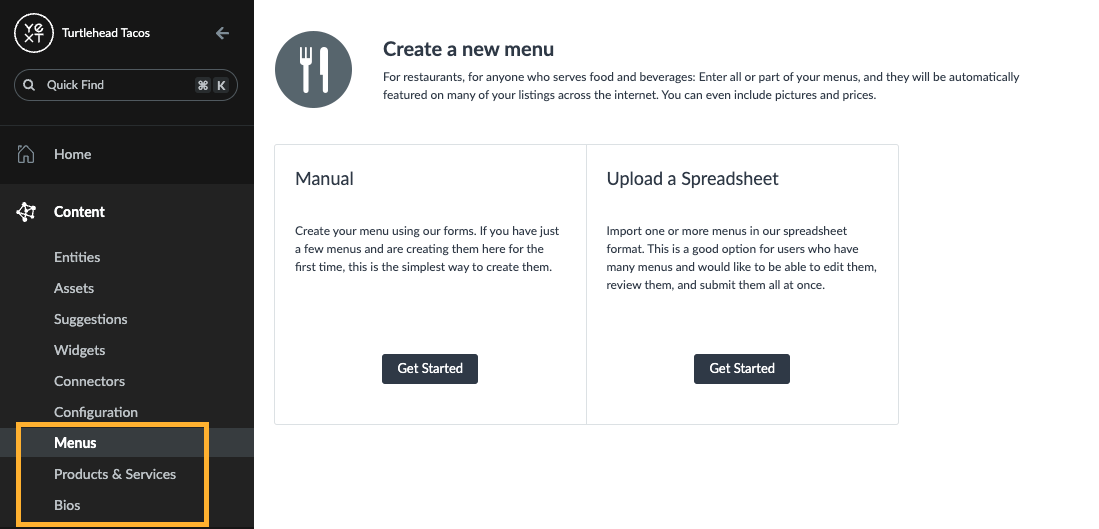 Other Sub-Tabs in Knowledge Graph: There are other sub-tabs in Knowledge Graph, like Suggestions and Assets.
Configuration Tab: You can find any configurations settings relating to the Knowledge Graph in the Configuration sub-tab.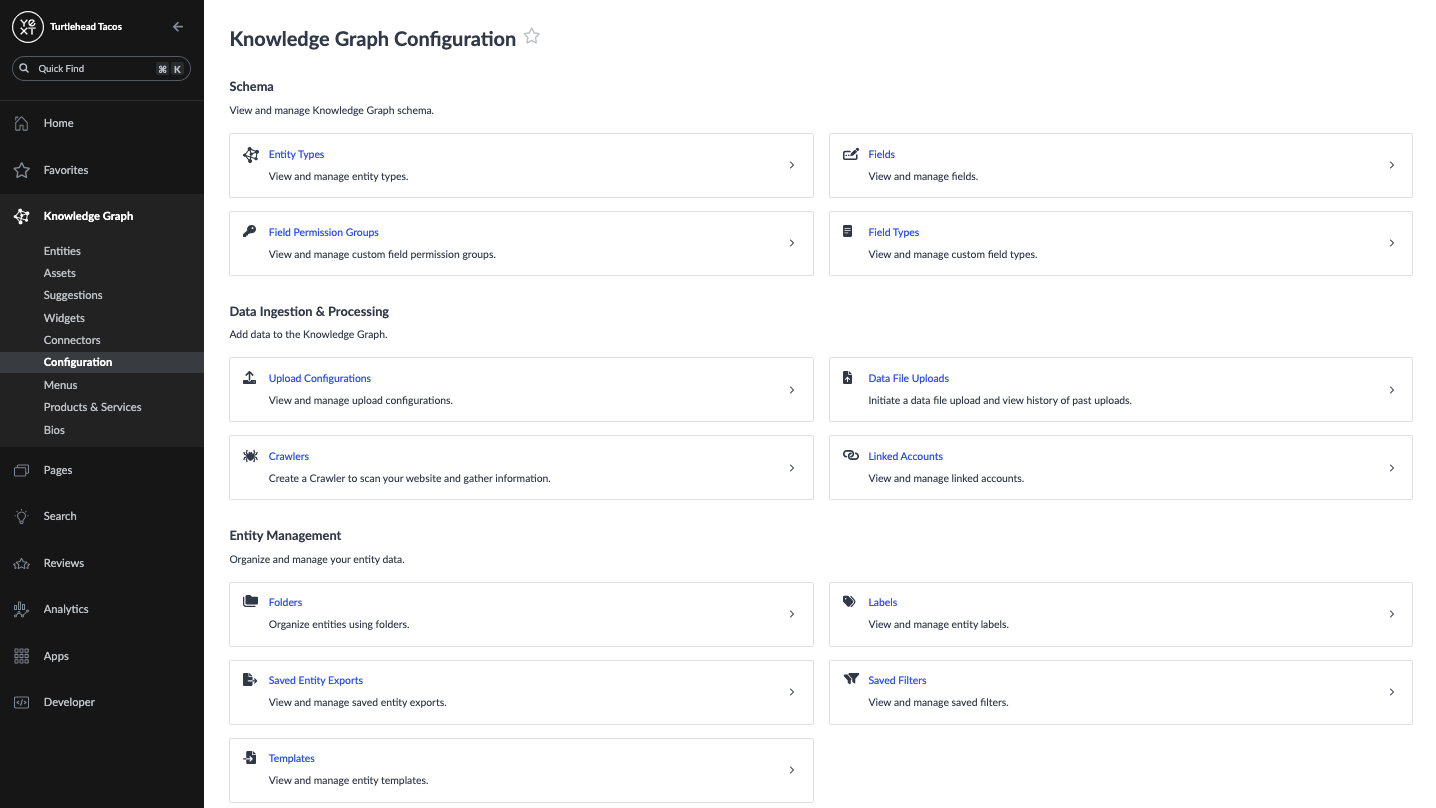 During this training, you will become very familiar with these screens. Feel free to click around and explore as you see fit.
Daily Quiz Streak:
0
Quiz Accuracy Streak:
0
Question 1 of 3

What is the main screen called when you click on the Knowledge Graph tab?

Question 2 of 3

How do you turn on ECLs (structured lists that are sent to Listings publishers)?

Question 3 of 3

What is Entity Edit?

Wahoo - you did it! 🙌

You've already completed this quiz, so you can't earn more points.

You completed this quiz in

1

attempt and earned

0

points!

Feel free to review your answers and move on when you're ready.