How Yext Helps You Build a Knowledge Graph
| Yext Hitchhikers Platform
What You'll Learn
In this section, you will learn:
Where the Knowledge Graph fits within Yext's Search Experience Cloud
High level capabilities of Yext's Knowledge Graph
How Yext's Knowledge Graph powers facts about your brand everywhere
---
Building your Knowledge Graph with Yext
Yext has created the Knowledge Graph so that businesses can store all of the public facts about their brands in a brain-like database that understands the meaning of, and is able to relate, different objects. Because of its semantic structure, the Yext Knowledge Graph can understand your customers' intent — what they are actually looking for in the real world — and can get them exactly what they need.
With centralized control, you'll drive new efficiencies, win high-intent customers, and cultivate rich interactions everywhere online. The Knowledge Graph is the underpinning of Yext's product portfolio, powering business' sites and services, and syncing with search, voice assistants, and chatbots.
Customizing your Knowledge Graph
Your Yext Knowledge Graph is the centralized hub for all the data that defines your stores, events, offices, physicians, branches, ATMs, agents, dealerships, restaurants, service centers, and more. Yext works with you to define the custom fields and entities that represent your data management strategy best so you can manage the facts about your brand on your own terms.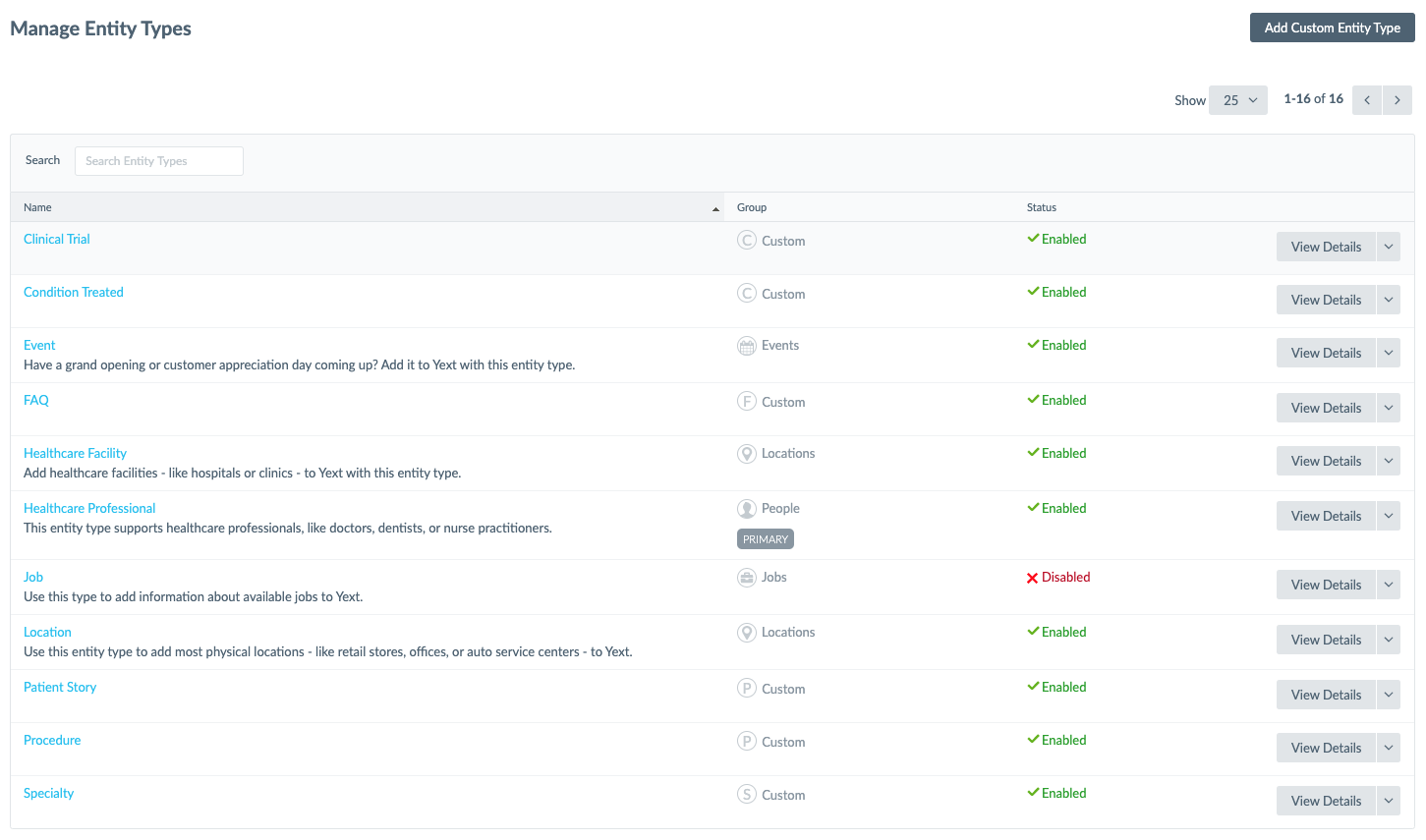 Yext's Knowledge Graph provides you with the tools you need to build and map your data. This includes:
Built-in Entity Types: Yext has pre-built entity types in the Knowledge Graph for popular entities to get you up and running as quickly as possible.
Custom Entity Types: For all entities that are not pre-built, Yext provides the ability to create your own entities with any fields to fit your specifications.
Linked Entities: The ability to link entities to one another so that you are able to easily identify which entities are interrelated.
Entity Upload Tool: An upload tool that allows you to update and add entities to your account in bulk, as well as map them to pre-existing fields.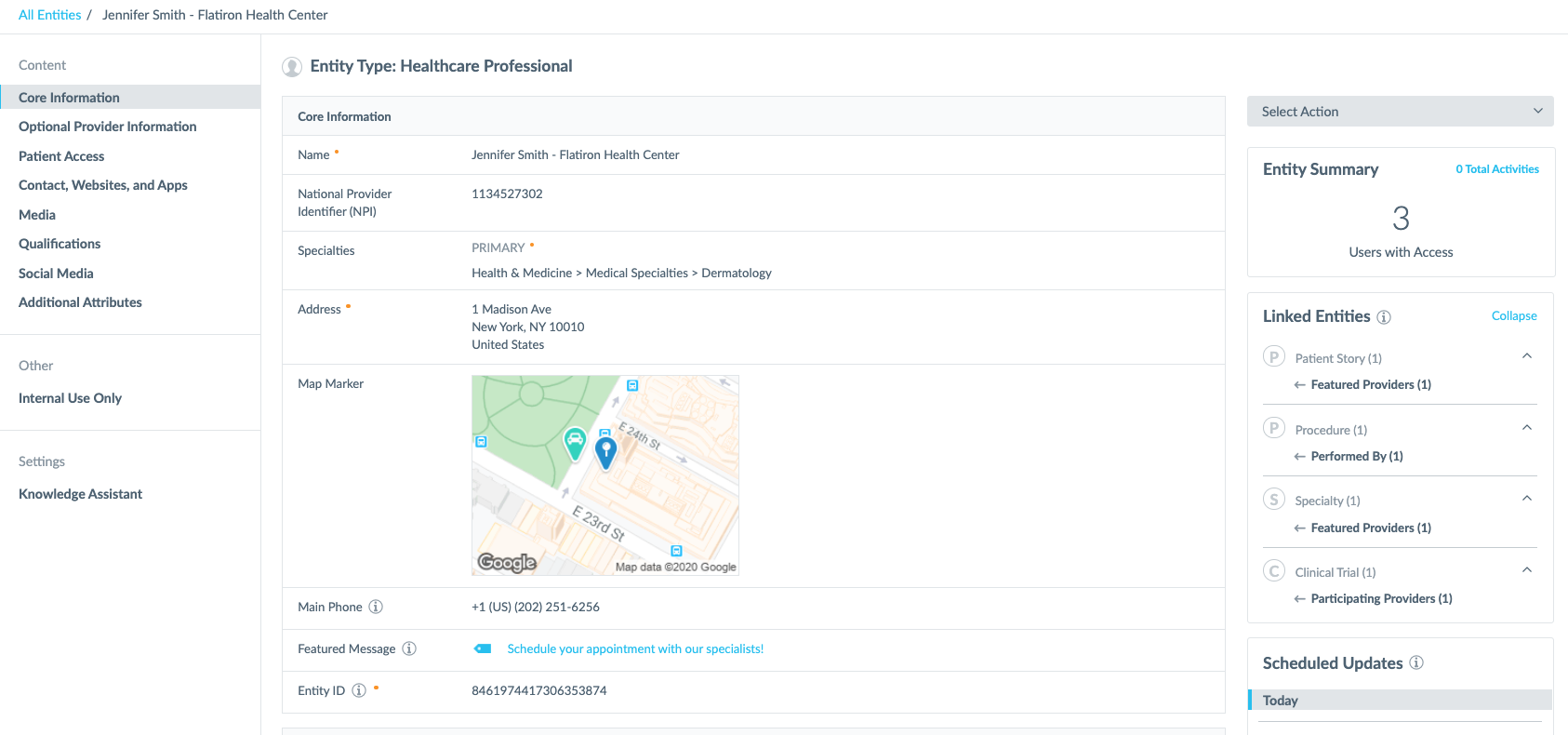 Powering Your Brand with the Knowledge Graph
With your own knowledge graph, you'll have the structured data backend you need to power your brand across all the new services of today and tomorrow. In particular,
It helps you bring all the facts about your brand together, from your locations and people to your events, products, and company, into one central repository.
Then, it powers those facts on your website, your site search, and your other direct marketing channels.
It puts you in control of your brand across all those new consumer services, which includes managing your reputation.
And finally, it helps you ensure the new chat and voice interfaces of the future, like Google Assistant and Amazon Alexa, give customers the right answers to their questions.
So let's say you're a restaurant, and you change an item on your menu. You'd just change it in your knowledge graph, and boom: that information is updated across your sites and services and synced with search, voice assistants, and chatbots.
Daily Quiz Streak:
0
Quiz Accuracy Streak:
0
Question 1 of 3

Which of the following are powered by the Knowledge Graph? (Select all that apply)

Question 2 of 3

Yext's Knowledge Graph includes: (Select all that apply)

Question 3 of 3

True or False: Your Yext Knowledge Graph only impacts your owned properties such as your website.

Wahoo - you did it! 🙌

You've already completed this quiz, so you can't earn more points.

You completed this quiz in

1

attempt and earned

0

points!

Feel free to review your answers and move on when you're ready.
Sign up for Hitchhikers to start earning points!
If you're already a Hitchhiker, log in to access this content.
Feedback