Overview of Pages Branding
| Yext Hitchhikers Platform
What You'll Learn
In this section, you will learn:
Options available to customize Page branding
---
Overview
In addition to customizing the content on the page, you also have the ability to change the design to ensure it matches the visual styling of your current website.
In the Design tab of the Page Builder you will find options to customize the look and feel of your pages. This can be done in a couple of different ways. One way is to leverage the point-and-click options, which allow you to select colors from a color picker, or select from a list of fonts. Or, you can customize the HTML and CSS of a specific module or the global theme.
This module will focus on the point-and-click options highlighted below: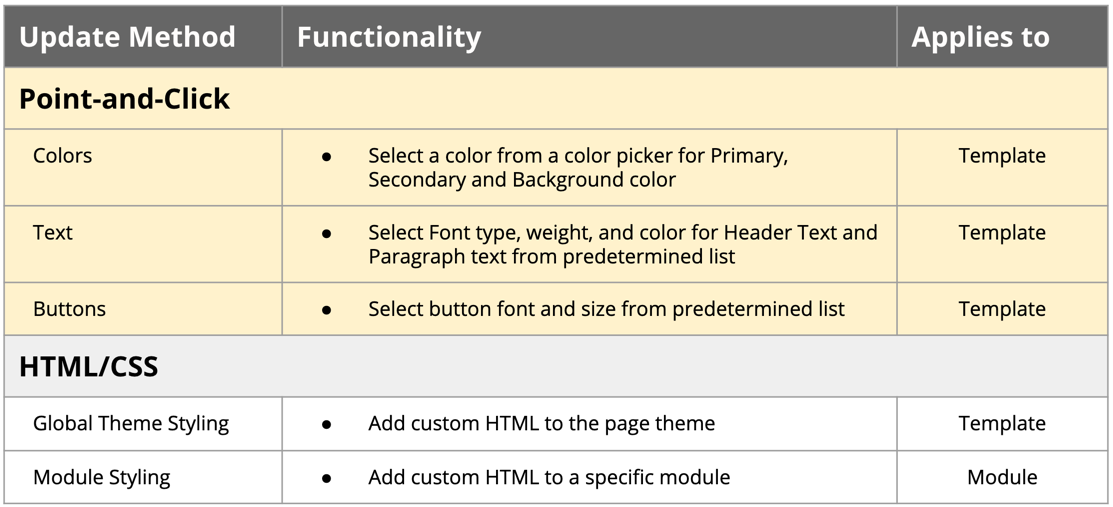 Daily Quiz Streak:
0
Quiz Accuracy Streak:
0
Question 1 of 2

Where do you update the branding of your page?

Question 2 of 2

When adjusting page branding via the point-and-click interface, you are applying changes to:

You're a star! ⭐

You've already completed this quiz, so you can't earn more points.

You completed this quiz in

1

attempt and earned

0

points!

Feel free to review your answers and move on when you're ready.
Sign up for Hitchhikers to start earning points!
If you're already a Hitchhiker, log in to access this content.
Feedback