Assets Overview
| Yext Hitchhikers Platform
What You'll Learn
In this section, you will learn:
What assets are
How assets work
Where you can use assets
Assets & user permissions
---
What are Assets?
Assets are a great way to store a library of shared, pre-approved content in Yext. You can store assets for photos, text, videos, or any custom field types easily. Once in the library, the asset can be used in a variety of places throughout the platform, including on entities, in entity templates, in review responses, in social posts, and more.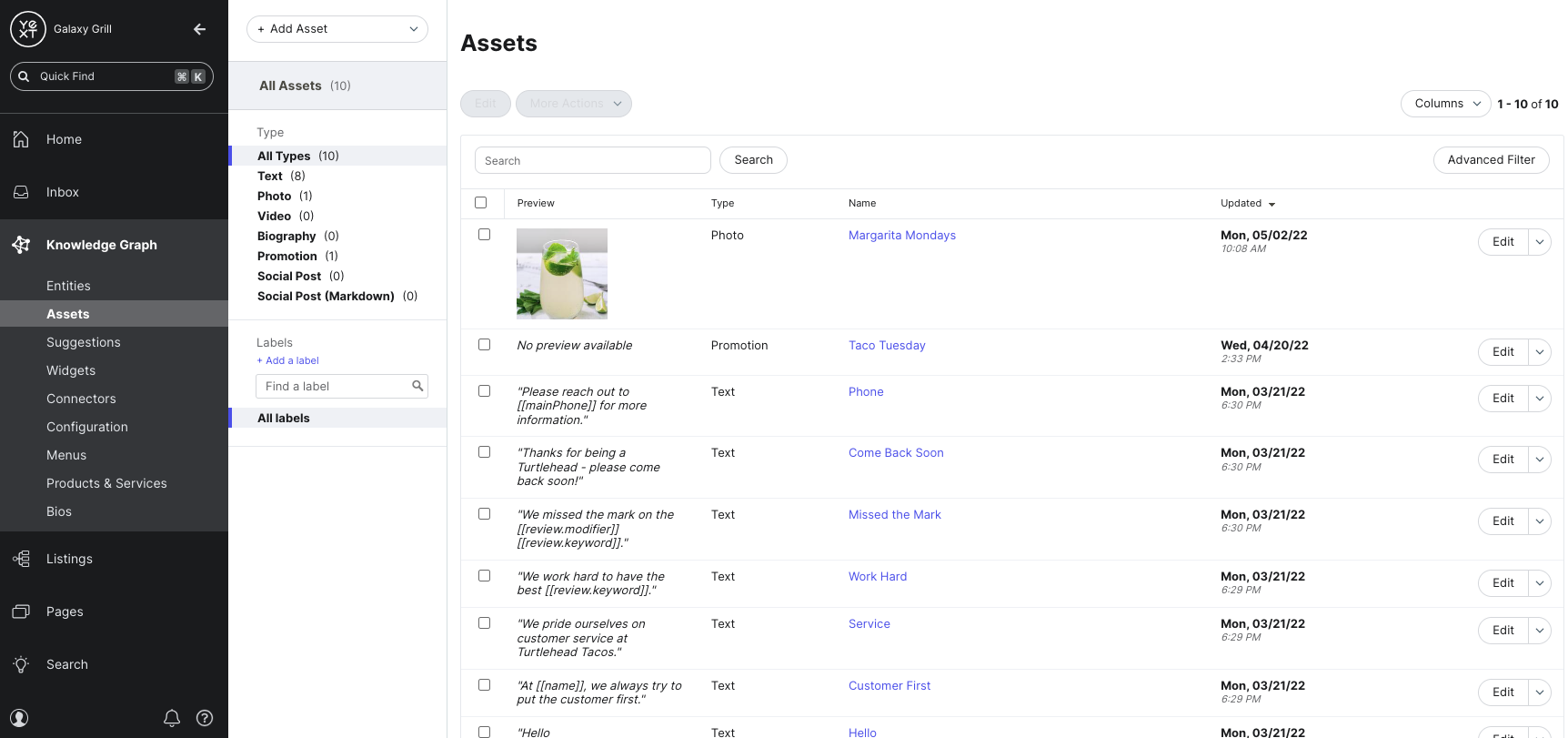 How Assets Work
Throughout the platform, if you see the Asset icon you will be able to click it to use content that is stored in the Asset Library.

When you click the button, a modal will appear that will let you search, view and select the assets available for that context.
In the configuration of each asset you can specify which parts of the platform, or which fields, each asset is available for. You can also specify that an asset should only be available for specific entities, folders, or entities that have a certain label.
Assets are static content. This is important to keep in mind. When you use an asset on an entity in Content or as a review response, it acts like a one-time stamp – if you update the asset later, the entity and the review response will not update. This ensures that you don't make any unintended changes to your data at a later point.
Where Assets can be Applied
You can apply assets throughout the platform. This includes:
On Entity fields in Content (where applicable)
In Review Responses
In Social Posts
In Site Attributes for Custom Development Built Pages
Don't worry if you don't know what these are yet, we'll cover all of these later!
Assets & Permissions
Assets represent pre-approved content and are meant to not only save you time if you're using content repeatedly in the platform, but also to help field users easily apply content that is on-brand.
For the relevant product areas, there are user permissions that allow users to use content from Assets without having to go through any approval workflows. Keep this in mind when creating a custom role. You'll learn more about user permissioning in the Users module .
Assets and Content Approvals
Assets work hand-in-hand with content approvals. If you want your field users to be able to author their own content that will go through the approvals workflow or use pre-approved content that can skip the approvals flow, create assets and make them available to the right field(s). This will help save time for your Approvals team so they don't have to review content that is already approved by your marketing, legal or other teams.
Daily Quiz Streak:
0
Quiz Accuracy Streak:
0
Question 1 of 2

You've applied a text asset on a field on an entity. You then decide to update the asset. Will the content in the field on the entity update?

Question 2 of 2

Where can assets be applied? (Select all that apply)

You're a star! ⭐

You've already completed this quiz, so you can't earn more points.

You completed this quiz in

1

attempt and earned

0

points!

Feel free to review your answers and move on when you're ready.
Sign up for Hitchhikers to start earning points!
If you're already a Hitchhiker, log in to access this content.
Feedback