Content Suggestions Overview
| Yext Hitchhikers Platform
What You'll Learn
In this section, you will learn:
What Suggestions are
Overview of the workflow
---
What are Suggestions?
As you know, keeping data fresh, accurate and robust is incredibly important for Search. The Suggestions feature will help you populate Yext Content with the most accurate, fresh information by surfacing suggested edits to your data that you had not made yourself, whether it be because you forgot to make the update, you did not receive the update from a field user, or because the update is for a data point you had not previously collected or stored in Yext.
The Suggestions feature provides suggested edits from external sources like Google and Facebook (if you use Yext Listings) as well as your own users if you enable them to do so via Content Approvals. Reviewing suggested edits from all sources in one place will allow you to compare edits and choose the best one, if any, that you would like to save to Yext.
You can also setup notifications that let your users know when new suggestions are made, when suggestions have a status change, or comments have been added. You can learn more about Suggestions notifications and how to set them up in the Notifications module .
Suggestion Source Types
Today, you can see suggestions from both Users and Publishers in Content > Suggestions. Optionally, if you want to suppress one Suggestion Source type you can do so from the Suggestions Settings page.
Users: Enabling users in your account to suggest edits can help you source more information at lower risk — nothing will get published publicly until someone approves the content to make sure it is on-brand and compliant. We will cover more use cases for user suggestions and approvals as well as how to configure your users to suggest edits in the Content Approvals Unit .

Publishers: Publishers like Google, Yelp, Facebook, and Bing often receive submissions from consumers with suggested updates to your Listings. Through the Suggestions feature, you can view those proposed edits directly in Yext, and choose whether or not to incorporate them into Yext. Managing these publisher suggestions will help ensure that the public facts about your brand are always accurate, up-to-date, and complete.

Yext: At times, Yext will also provide suggestions to you. These suggestions will be sourced from a variety of different methods, including algorithmic-sourced suggestions and human-sourced suggestions. We're always trying to find ways to make your data more accurate and more robust. You can review these suggestions just like you can review suggestions from the other source types.
How it all works
In the Suggestions feature, we group suggestions for a given field on a given entity so that you can easily compare and contrast the proposed values and choose the best one. A user can see suggestions for any fields or entities that they have permission to view. A user can take action on (approve, reject, re-assign) suggestions for any fields or entities that they have permission to edit, as long as the suggestion is Unassigned or is assigned to a User Group that the user is a part of.
Optionally, you can configure User Groups that suggestions can be assigned to. A User Group contains a group of users that are allowed to administer approvals for a group of requests. Users can be in as many groups as desired. If a suggestion is assigned to a User Group, it can only be actioned (approve, reject, re-assign) by someone in that User Group. If a suggestion is not assigned to a User Group, it can be actioned by anyone who has edit permission for the field/entity. Anyone with view permission on the field/entity can view suggestions for that field/entity and can make comments on them.
You can click in to one row to view the details of all pending suggestions for that field on given entity so that you can easily compare and contrast the proposed values.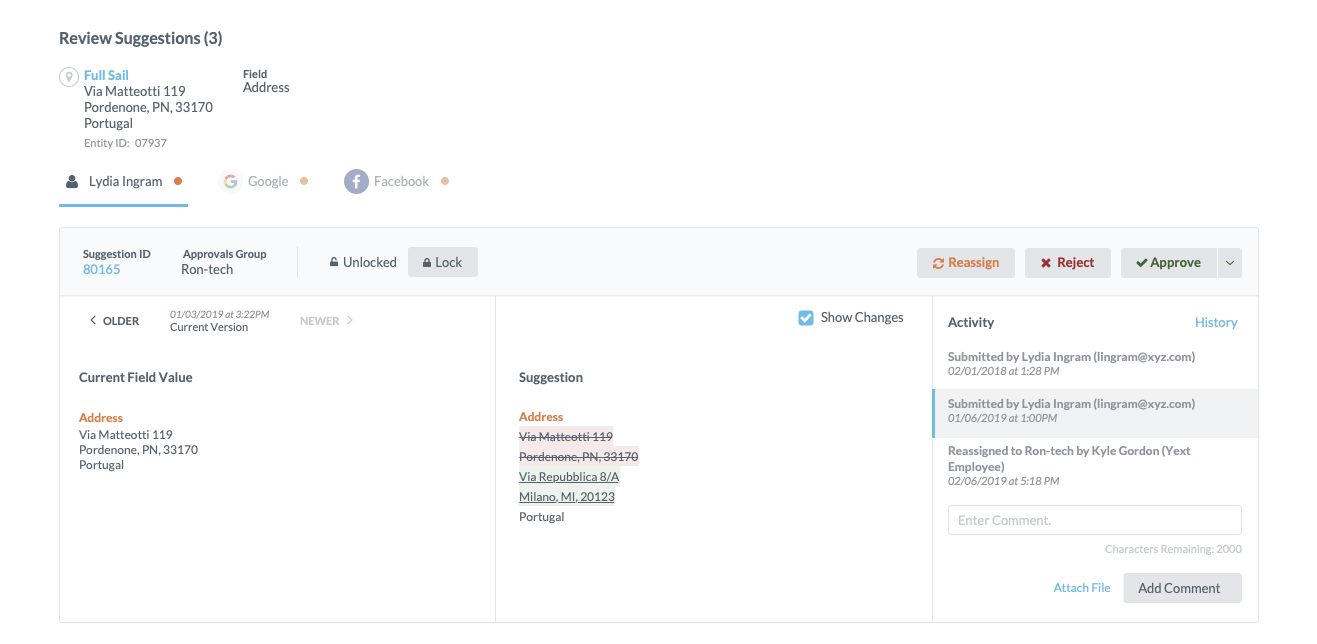 When a user reviews a suggestion, they have a few options:
They can approve a suggestion. Approving a suggestion will apply the change to Yext and update all downstream products like Listings, Pages, and Search. If more than one Pending suggestion exists for the field/entity, approving one will automatically reject the other Pending edits by default. Optionally, you can choose to "Approve Only" to leave the others in the Pending state.

They can reject a suggestion. Rejecting a suggestion will close the request, and if it had been a suggestion from another user, will notify the suggester of the rejection. The user can provide a rejection reason that will go to the suggester. If rejection reasons aren't relevant for your brand, you can turn this off in Suggestions Settings for a simpler UI.

They can comment on the suggestion. If it had been a suggestion from another user, commenting will send a message to the suggester and allows for a dialogue between suggester and approver in the platform. You can decide in Suggestions Settings whether you want to allow users to add attachments to comments if they need to provide any supporting documentation. If this isn't relevant for your brand, you can turn this off for a simpler UI.

They can modify the suggestion themselves. In some cases, they might want to make edits to the suggestion, like fixing spelling or grammar mistakes. All requests will keep track of each version of the edit and in Suggestions Settings you can decide whether you want to view all versions easily in the UI or hide the suggestion versions for a simpler UI.

They can assign the suggestion to a user or User Group. Suggestions are unassigned by default, so they can be assigned to any user or group of users that are best suited to handle the Suggestion.

They can re-assign the suggestion to another User Group. For example, maybe you have separate user groups for different levels of approvals that are needed – e.g., one for Marketing approval that contains the users that are on the marketing team, one for Legal approval that contains the users on the Legal team, etc.
Talk to your Success Manager about how Yext's Professional Services Team can build out workflow automation for any of the above steps for you.
Suggestions Workflow
In addition to viewing each group of suggestions for a field/entity one at a time, you can click "Review All" to enter a workflow that will make working through a large number of suggestions more manageable.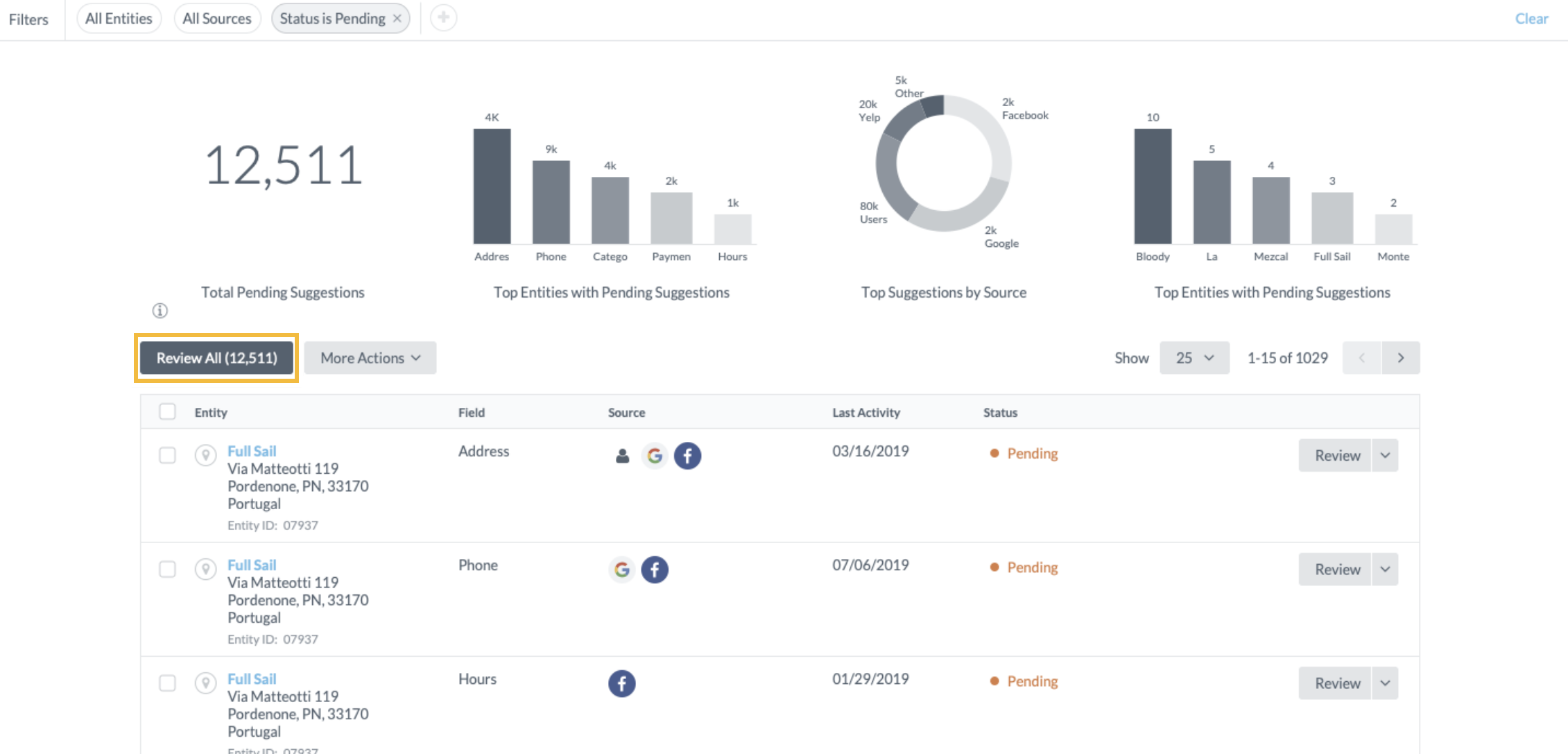 Once you finish actioning all suggestions for a given field/entity in the workflow, you will be automatically moved to the next field/entity in the list. The workflow respects any filters set, so you can create a workflow for a filtered set of suggestions – perhaps you want to filter and work through all suggestions for a given entity first or all suggestions for a given field. Additionally, these filters are reflected in the URL, so you can easily share a link to a specific set of suggestions that you would like someone else to review.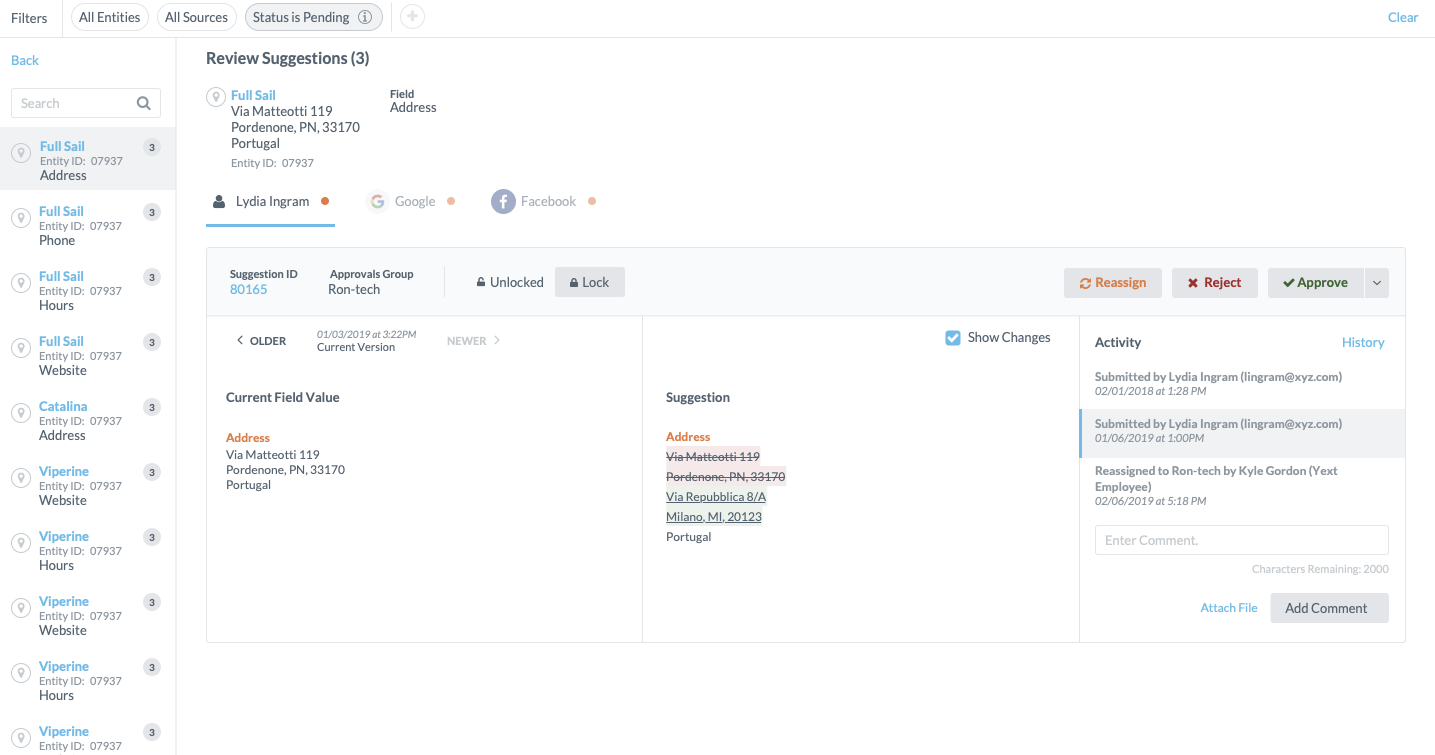 Advanced Features
There is a lot of functionality packed into the Suggestions feature.
Flagged Terms: If you want to highlight certain terms to the approvers or the suggesters, you can do so by adding a list of flagged terms in Content > Configuration > Flagged Terms. Each term is associated to a Label which you can manage on the Manage Labels screen. The color you associate with each label is the color the user will see when reviewing a suggestion that contains a flagged term.


Submission Locking: By default, users can update their suggestions at any time. This is by popular demand – many older systems require the user to wait until the entire approval process is completed in order to modify their suggested edit. However, we know that for very compliance-focused industries like Financial Services or Healthcare with multi-tiered approval workflows this can impose a risk that a user makes an edit that not all user groups see before approving. If you want to turn on this feature, your users will not be able to edit their submission unless you unlock the edit for them (e.g., if you comment to the suggester that they should modify some part of the request, you should unlock the edit so that they can do so. You can lock the suggested edit again the next time you start reviewing). You can turn on/off this capability in Suggestions Settings.
Fallback Assignee: You can also designate a Fallback Assignee. The Fallback Assignee will automatically be assigned a Suggestion if a user, or user group, who was initially assigned the suggestion is removed from the Yext account.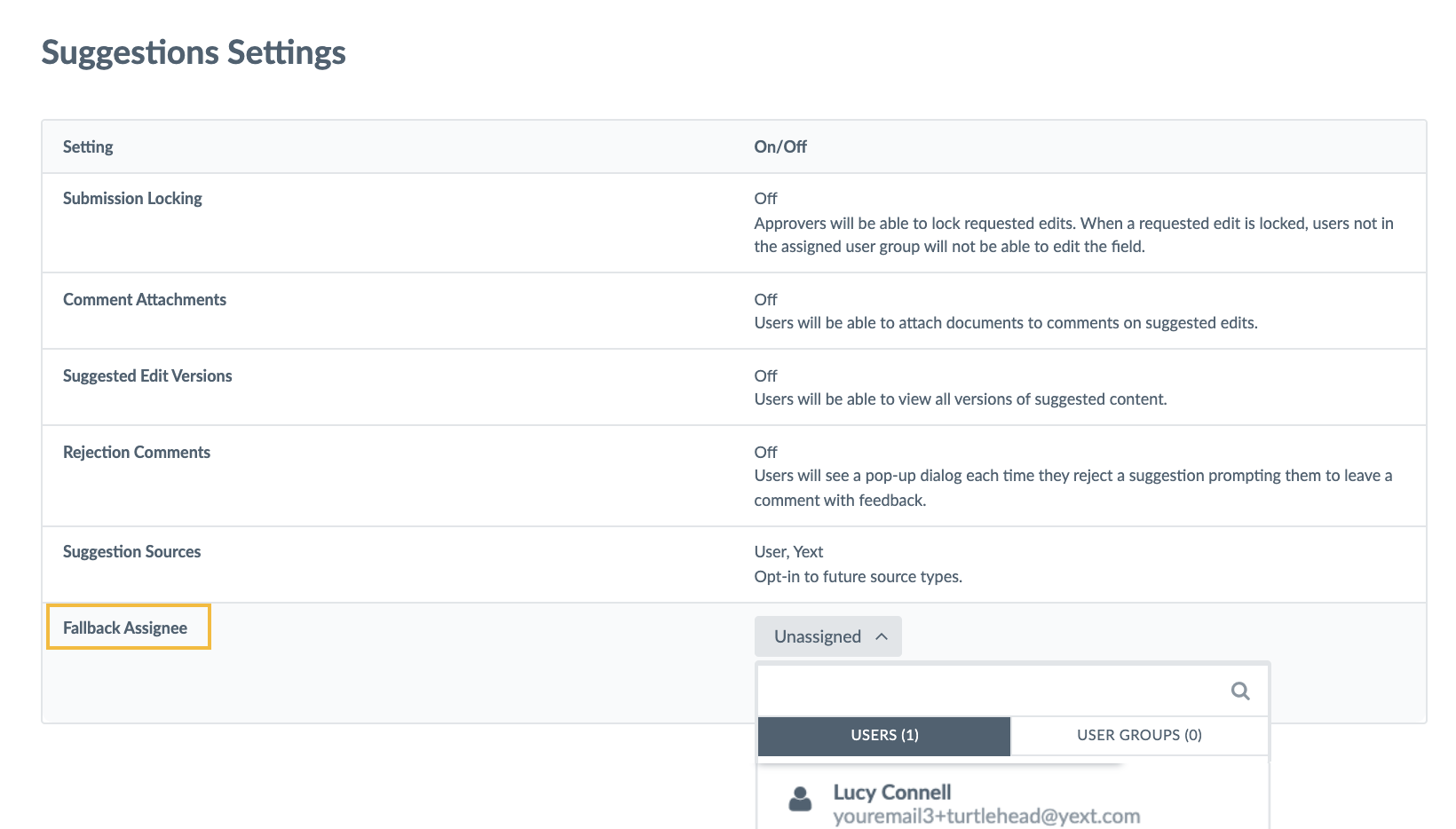 Daily Quiz Streak:
0
Quiz Accuracy Streak:
0
Question 1 of 2

What kinds of actions can be taken on a suggestion? (Select all that apply)

Question 2 of 2

What are flagged terms?

You're out of this world! 🌎

You've already completed this quiz, so you can't earn more points.

You completed this quiz in

1

attempt and earned

0

points!

Feel free to review your answers and move on when you're ready.
Sign up for Hitchhikers to start earning points!
If you're already a Hitchhiker, log in to access this content.
Feedback