Overview of Multi-Language Pages
| Yext Hitchhikers Platform
What You'll Learn
In this section, you will learn:
What are multi-language pages?
High level differences between Page Builder and Custom Development
---
This track is designed for customizing Yext Pages in multiple languages. If your website is in a single language (e.g., just in English or just in French), then read no further and make sure you complete the Pages track to learn how to build pages for your site.
If your website is in two or more languages, then you've come to the right place. You will want to make sure your customers can find your pages and get information in every language you support. Multi-language Pages allows you to build Pages, either with Page Builder or through Custom Development, with content from multi-language profiles. Before you continue, it's important that you take the Pages track, or at least have a solid understanding of the mechanics of Pages. This module will assume a moderate level of Pages knowledge.
Today, we support building these multi-language pages self-serve using Page Builder or through Custom Development.
Page Builder Pages
In Page Builder, you can build multi-language pages just as you would a single language page. Page Templates allow you to create individual pages in different languages with the same look and feel, all from a single Template. For example, the same Restaurant template with all of your existing modules and styling can be used for your English site, as well as your Spanish site.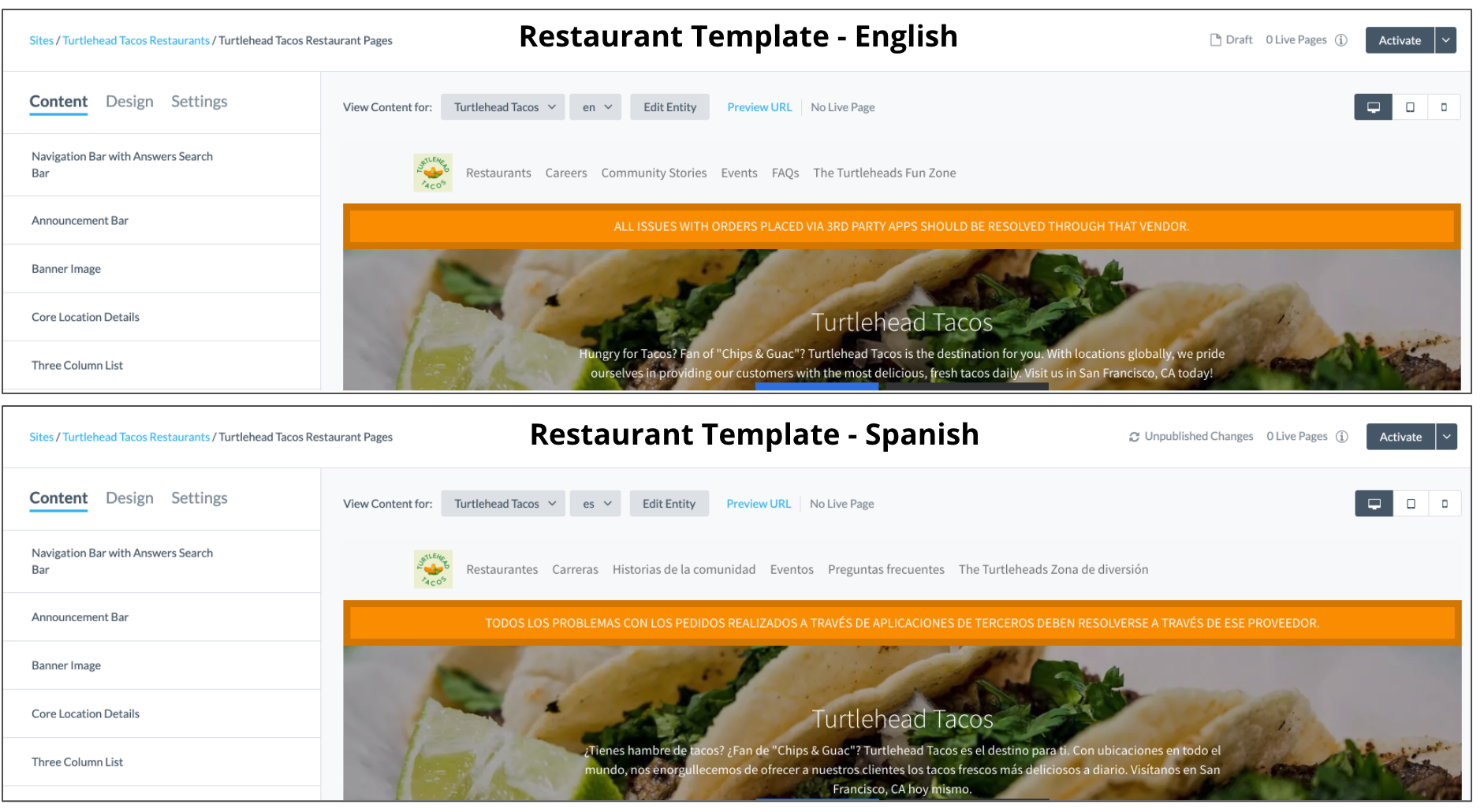 A Locator, Finder, Calendar or Static Page is usually a one-off page, and you can create one version with the same content in both languages (just as Page Templates) or you may create a separate site per language.
There are a few nuances to consider as you build, which we will go over in the next unit.
Custom Development Pages
For Custom Development, there is a lot of flexibility with our product to build Pages as you see fit per language. To discuss next steps, please contact your Client Success Manager.
Profile Language Consistency
Remember that it's important that your language profiles be consistent for your entities so all entities have the same "variation" of a language. If you want just one English experience, make sure that they all share the same language code (all "en" or all "en_US"). Each language experience is strictly limited to a locale.
That said, it is totally fine to have a "jagged language profile structure". You can have some Restaurants that have English, Spanish and French profiles and other Restaurants that just have Spanish profiles. The consistency only matters to the extent that they are the same type of Spanish profiles. A jagged language profile structure will merely result in a different number of pages in each language. You won't have the option to preview or publish a Page without a language profile for that entity. As a reminder on how to check the language profile, visit Multi-Language Profiles in Content training.
Note: In this module, you will notice that we use the term "locale" and "language" or "locale code" and "language code" interchangeably. That's intentional! Don't be confused or alarmed - they are the same thing for the sake of building Experiences.
Daily Quiz Streak:
0
Quiz Accuracy Streak:
0
Question 1 of 2

True/False: Building multi-language pages is only possible in Page Builder

Question 2 of 2

Where do Pages pull multi-language profiles from?

Way to go, you passed! 🏁

You've already completed this quiz, so you can't earn more points.

You completed this quiz in

1

attempt and earned

0

points!

Feel free to review your answers and move on when you're ready.
Sign up for Hitchhikers to start earning points!
If you're already a Hitchhiker, log in to access this content.
Feedback