Connecting Pages to your Website
| Yext Hitchhikers Platform
What You'll Learn
In this section, you will learn:
Key terminology
An overview of the process of connecting Pages to your website
What part of the process happens in Yext versus your DNS
---
Overview
Before diving into the process of connecting your newly created Pages to your website, we are going to review some key terms that will be used frequently as we walk through this process.
Key Terminology
DNS Provider: A company or service that manages domain name servers. This is the service you use to manage your main website e.g., GoDaddy or Namecheap.

Subdomain: A domain off of your main domain name. Subdomains are created to help organize and navigate to different sections of your website.

CNAME (Canonical Name): A CNAME record is typically used to map or point one domain or subdomain to another domain name.

For example, in this instance, you are connecting your subdomain (e.g., yoursubdomain.yourdomain) to the Yext-powered page (e.g., yousubdomain.yourdomain.sites.cdn.net.) so your DNS provider knows where to find the Yext-powered pages.
How Pages interact with your website
These pages are intended to link out from your existing website and should live under the same domain as the rest of the site to ensure a seamless experience for your customers. In order to do this, you will need to choose your desired subdomain, and register it with your website's DNS provider.

Pages created through Yext are hosted by Yext. In the platform, we will provide you with a Bridge Domain for the page. In order for these pages to connect and display as part of your website, you need to create a connection between your website, and the Yext-owned page. This is done by creating a subdomain and adding the Bridge Domain to your website provider. That way, when customers access your website, your website will point to the Yext page and display the correct content.
Process Overview
Enter the desired domain in Pages > Domains.
Copy the Bridge Domain.
Use the Bridge Domain to set up a CNAME record in your DNS provider.
Activate your Page.
Publish your Page.
Below is an overview of this process and a breakdown of what happens in Yext versus what happens in your DNS provider.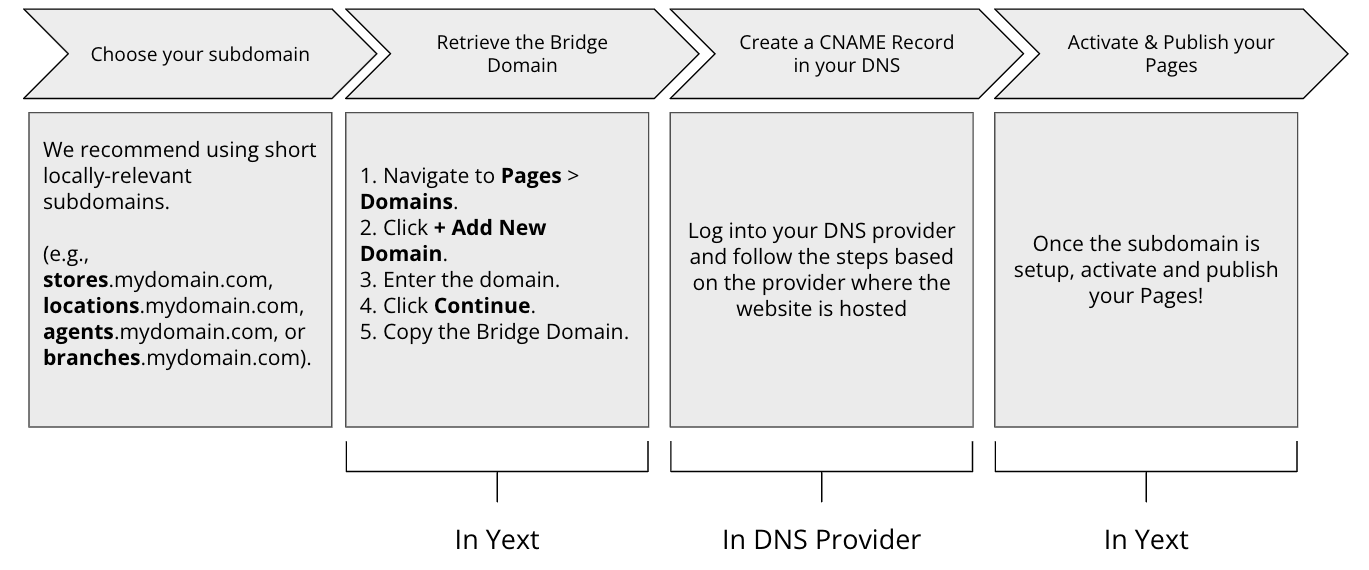 We will go through the process of how to connect your Pages to your website throughout the rest of this training.
Daily Quiz Streak:
0
Quiz Accuracy Streak:
0
Question 1 of 2

Pages created by Yext are hosted:

Question 2 of 2

What do you need to retrieve from Yext to set up a CNAME record in your DNS provider?

You're out of this world! 🌎

You've already completed this quiz, so you can't earn more points.

You completed this quiz in

1

attempt and earned

0

points!

Feel free to review your answers and move on when you're ready.
Sign up for Hitchhikers to start earning points!
If you're already a Hitchhiker, log in to access this content.
Feedback