Entities in a Knowledge Graph
| Yext Hitchhikers Platform
What You'll Learn
In this section, you will learn:
Different types of entities that can exist in your knowledge graph
How to identify which entities should be highlighted and prioritized
Sample entity use cases based on key initiatives
---
What are Entity Types?
We've talked about the importance of structuring your business' knowledge graph with different real-world entities, but how do you know which entity types to highlight and prioritize in your graph?
Depending on your business, you may have tens or even hundreds of individual entities that make up your knowledge graph. These include specific locations, jobs, products, or individuals (like "John Smith").
The entity types these fall into can be jobs, locations, people, services, events, FAQs, specialties, products, limited time offers, and more.
Entity types will vary across businesses, but you can determine which are important to your business based on the objectives you would like to achieve. For example, you might want to drive interest in a new product or service being offered. Or perhaps you want to showcase the jobs you have available or upcoming events. Having these facts stored in your knowledge graph as entities will allow you to:
Increase discoverability
Streamline the customer experience
Drive customer engagement
Below, we have highlighted sample objectives and entities that could pertain to three different verticals (Food, Healthcare, and Financial Services):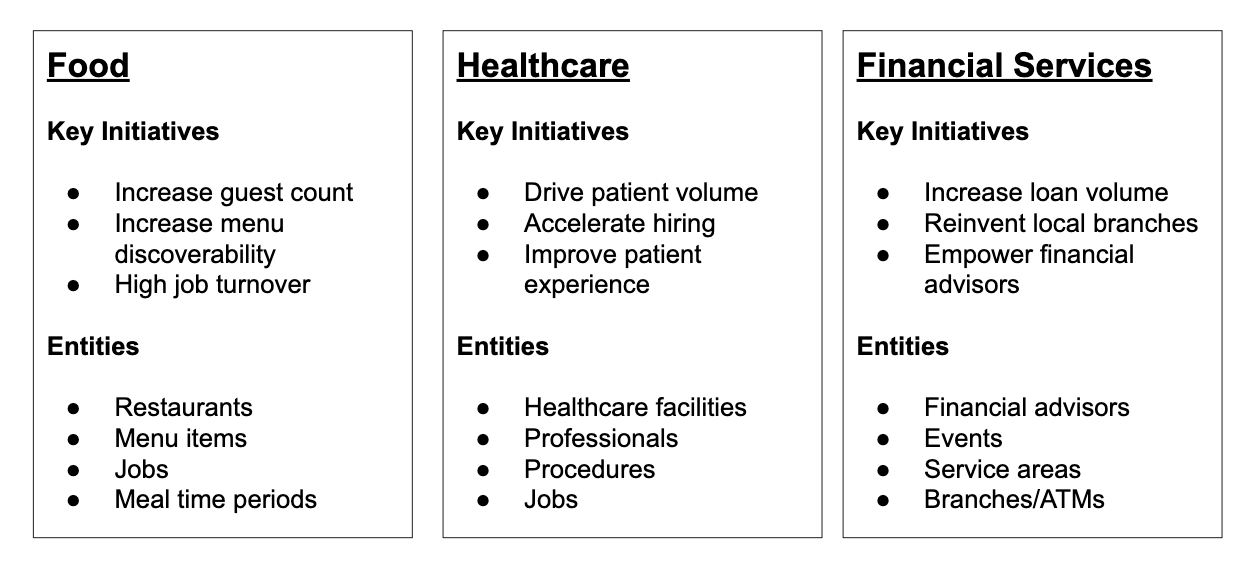 As you can see, the data behind the entities will help support the key initiative/business objective. For example, in order to increase menu discoverability, a restaurant could create entities for their menu items and for meal time periods (breakfast, lunch, dinner, etc.).
Daily Quiz Streak:
0
Quiz Accuracy Streak:
0
Question 1 of 3

A good indication that an entity is important to you is if it fits into one of these categories: (Select all that apply)

Question 2 of 3

A restaurant might add the following entities if they wanted to increase their online ordering. (Select all that apply)

Question 3 of 3

Which of the following could not be an entity type?

Climbing that leaderboard! 📈

You've already completed this quiz, so you can't earn more points.

You completed this quiz in

1

attempt and earned

0

points!

Feel free to review your answers and move on when you're ready.
Sign up for Hitchhikers to start earning points!
If you're already a Hitchhiker, log in to access this content.
Feedback