Step 2: Specify Apple Account Details
Once you have delegated access to Yext for your account, you must specify your Apple Company ID and Apple Business ID fields for each entity in Yext that you wish to sync to Apple.
Retrieve your Apple Company and Apple Business ID
Both your Apple Company ID and Apple Business ID can be found within your Business Connect Account. Your Apple Company ID will be the same ID across all of the businesses in your account. The Apple Business ID is specific to each business and country combination within the Company account. In order to find both, you should first select the specific business and country you wish to enable on Yext.

Once you have selected the Business you can find both the Apple Company ID and Apple Business ID in the browser URL. The number following orgs/ is your Apple Company ID. The number following businesses/ is your Apple Business ID.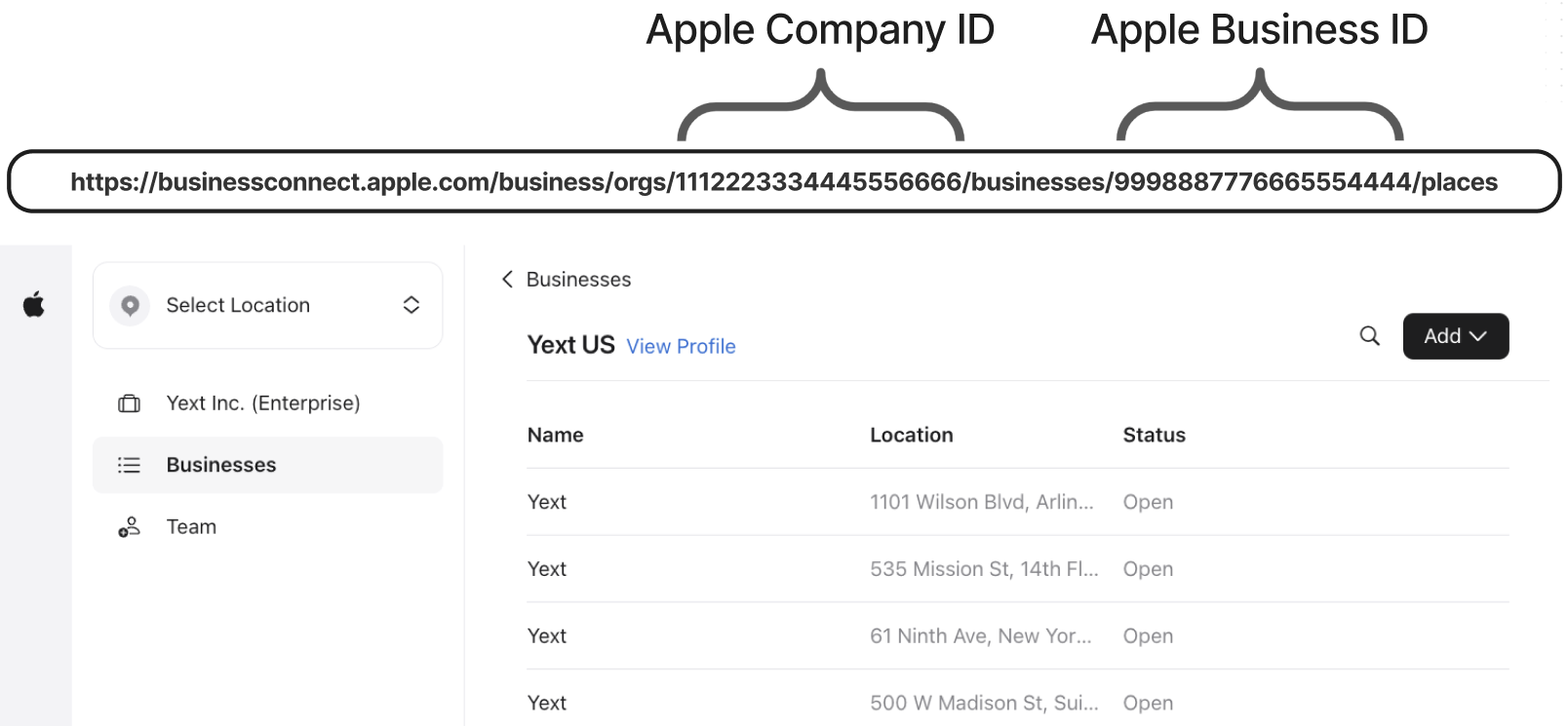 Add the Relevant IDs
From within your Yext account, click Content in the navigation bar, and click Entities.
Filter entities by country, and sub-brand if applicable, then bulk edit any entities you want to include in the delegation, and create Showcases on. For more information about bulk editing, see

Edit Entities in Bulk

.

Note: The location country must match the business country.

Add your Company ID to the Apple Company ID Field.
For each individual brand folder in your Apple Business Connect, add the Business ID to the Apple Business ID field.

Once this is done, delegation is complete account-wide and you can take advantage of all Apple-related features through Yext.
Deleting Locations and Accounts
Please exercise extreme caution when deleting any locations or accounts in Apple Business Connect. Deleting a Yext-powered location in Business Connect will remove the ability for Yext to sync to the location. In addition, reinstatement cannot be guaranteed by Apple if an Apple Business Connect account is deleted.
Feedback