Continuous Optimization Approach
| Yext Hitchhikers Platform
What You'll Learn
In this section, you will learn:
Why continuous optimization is important
Types of optimizations
---
Overview
Search is a critical part of any brand's marketing stack and it requires constant monitoring and iteration. Things change – whether your customers are changing, your brand is changing or releasing new products, or there are larger market trends and global shifts happening. With many older systems and technologies, this change can be hard to keep up with. With Yext's platform, change is easy, quick and encouraged.
With the Yext Experience Cloud we talk a lot about "continuous optimization" when we refer to the role of the Yext Administrator, which we also refer to as the Hitchhiker Lifecycle.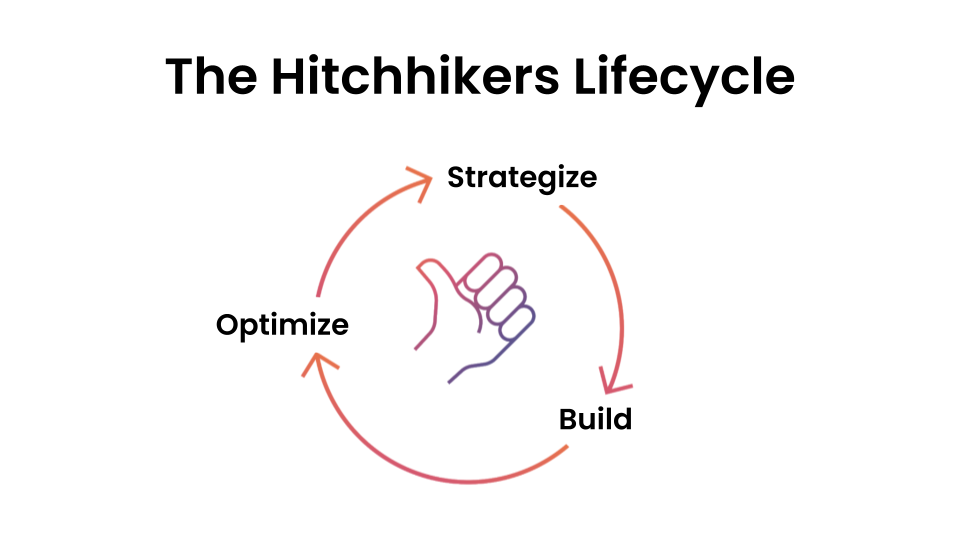 Continuous Optimization means that you are in a constant cycle of figuring out what you can be doing better. How can you get better results? How can you increase conversion? How can you surface more data? How can you reduce more costs? These questions are critical to ask about your brand or your customer's brand. With Yext Knowledge Graph, Search and Pages, you have the power to make a tangible impact on a brand's results.
Customer Intent
The power of Search lies, in part, with the analytics and insights you can get about your customer. It's a goldmine of information to find out exactly what your customer is looking for, also known as their intent.
Because Search's Analytics shows you valuable insights – like how complete your search results are, how many clicks you're getting, and what people are exactly searching for – you can better understand what kinds of changes you might make in your organization to improve the consumer experience — and how you can improve your Search experience – so that it's optimized for responding to customer intent.
As you gain insight from people's searches and clicks, you're able to get a sense for their true intent. Once you learn their intent, you can make educated decisions about search and about your business strategy as a whole. And as you improve the answers people are seeing, they'll come to rely more heavily on search, giving you even more information about what they need and how you can help them. Over time, this creates a flywheel that turns itself and becomes a key source of intelligence for your business.
In many cases, we encourage customers to go live as soon as possible to start collecting some of this valuable data, even if we haven't established a complete Knowledge Graph. This allows us to better inform how we structure the Knowledge Graph. If a brand already has search on their site, past search logs can also help with this.
Types of Post-Launch Optimizations in Search
In Search, there are two categories of optimizations, though they often overlap:
UI Improvements
Search Quality Improvements
UI Improvements
UI improvements are all about ways that you can adjust the look and feel of the search results to drive more conversions or engagement.
For example, you could:
Change CTA labels or URLs to maximize click-through rate (CTR)
Expose more content on result cards so users can get their answers more quickly, or hide content if the results are too cluttered and causing confusion
Change colors or fonts to increase readability
You can evaluate these kinds of issues based on engagement, click-through rate, and qualitative feedback from your users.
Note
Try the overlay integration method and get insight into which UI users favor by dimensioning on Integration Source in Report Builder. Learn more about this use case in the
Search Analytics in Report Builder unit
.
Search Quality Improvements
We've talked a lot about the Search Quality Levers:
In post-launch, it's really about using the search term behavior and results to drive changes in the Search Configuration and Knowledge Graph (while also reporting any major algorithm issues to Yext).
This includes:
Adding New Verticals, e.g., if you see lots of queries around jobs and you don't have this data in your experience yet
Adding New Fields, e.g., if you see people searching for attributes or features of a product, location, job or professional
Filling out your Knowledge Graph, e.g., making sure the Entities and Fields you've added have as rich data as possible
Updating Searchable Fields in the Search Configuration, e.g., making sure Search indexes everything or changing the type of searchable field
Adding Boosts with Vertical Intents in the Search Configuration, e.g., if you want certain verticals to return above or below others (you'll learn more about this later)
Adding Business Specific Synonyms, e.g., if there are terms that customers use that are unrecognized by the algorithm
Daily Quiz Streak:
0
Quiz Accuracy Streak:
0
Question 1 of 2

What are the types of post-launch optimizations? (Select all that apply)

Question 2 of 2

What types of activities can you expect to do post-launch? (Select all that apply)

Soon you'll be your brand's hero! 🎓

You've already completed this quiz, so you can't earn more points.

You completed this quiz in

1

attempt and earned

0

points!

Feel free to review your answers and move on when you're ready.
Sign up for Hitchhikers to start earning points!
If you're already a Hitchhiker, log in to access this content.
Feedback