What are Scheduled Updates
| Yext Hitchhikers Platform
What You'll Learn
In this section, you will learn:
What scheduled updates are
How to schedule an update
Ways to schedule updates in bulk
Additional scheduled update details
---
What are Scheduled Updates?
Scheduled Updates allow you to schedule content changes for entities at a specific date in the future. If the update is a temporary one (e.g., a seasonal promotion or an emergency message), you can easily schedule to revert the content to its current state at another future date.
How Scheduled Updates Work
From Entity Edit (either in single edit or bulk edit), you can see a Scheduled Updates Module on the right-hand navigation.

The Scheduled Updates Module lists all of the dates that have scheduled changes for the entity or entities selected. If you click on one of the dates, it will show you what your whole profile will look like on that date, almost like time-traveling.
To schedule a new update, simply travel to a future date and start updating fields like normal. You'll see an option to "Revert" changes back to original content on another future date. This is highly recommended if the content is only meant to be temporary, otherwise you'll have to manually change the content back later. If you select this option, you'll actually create 2 scheduled updates – one for the date of the change and one for the date the change reverts back to original content.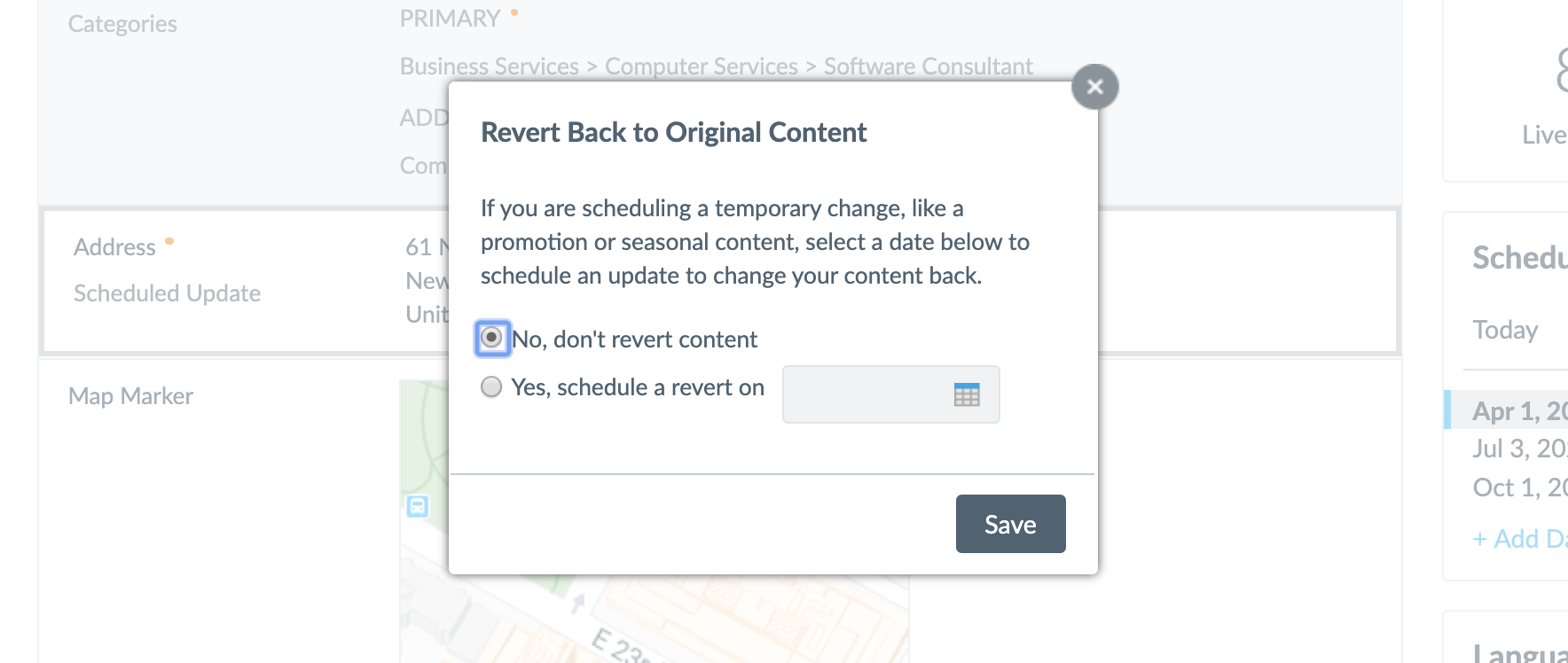 On future dates, if a field has a change scheduled you'll see a grey box around the field(s) with changes. You can easily update, reschedule, or cancel any scheduled updates.
For example, here's an update scheduled for April 1, 2020 for the Address field.

If you click into the field, you will see the options to reschedule or cancel the updates.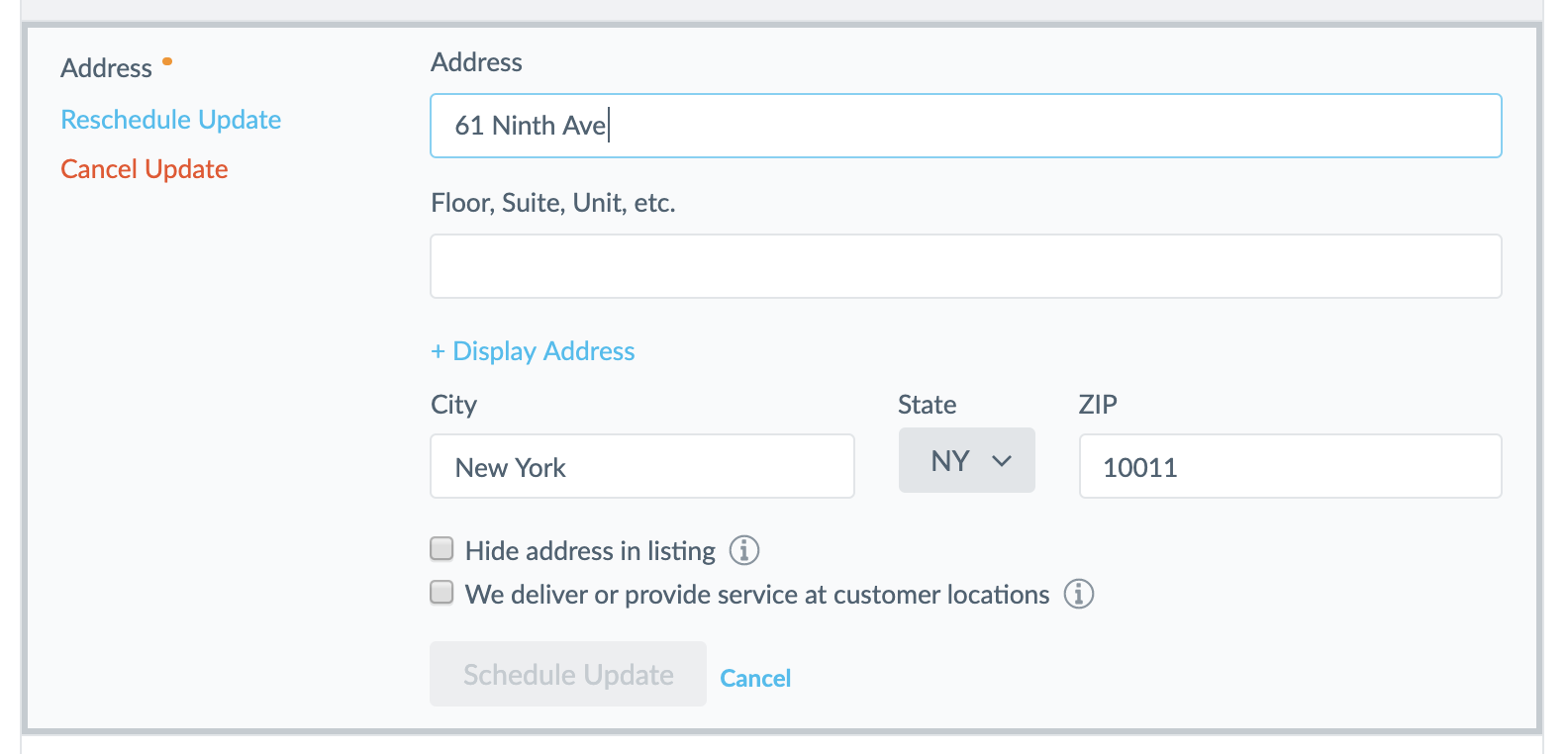 You can also do this by clicking on the "…" on the Scheduled Updates Module.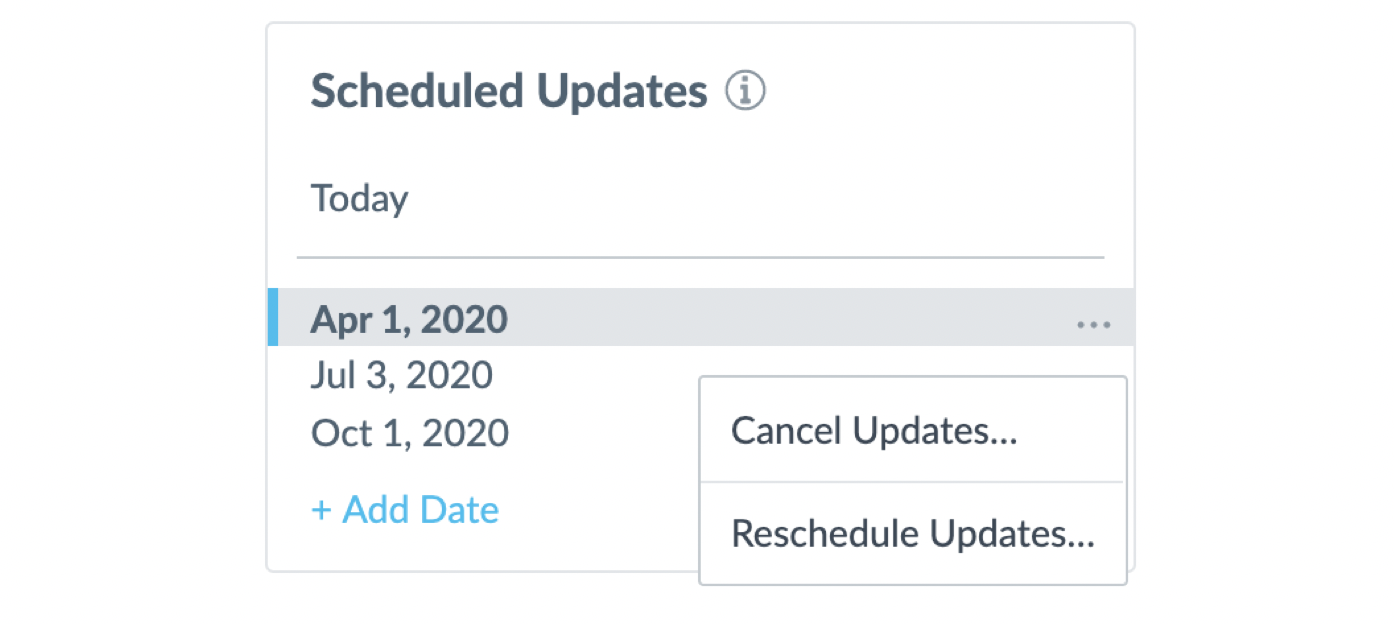 Here's a full video of scheduling an update.
Scheduling Changes in Bulk
There will be times that you want to make a large number of scheduled updates at once, which you can easily do in the platform a few different ways.
1. Bulk edit - you can schedule updates from bulk edit. You can also reschedule or cancel all edits for a date at once.
2. Templates - you can apply an Entity Template on future dates from single or bulk edit, just like you do on the current profile. This is great for things like seasonal updates or new store opening templates.
Additional Details
Scheduled Updates are extremely helpful, but here are some important things to keep in mind:
Scheduled updates allow you to schedule for a specific date, but not a specific time on a date. The Yext system will apply the scheduled update around midnight local time according to the Entity's timezone field. We auto-populate the timezone field automatically for entities that have an address (like Locations, Healthcare Professionals, or Events), but you would need to set the timezone otherwise. You can update the Timezone field just like any other field (via Entity Edit, Upload, API, etc). If the field is empty, or if the field is not on the entity type (e.g., for Custom Entity Types), we will apply the update at midnight EST.

There is no maximum number of fields or entities that can be scheduled – feel free to schedule as many as you'd like.

You cannot schedule updates in the API. We recommend your development team manage the scheduling on your side.

Scheduled updates are not compatible with Content Approvals. This is due to the complexity of approvals, expiring content, and other business rules. If this is important to your brand, please let your Success Manager know and they will guide you through best practices.
Daily Quiz Streak:
0
Quiz Accuracy Streak:
0
Question 1 of 3

What are the benefits of scheduling changes to entities? (Select all that apply)

Question 2 of 3

When do scheduled updates apply?

Question 3 of 3

What does it mean to revert a scheduled update?

You're out of this world! 🌎

You've already completed this quiz, so you can't earn more points.

You completed this quiz in

1

attempt and earned

0

points!

Feel free to review your answers and move on when you're ready.
Sign up for Hitchhikers to start earning points!
If you're already a Hitchhiker, log in to access this content.
Feedback