What are Account Features?
| Yext Hitchhikers Platform
What You'll Learn
In this section, you will learn:
What are account features?
What are releases?
What are compliance settings?
---
Your Account Settings allow you to enable or disable optional features from your account such as Content Lists, Review Response, and Early Access to new features. There are several categories of account settings that you can adjust, which we will outline here.
What are Account Features?
Account Features are a set of product features that you can toggle on or off. Each feature has a description in account settings that describes the feature and how you may use it. For example, the Multi-Language Profiles feature allows you to store and manage entity information in a variety of different languages. If you're building Search or Pages in more than one language, you'll want to enable this feature!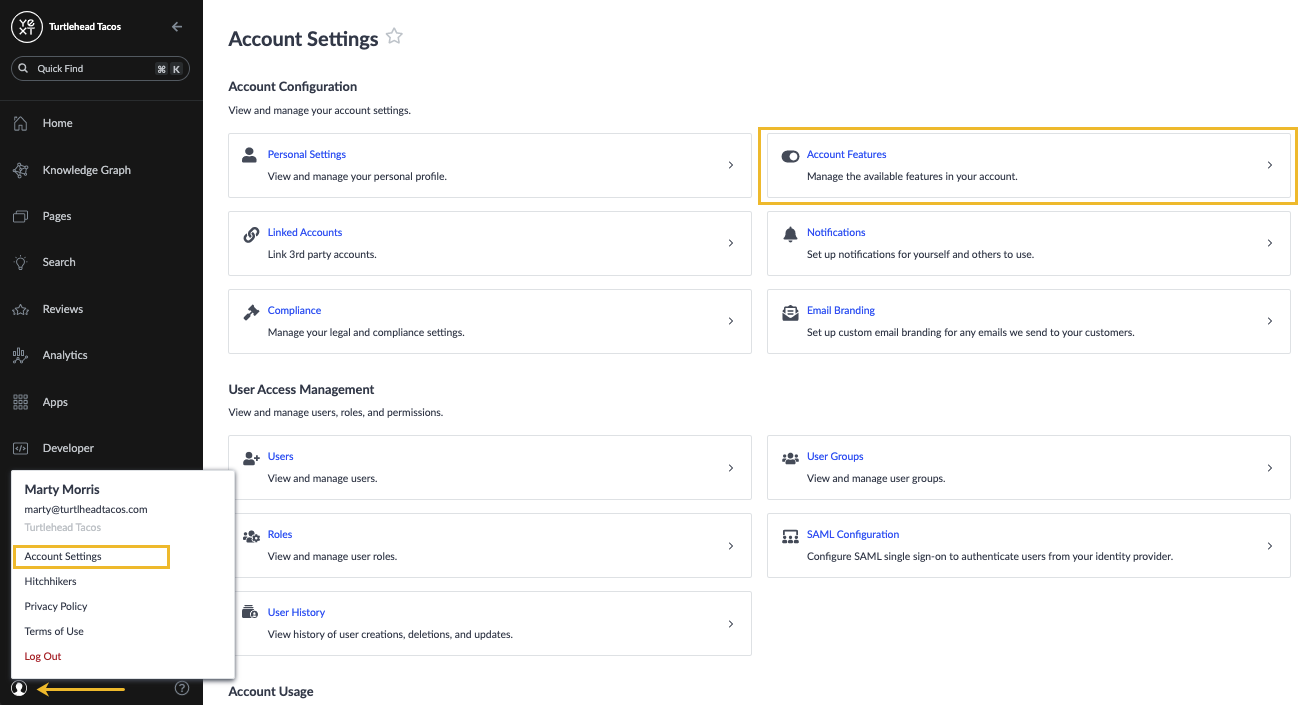 See here for some of our common additional features:
Staff Bios: Add staff bios to your listings. Highlight staffers' education, specializations, photos, relevant URL, and more. Yext will power this data on select supported publishers or pages so you can give local customers rich information.

Google and Facebook Fields: Turn this feature on to always show the Google and Facebook publisher fields (like profile or cover photos) on your locations, even if the locations don't have these Google or Facebook Listings.

Account Features will also include "Approvals". For example, the Social Approvals feature allows you to approve or reject social posts or comments created by users with the Customer Care Requester or Content Requester user role.
What are Release Features?
Release Features are new features and enhancements to our Products. They are released by Yext each season (Fall, Spring, Summer). Each release, we summarize and showcase these features on the help site. For example, you can view Release Notes from previous Releases here . These features will be available to toggle on and off in the same spot as Account Features during Early Access periods – by visiting Account Settings, clicking Account Features in the left sidebar. It's important to read the Release Notes to see which features are available and how they can enhance your experience.
Once the Early Access period is over, the release features will enter General Access and will be automatically enabled in your account and can no longer be toggled.
How do you turn on Account or Release Features?
We just learned about the different settings we can influence and how these can enhance your products. After logging into your account, it's very easy to turn on and off settings under "Account Settings".
First, click on the Account Details icon, and click Accounts Settings. Then click Account Features.

From the Account Features page you can toggle the desired feature "On" or "Off".
Note
Turning a feature on will not result in any additional charge to your account. Additionally, if you turn on a feature requiring a package you are not subscribed to, no changes will occur in your account.
After you hit save, it may take several hours for the feature to be added to or removed from your account. If you don't see the feature you'd like to turn on or are having any trouble with these features, contact Yext Support.
Daily Quiz Streak:
0
Quiz Accuracy Streak:
0
Question 1 of 2

Where do Account Features Live?

Question 2 of 2

True or False: Each Account Feature costs extra when you enable them

Soon you'll be your brand's hero! 🎓

You've already completed this quiz, so you can't earn more points.

You completed this quiz in

1

attempt and earned

0

points!

Feel free to review your answers and move on when you're ready.
Sign up for Hitchhikers to start earning points!
If you're already a Hitchhiker, log in to access this content.
Feedback