How to Create a Sentiment Analysis Collection
| Yext Hitchhikers Platform
What You'll Learn
In this section, you will learn:
Steps to create a Sentiment Analysis Collection
Popular use cases for collections
---
How to Create a Sentiment Analysis Collection
Collections are a powerful tool to help organize and analyze groups of reviews. You can create a Collection to see the sentiment analysis for a group of related keywords. For example, a restaurant can create a Collection for "food" and include keywords such as: dinner, burger, and fries. You can then see the total number of keyword mentions, average star rating, and overall sentiment score for the collection.
To create a custom collection:
Click on Create Collection on the Sentiment Analysis dashboard.
Enter a Collection Name.
Click + Add Keyword and select keywords from the list that appears or search for keywords you are interested in.
Once you've finished adding all of your keywords, click Save.
Note
To start creating a collection that includes a specific keyword, you can also click on the pencil icon to the right of that keyword.
Popular Collection Use Cases
Your business' collections will vary greatly depending on your industry, business goals, products/services offered, and more. We recommend testing out a few based on what you are trying to monitor, and fine tune from there. Finding keywords or collections that are actionable is critical to optimization.
There are two main use cases for collections:
Aggregate thematically similar keywords (how am I doing across all breakfast items?)
View keywords against each other (which of my breakfast items is performing the best?)
Below are a few examples of common types of Collections: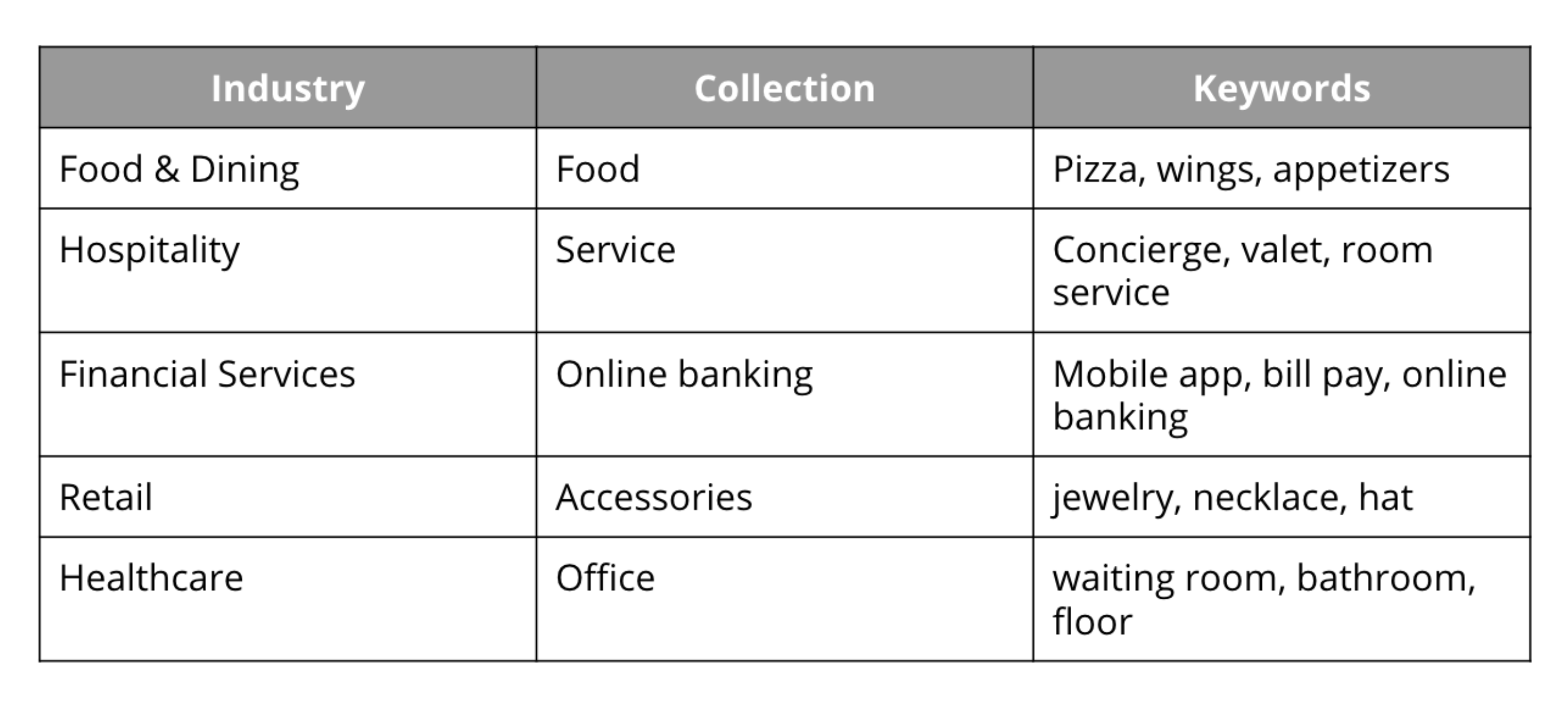 Daily Quiz Streak:
0
Quiz Accuracy Streak:
0
Question 1 of 3

True or False: Collections are a tool to analyze the sentiment for groups of keywords.

Question 2 of 3

Which of the following is not a popular use case of collections?

Question 3 of 3

Which collections might the restaurant Turtlehead Tacos have? (Select all that apply)

High five! ✋

You've already completed this quiz, so you can't earn more points.

You completed this quiz in

1

attempt and earned

0

points!

Feel free to review your answers and move on when you're ready.
Sign up for Hitchhikers to start earning points!
If you're already a Hitchhiker, log in to access this content.
Feedback