Review Generation Templates
| Yext Hitchhikers Platform
What You'll Learn
In this section, you will learn:
What are review invitation templates?
How to configure your templates
---
What are review invitation templates?
When you send a review invitation using Yext Review Generation, the invite will be formatted according to a template. This template is essentially the design of the email or text message, and it will be populated with relevant information from your brand and the entity for which a review is being requested.
Configuring Invitation Templates
To view and edit your invitation templates, navigate to Reviews > Generation and click on Templates in the navigation bar. Here, you will see your existing invitation templates.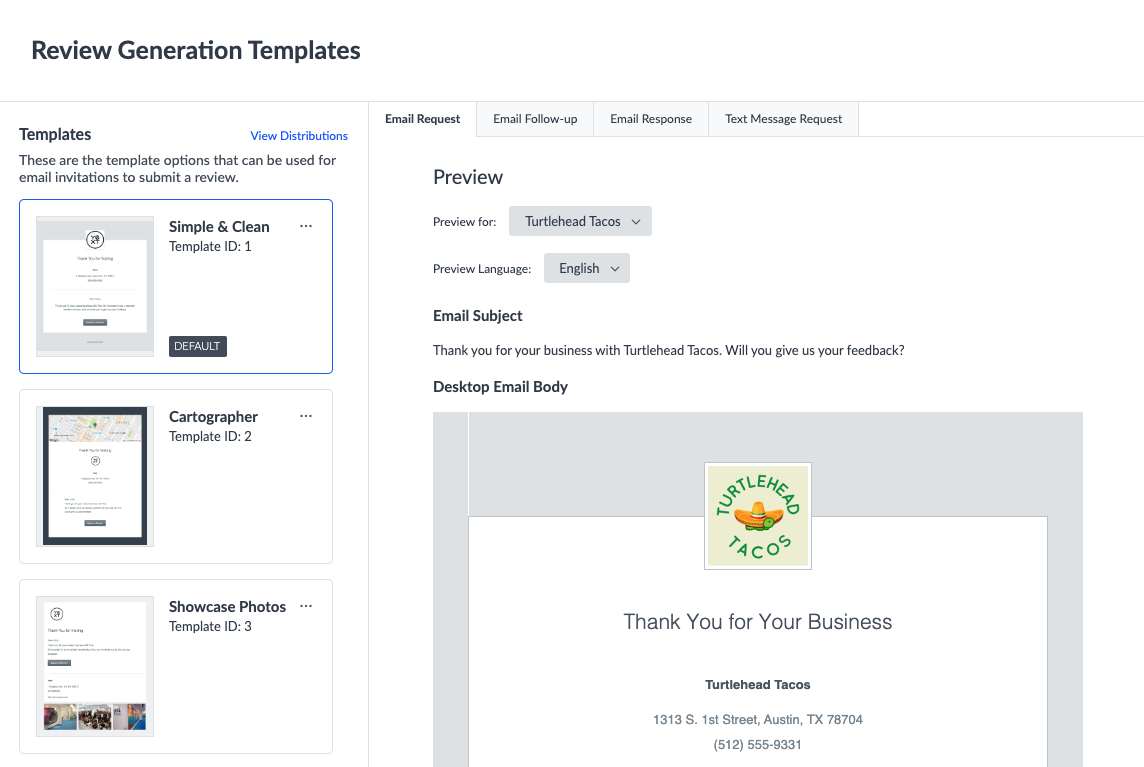 Each template has an ID, and when you send invitations (to be explained in the next unit), you will input the ID of the template you would like to use. You also have one default template, which will be used if you do not specify a template ID when uploading invitations.
To set a template as your default, click the three dots in the top right corner of a template in the left sidebar, and click Set as Default. If you would like to edit an existing template, you can click the three dots in the top right corner of a template and click the Duplicate button.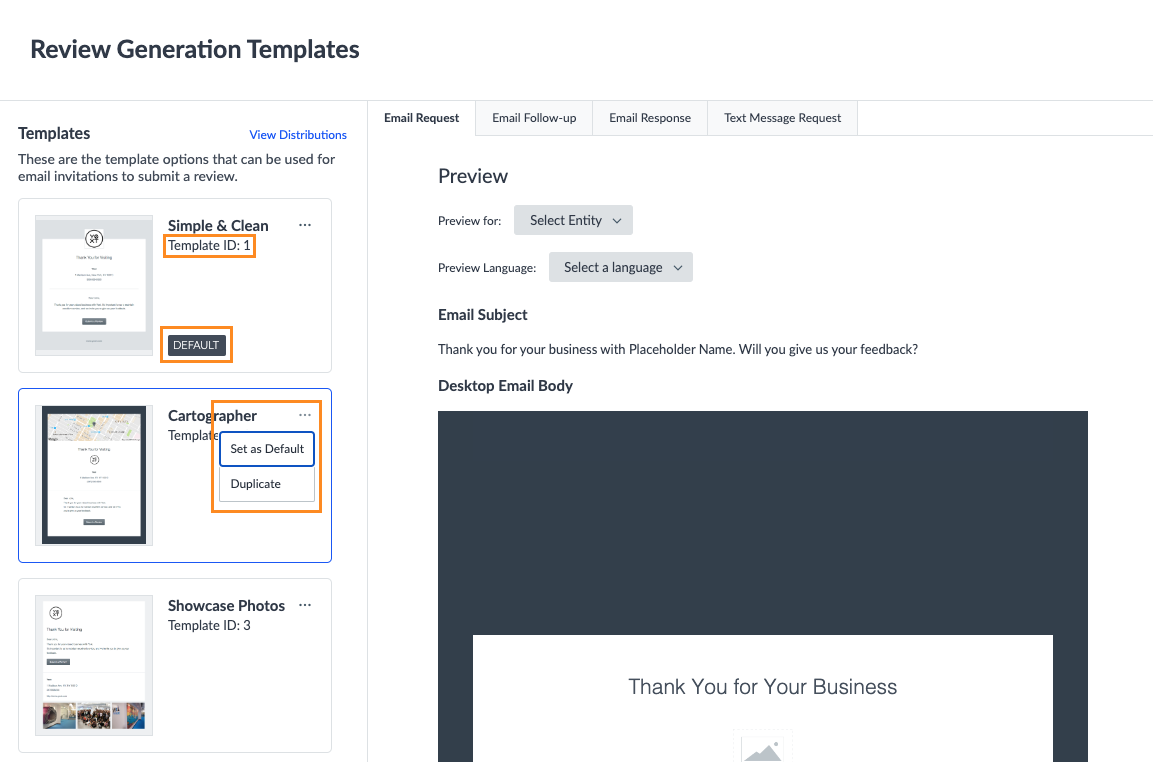 You can customize any template which is not one of the pre-built Yext templates. Once you have duplicated a template, you can customize it by clicking on the template and clicking the Edit Template button in the bottom right corner. The HTML of the template will be revealed and you can edit this HTML to customize the template in any way you would like. All fields which can be embedded in the template will be visible in the right sidebar.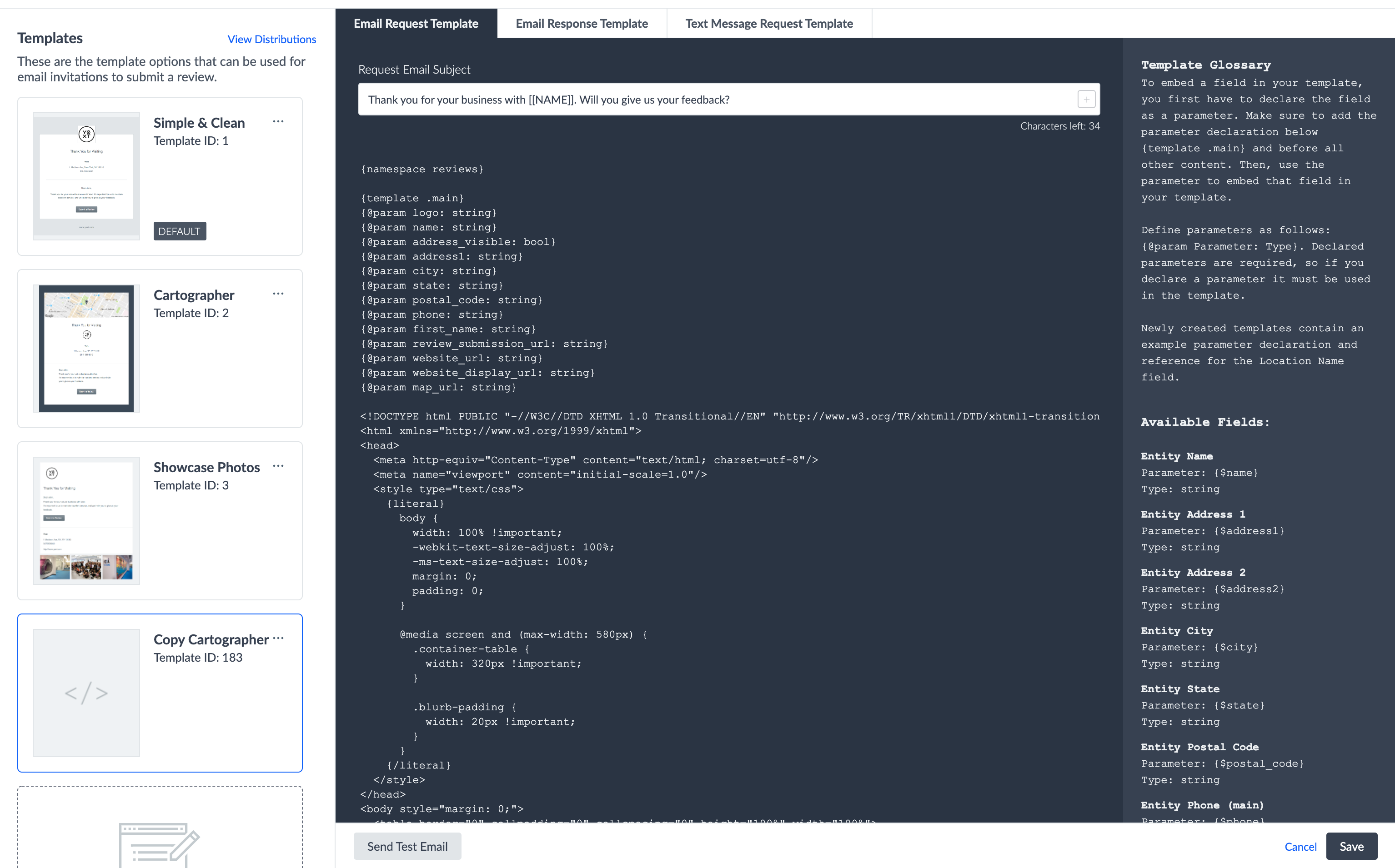 You can preview the template for desktop email, mobile email, and text by toggling the option at the top of the preview. You can also preview the template for a specific entity and language!
Daily Quiz Streak:
0
Quiz Accuracy Streak:
0
Question 1 of 3

True or False: You can preview your template in different languages.

Question 2 of 3

Which of the following is NOT a way that the templates can be previewed?

Question 3 of 3

How is each template identified when sending invitations?

Wahoo - you did it! 🙌

You've already completed this quiz, so you can't earn more points.

You completed this quiz in

1

attempt and earned

0

points!

Feel free to review your answers and move on when you're ready.
Sign up for Hitchhikers to start earning points!
If you're already a Hitchhiker, log in to access this content.
Feedback