Ready to be your brand's hero?
Sign up to become a Hitchhiker and build skills that will enhance your career, get access to exclusive Yext resources, and be your brand's hero by driving consumer engagement.

If you're already a Hitchhiker, log in to access this content.
Reviews Insights Tab
| Hitchhikers Platform
What You'll Learn
In this section, you will learn:
Introduction to the Reviews Insights screen
Metrics available on the Reviews Insights screen
---
The Reviews Insights Tab
The Reviews Insights tab has a number of out-of-the-box metrics that are built to provide a high level comparison of your entities and overall review performance. Like many screens in the Yext platform, you are able to use the filters at the top to filter by location, date, site, and more.
This tab can be downloaded as a PDF by clicking on the Download PDF button in the sidebar (Note: Word Frequency is not included in the download). Alternatively, you can have it delivered as a notification at any frequency of your choice (you can also create a notification by selecting the bell icon). For a full breakdown, all metrics (other than the map) can easily be downloaded into a CSV file by clicking the Download CSV button.
The first metric you'll see on the Reviews Insights tab is the map. This is a great place to look to find geographical trends. The size and color of dots will compare the number of reviews and star rating.
Tip
Interacting with the map and zooming in can provide more detail on areas with multiple locations.
The Reviews by Site metric highlights the breakdown of reviews per individual site. This is useful to see where most of your reviews are coming from and where you can prioritize your efforts.
Note: Unless you are nearing the end of the current month, it will often have less overall reviews than the previous months.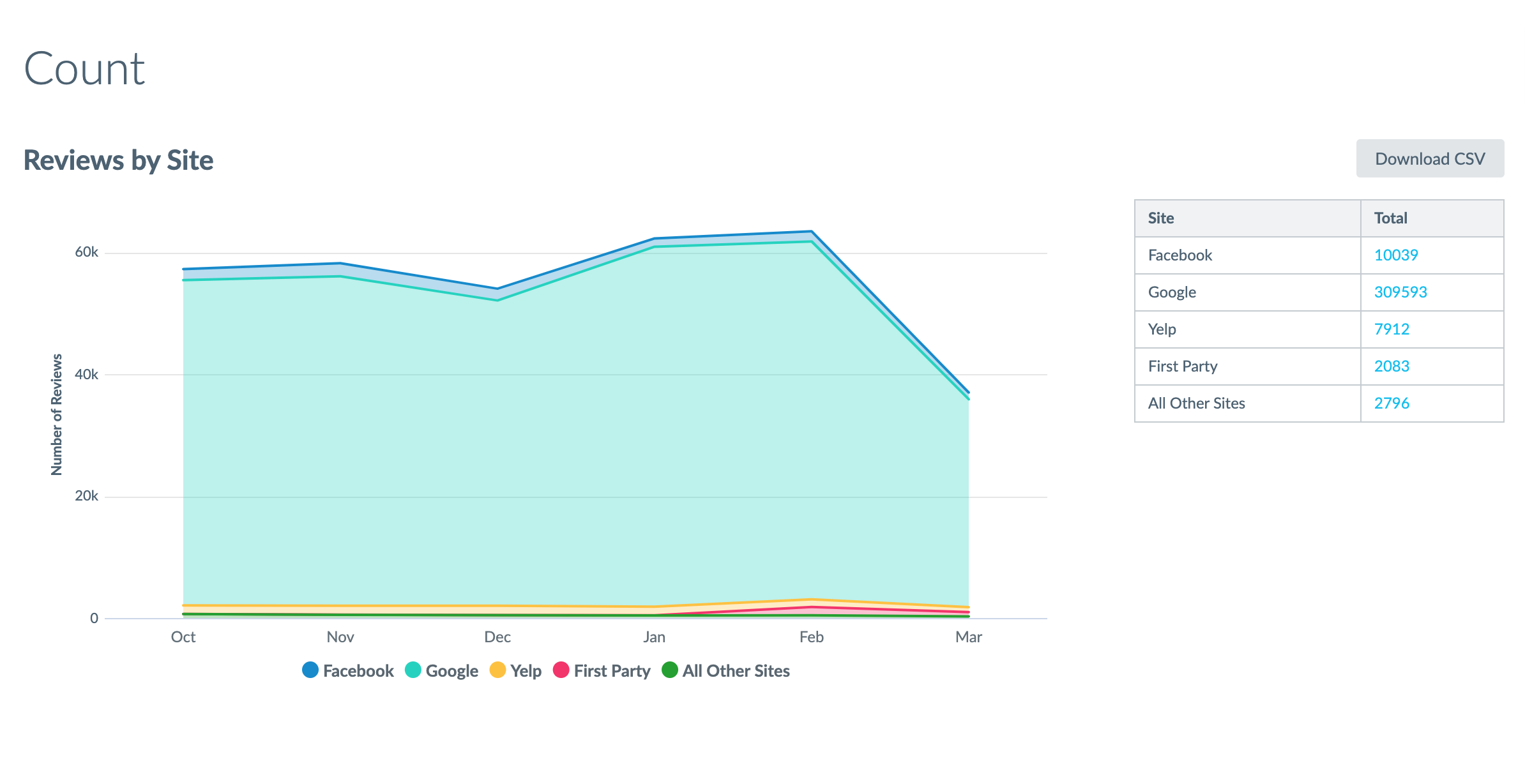 Rolling Average Rating is as high a level of a reviews metric as you can view. This simply tracks over time your average rating across all sites. This metric is a great place to look for macro-trends in your overall rating.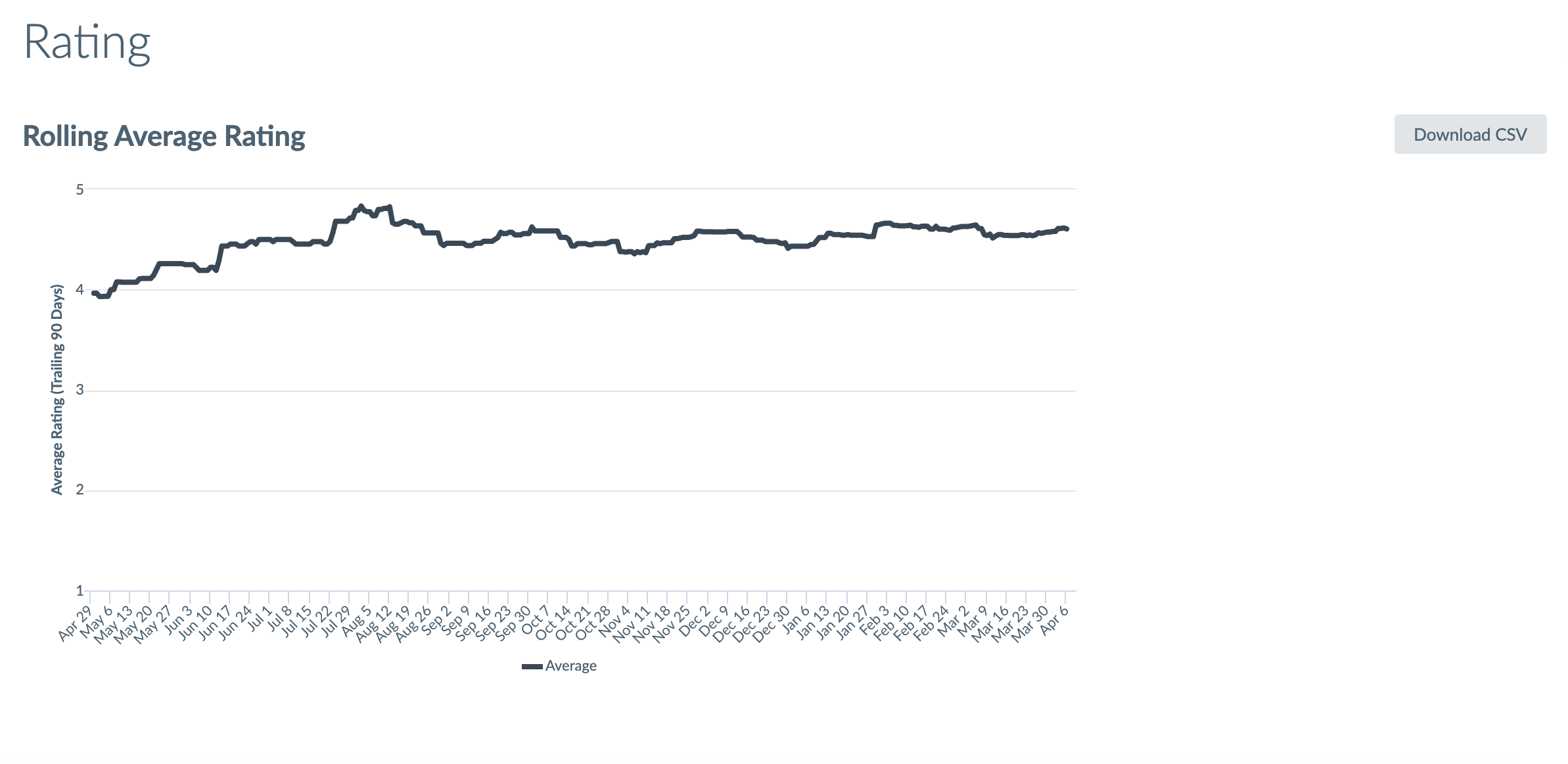 Location Performance is a great metric to look at to determine which entities are top performers or low performers. This graph plots your locations by the number of reviews and the review rating per location. Hover over a plot point to see which location it represents.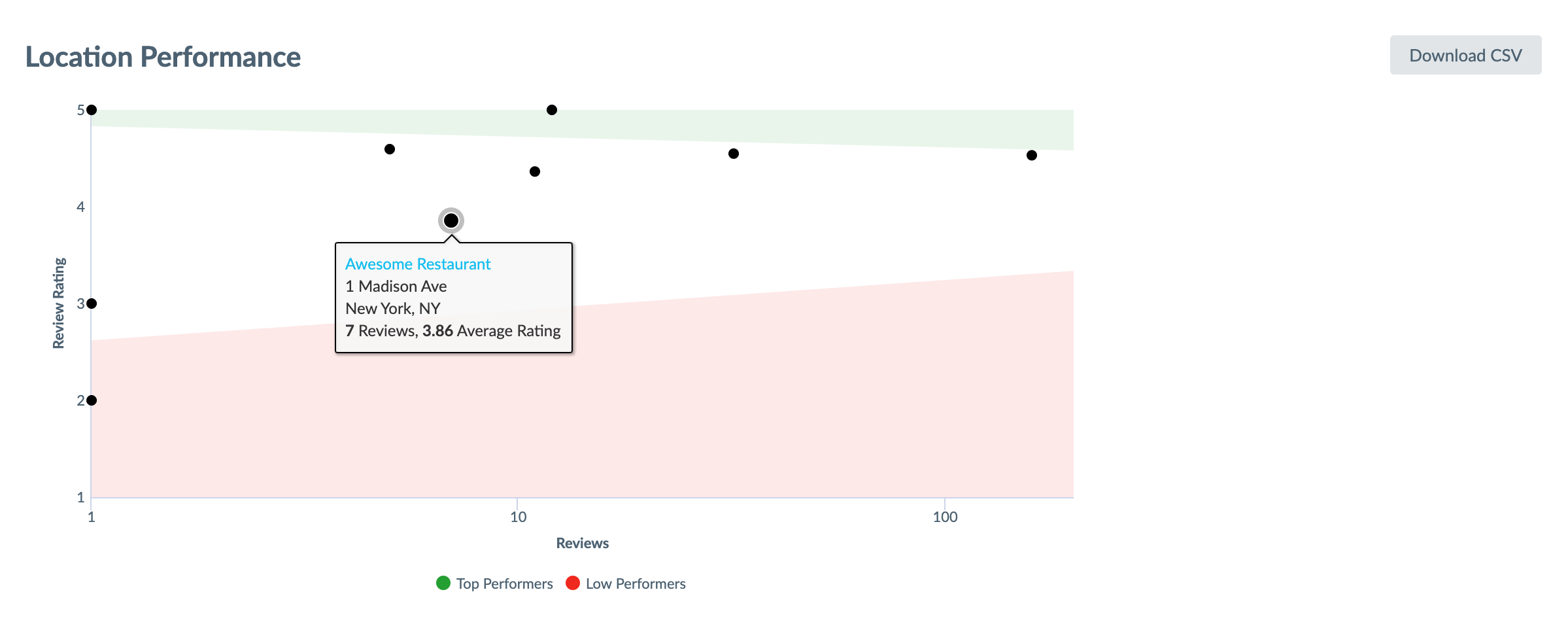 Tip
All entities in the green area are one standard deviation above the average, the entities in the red are one standard deviation below.
Rating Distribution showcases the distribution of your star ratings, such as how many reviews are 5 stars vs. 4 stars, etc.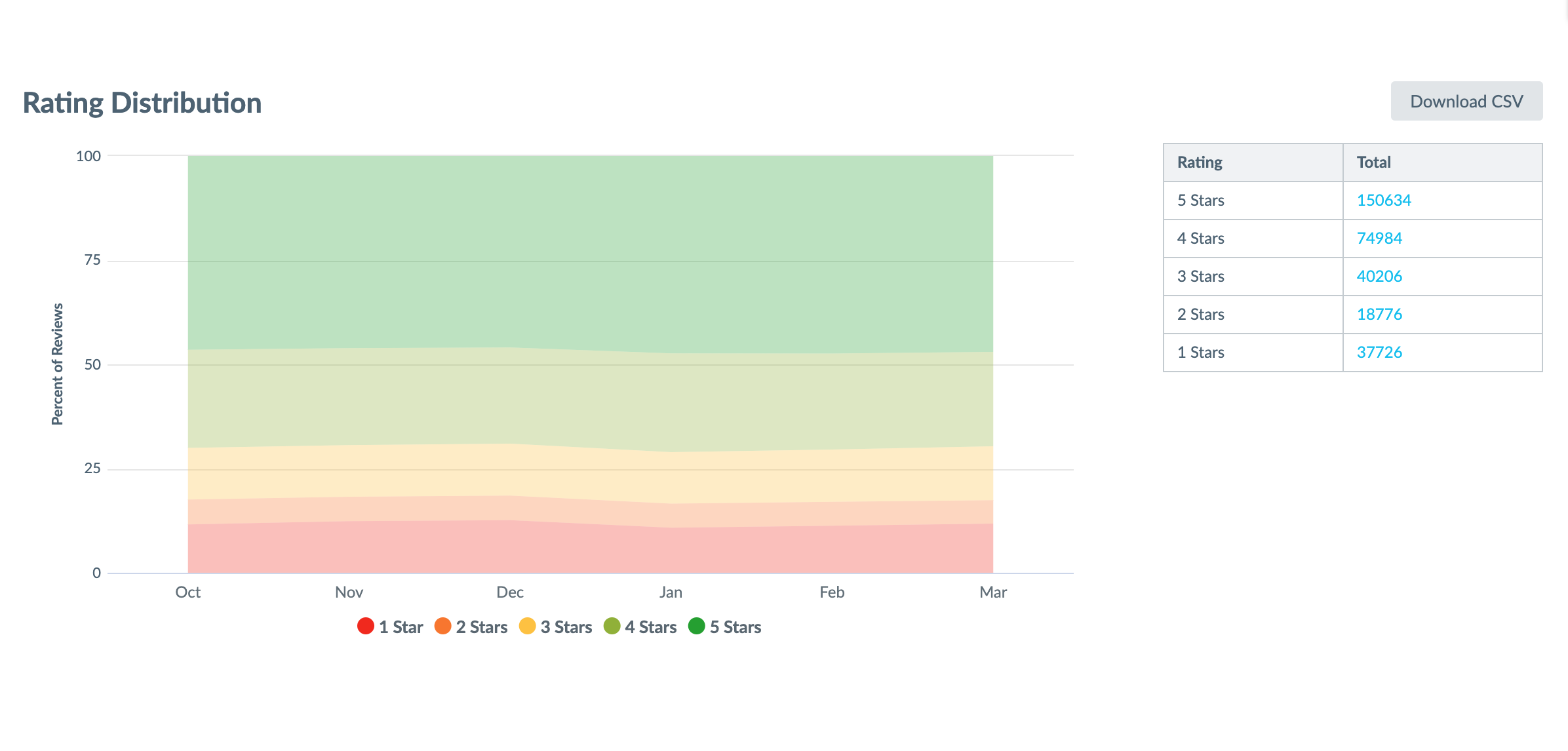 Word Frequency is a very high level visual of the words that are showing up in your reviews. The size of the bubble represents how frequently it has appeared in a review and the coloring is representative of the star rating.
Note: For a deep dive on review content/sentiment we recommend using Sentiment Analysis. This insight does not take sentiment score into account, so it is possible that a word would be green because it was in a positive review even though it had a negative sentiment attached to it and vice versa.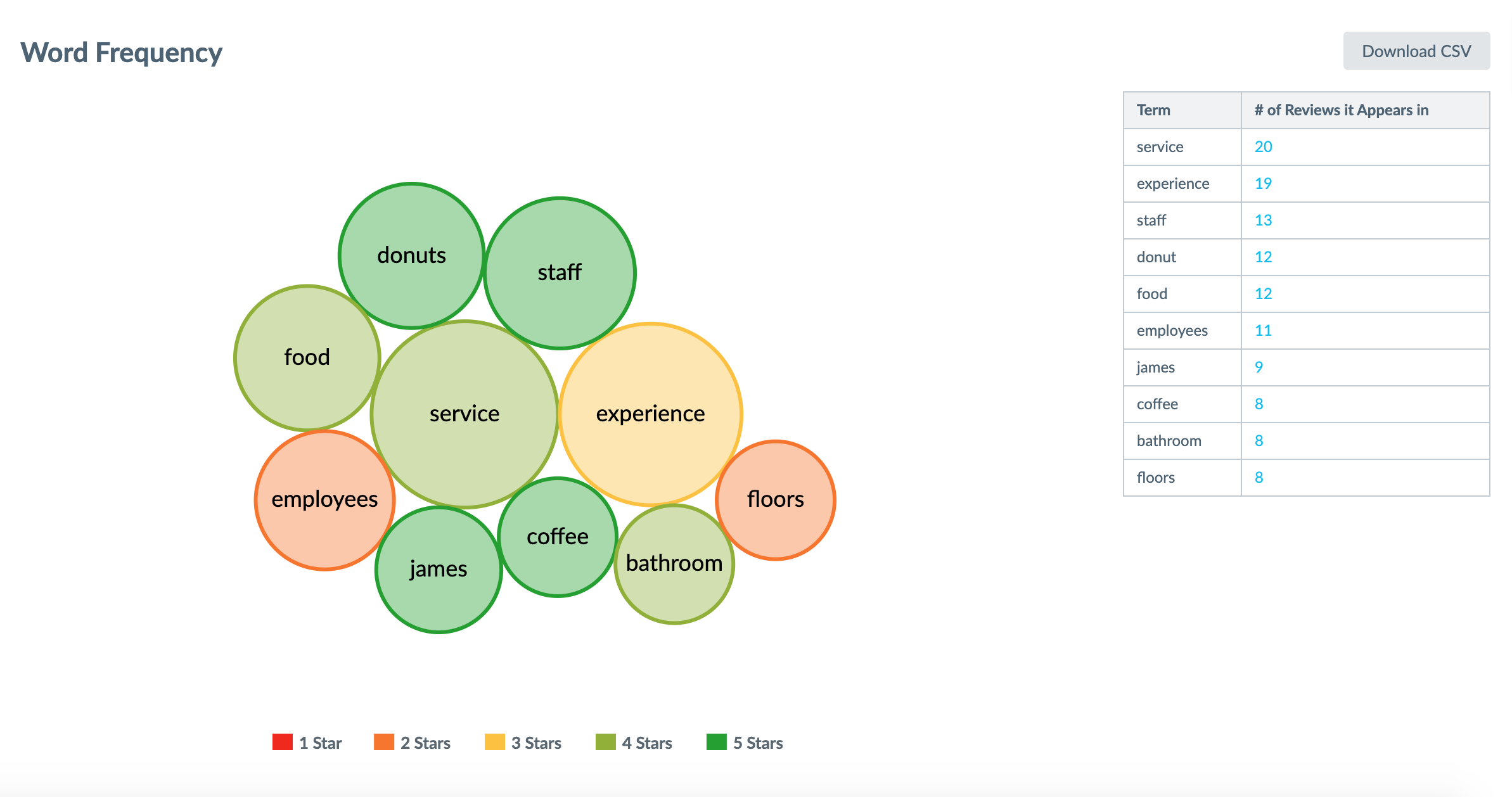 The last metric highlights your review generation. The blue bars measure the number of reviews your brand has generated in a month and the turquoise line tracks the success rate of invites sent.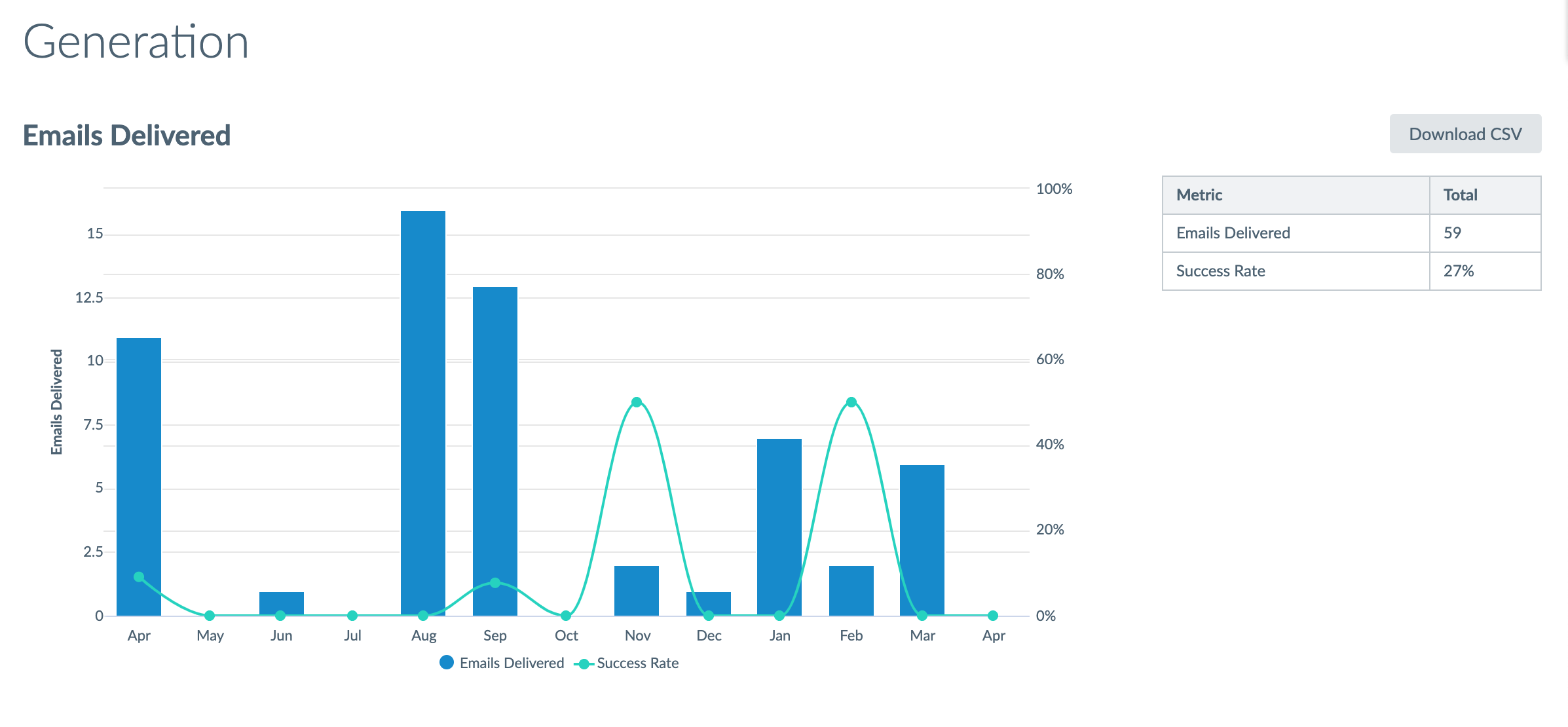 Note: Many of the insights in the Review Insights tab are pre-built and can not be recreated in Yext Analytics
Daily Quiz Streak:
0
Quiz Accuracy Streak:
0
Question 1 of 3

True or False: Other than Word Frequency, the Reviews Insights Tab can be downloaded as a PDF.

Question 2 of 3

For a deep dive on review content and sentiment, the best place to look is:

Question 3 of 3

Which insights are available in the Reviews Insights tab? (select all that apply)

You're out of this world! 🌎

You've already completed this quiz, so you can't earn more points.

You completed this quiz in

1

attempt and earned

0

points!

Feel free to review your answers and move on when you're ready.