Yext's Impact on Search
| Yext Hitchhikers Platform
What You'll Learn
In this section, you will learn:
How Yext can help you take advantage of new search opportunities
The features of the Yext Answers Platform
---
The Answers Platform
We built Yext to give your organization a platform to help deliver AI-powered search experiences based on natural language.
With the Yext Answers platform:
You can build your own enterprise knowledge graph.

You can leverage our many natural language search algorithms to build amazing AI-powered search experiences.

You can push your structured data to the 3rd party search engines.
You can build search optimized web pages, built for conversion and scale.

With the Yext Answers Platform you can build and deliver AI-powered Search solutions for marketing, support, ecomm, workplace, and anything else your developers can dream up.
Yext Solutions
If you don't want to build everything yourself you can leverage our App Directory which is filled with pre-made search solutions and third-party partner apps that can be easily installed or used as templates to get started.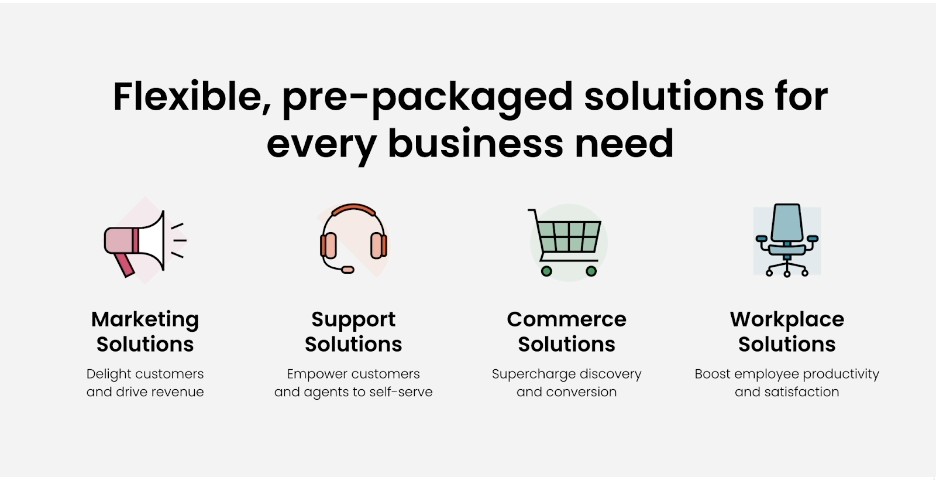 Yext has 5 different solution categories:
With Marketing Search, you can deploy AI-powered search on your websites to power site search, or specialized search experiences like a career site.
With Support Search, you can add AI-powered search to your external help sites and internal agent portals to resolve customer issues faster.
With Developers Search, you can add AI-powered search to the products your developers build.
With Ecommerce Search, you can leverage AI-powered Search for product discovery and purchase flows.
With Workplace Search, you can create a powerful employee intranet search experience.
The same way Google brought AI-powered search to the consumer. Yext is bringing AI-powered search to the Enterprise.
Daily Quiz Streak:
0
Quiz Accuracy Streak:
0
Question 1 of 3

You can build AI-powered search solutions on the Yext platform

Question 2 of 3

Yext has pre-built AI-powered search solutions.

Question 3 of 3

Which category of search Yext's AI-powered search is relevant to?

Wahoo - you did it! 🙌

You've already completed this quiz, so you can't earn more points.

You completed this quiz in

1

attempt and earned

0

points!

Feel free to review your answers and move on when you're ready.
Sign up for Hitchhikers to start earning points!
If you're already a Hitchhiker, log in to access this content.
Feedback