Introduction to Review Response
| Yext Hitchhikers Platform
What You'll Learn
In this section, you will learn:
A quick overview of review response
Why review response is important
How Yext helps you optimize your review response strategy
---
What is Review Response?
Your customers are leaving reviews about your brand every day, and most expect a response . Review response allows you to respond to reviews directly within your monitoring platform which immediately posts your response directly on the publisher site.
How Yext Helps You Optimize for Review Response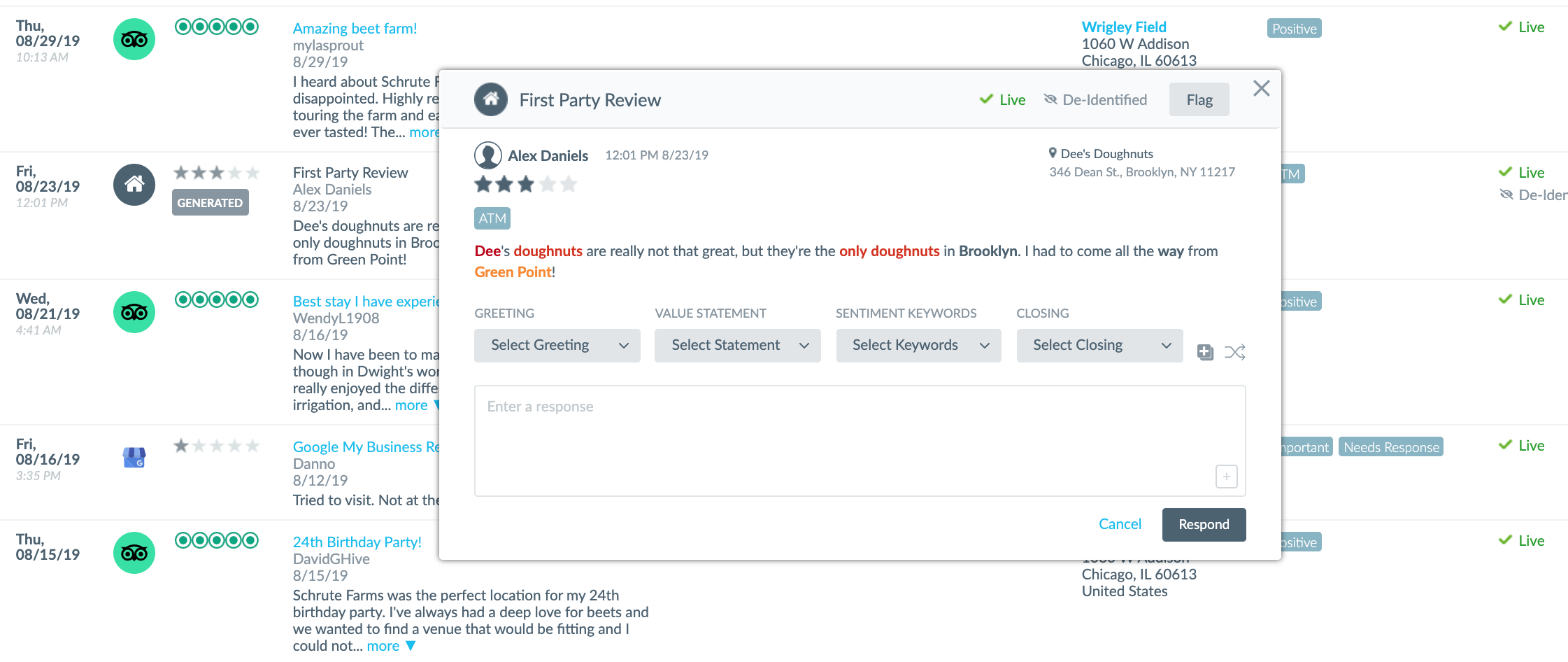 Review response is one of the best ways to engage your customers after they have had an experience with your brand, and increase your star rating. Yext provides the tools and best practices to optimize your review response strategy. Below we have highlighted some of the key functionality available. We will be diving deeper into each of these areas throughout the Reviews track.
Response options to fit your needs.
Whether you are a member of the corporate team, the customer care team, a local manager, or a trusted partner, Yext provides response options that make your job easier. This includes a variety of web and mobile interfaces to respond to reviews as seamlessly as possible.
Advanced review response functionality.
Intelligent Review Response takes Yext's best practices for building an effective response, and rolls them into an easy-to-use feature. Harnessing the power of Sentiment Analysis, users can quickly determine the important keywords in each review, then use those keywords, and underlying sentiment, as the dynamic building blocks for a personalized, on-brand response — every time.
Response process organization.
Foster collaboration, brand control, and flexibility using tools that are built to support review response best practices. Support your users with approval workflows, review labeling, pre-built integrations, and more, so that the right reviews are responded to by the right people in a timely manner.
Daily Quiz Streak:
0
Quiz Accuracy Streak:
0
Question 1 of 3

True or False: On average, businesses that respond to reviews see a higher review rating than businesses who do not

Question 2 of 3

True or False: Most customers who leave a review expect a response

Question 3 of 3

Which of the following is NOT a way that Yext helps you optimize your review response?

Way to go, you passed! 🏁

You've already completed this quiz, so you can't earn more points.

You completed this quiz in

1

attempt and earned

0

points!

Feel free to review your answers and move on when you're ready.
Sign up for Hitchhikers to start earning points!
If you're already a Hitchhiker, log in to access this content.
Feedback