Ready to be your brand's hero?
Sign up to become a Hitchhiker and build skills that will enhance your career, get access to exclusive Yext resources, and be your brand's hero by driving consumer engagement.

If you're already a Hitchhiker, log in to access this content.
Modules Intro
| Hitchhikers Platform
What You'll Learn
In this section, you will learn:
What modules are
Examples of default modules
---
Overview
Modules are horizontal components of your page. Each page is made up of a series of modules. When you create a page and choose the entity type, you will see that the template is created with a set of default modules that are optimized for that entity type to help you get started adding content and building out your page.
By definition, modules are horizontal segments of content used to build your pages.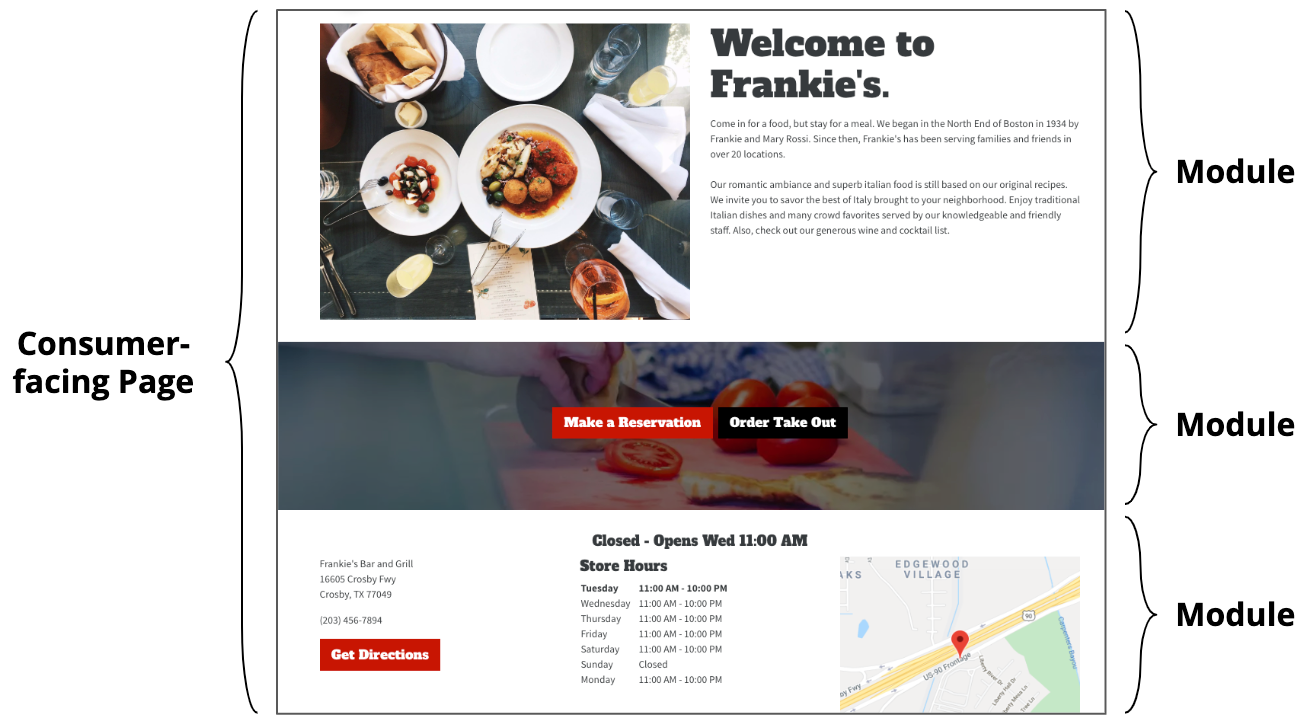 In the Page Builder, there is a wide variety of built-in modules that you can select from to build your pages. A few examples of built-in modules are highlighted below:
| Module Name | Description |
| --- | --- |
| About this Page | An image and paragraph with optional headline and call-to-action button |
| Announcement Bar | A colored bar with a single line of text |
| Core Location Details | Basic information about your location with a map |
| Event Details with Image | Basic information about your event with an image |
| Image Gallery with Captions | A grid of images with captions and descriptions |
| Nearby Locations | A list of nearby locations. You can set the radius and number of locations to display |
| Store Locator | A map of all your locations that your customers can filter and search |
| Three Column List | A three-column grid of items that can be used to list out entities in your account |
Tip
Not all modules are available for all entities or page types. If you do not see one of the modules, it may not be available for the entity type or type of page you are creating.
Currently, when building Pages, you can only select from the built-in modules to create your pages. For custom built modules, please reach out to your Account Manager for additional information. This functionality will be coming soon.
HTML Modules
One feature that is available, if built-in modules don't provide you with enough flexibility, or there is something more custom you would like to add to your page, is HTML modules. HTML modules are a block of HTML that you can add to the site via the Page Builder. Once you add it, you can include your own code into the code editor.
Additionally, in the HTML Modules you can map to fields in the Knowledge Graph, if you store any entity-specific HTML in Rich Text fields.
HTML Module Use Cases:
Page headers and footers
Embedding a Javascript or HTML widget to your page
Daily Quiz Streak:
0
Quiz Accuracy Streak:
0
Question 1 of 2

Modules are:

Question 2 of 2

If you run into a situation where a built-in module doesn't provide enough flexibility, what feature can you leverage?

A Hitchhiker in the making! 🔥

You've already completed this quiz, so you can't earn more points.

You completed this quiz in

1

attempt and earned

0

points!

Feel free to review your answers and move on when you're ready.