Module Parameters
| Yext Hitchhikers Platform
What You'll Learn
In this section, you will learn:
What module parameters are
Ways to display content in module parameters
---
Overview
Each module is made up of a set of parameters. This is an individual piece of content like headline text, an image, or a button.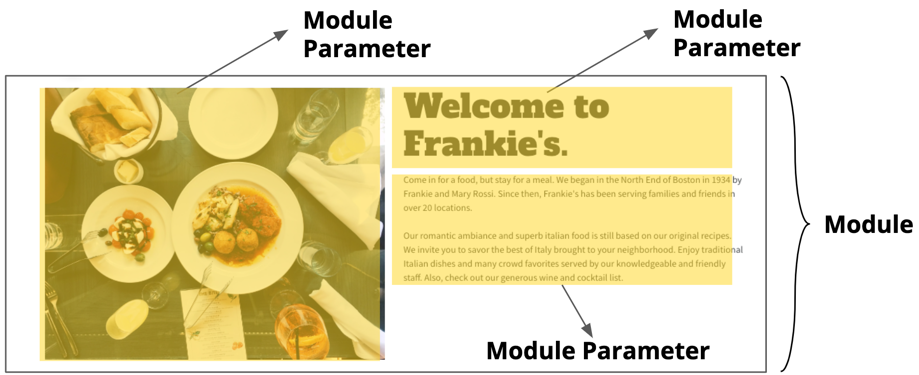 When you click to edit a module, you will see all of the parameters that make up each module. From there, you can edit and configure each parameter of the module. You can choose how to display content and whether parameters should be displayed, or removed from the page.

When editing module parameters, there are two ways to display content in module parameters. Content can either be dynamic or hardcoded.
Dynamic: you map to an entity field. This means the content will pull from the field in Content.
Hardcoded: you enter a constant value. You either enter text into the field or upload an image.
We will dive into the details of these differences and how to configure this later in the training.
Daily Quiz Streak:
0
Quiz Accuracy Streak:
0
Question 1 of 2

True or false, you can configure each parameter within a module.

Question 2 of 2

Content in module parameters can either be: (Select all that apply)

Way to go, you passed! 🏁

You've already completed this quiz, so you can't earn more points.

You completed this quiz in

1

attempt and earned

0

points!

Feel free to review your answers and move on when you're ready.
Sign up for Hitchhikers to start earning points!
If you're already a Hitchhiker, log in to access this content.
Feedback