Ready to be your brand's hero?
Sign up to become a Hitchhiker and build skills that will enhance your career, get access to exclusive Yext resources, and be your brand's hero by driving consumer engagement.

If you're already a Hitchhiker, log in to access this content.
Understand and Set up Notifications
| Hitchhikers Platform
What You'll Learn
In this section, you will learn:
What notifications are
What types of notifications exist
When to set up various notifications
---
Overview
Email notifications allow you to set up email notifications for updates and important account information. This can include things like analytics reports, new reviews, listing updates, alerts when users suggest edits to content, and more.
Access considerations
An important thing to note is that users will only have access to the information that they are assigned to within the platform.
For example, if you create a notification with a weekly analytics dashboard that gets sent to all users, users with access to one location will only be able to see data in the Analytics dashboard for their single location.
How to set up notifications
There are two ways to set up notifications: through Account Settings, and on product-specific pages. Each product page has a bell icon. Clicking on the bell icon will drop you into the Notifications modal with the relevant Product area already selected.
From Account Settings:
Hover over your name in the top right corner and click Account Settings.
Click Notification Settings.
Click on the create new notification link or click on the Create New Notification button.
Select the desired product area.
Below we will dive into the specific content that is included in each of these product-specific emails.
Listings:
Listing Notifications are intended to keep you updated of any action that needs to be taken on your Listings. You can create notifications for any of the following:
Invalid Location Data Issues: Receive notifications about unavailable listings due to data issues (e.g., invalid address or phone number).
Location Verification Issue: Receive notifications about unavailable listings specifically due to verification issues (e.g., Google My Business verification is still pending).
Publisher Credential Issues: Receive notifications about unavailable listings due to an issue with the linked account.
Possible Duplicates: Receive notifications about duplicate listings that have been identified. These notifications are sent in real-time as they are detected (meaning you will not select a frequency).
Reviews:
Reviews notifications are intended to keep you informed of new reviews that are being left on your Listings. You can create notifications for any of the following:
New reviews matching all of: Receive emails that only contain new reviews.
New reviews, updates on existing reviews or updated Facebook comments matching all of: Receive emails of new reviews, as well when updates are made to existing reviews or Facebook comments.
Reviews notifications have a series of criteria that can then be applied. For example, you can set it up to receive emails about reviews that match a specific star rating, contain a specific keyword, or based on the site the user left the review on.
One important thing to note with notifications is that the filters are additive, meaning all filter criteria must be met in order to trigger a notification. So, be mindful, as you may need to set up a few different notifications to make sure that you are receiving the information you're looking for.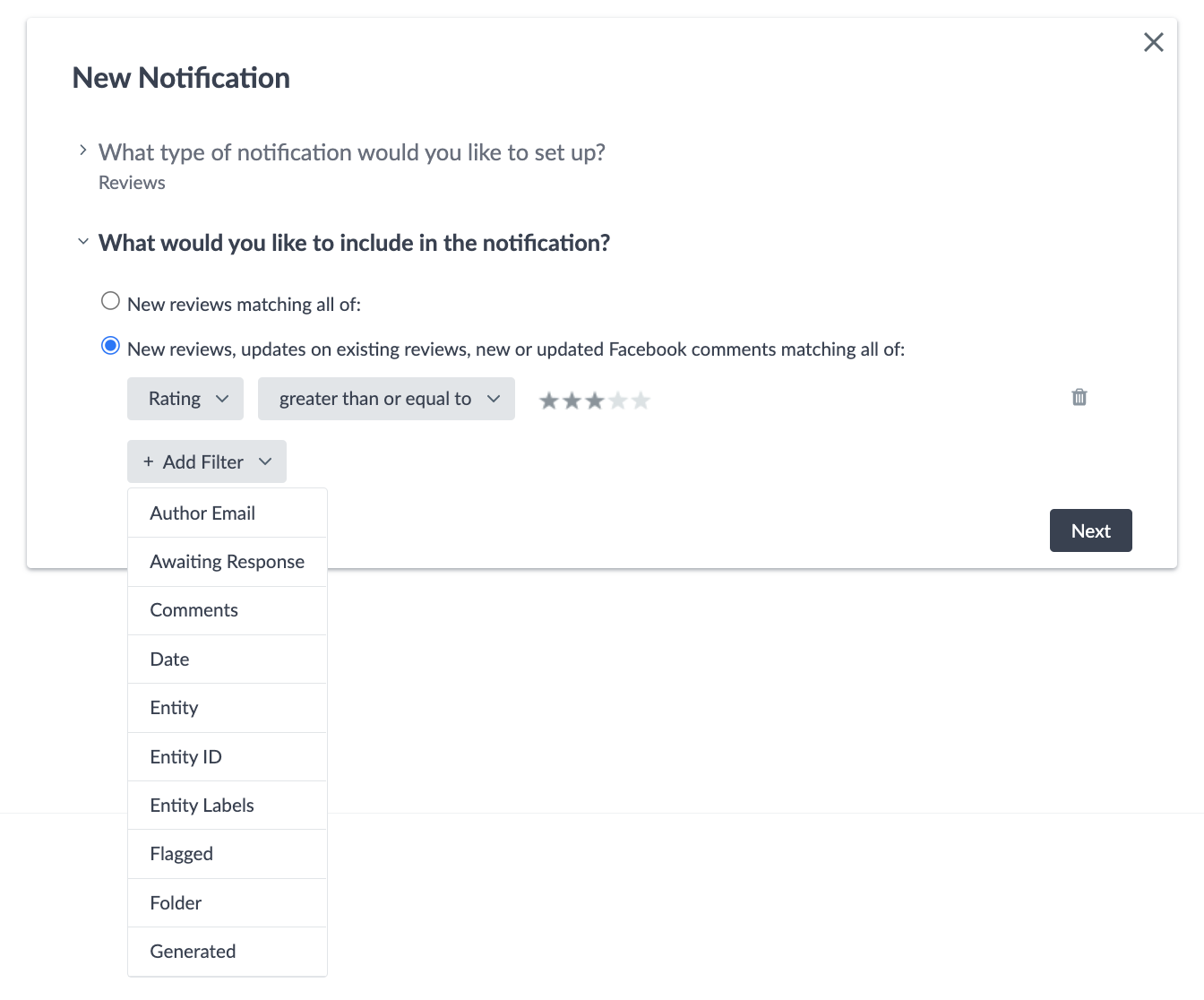 You can also select whether you would like the reviews to be included in the body of the email, attached to the email as a spreadsheet, or both.
Analytics:
Analytics notifications are a great way to keep a pulse on how everything is performing. You can create analytics notifications that include any of the following:
Dashboard: Select a specific dashboard that you would like to send.
Reports: Select a specific report or set of reports.
Review Insights: Receive an email with all of the Review-related insights.
Knowledge Graph:
Knowledge Graph notifications keep you informed of updates happening in the Knowledge Graph.
Suggestion Updates: Receive notifications made for data suggestions made by users in the platform, or on supporting publisher sites.
Entities created via API matching all of: Receive notifications when entities have been created via the API.
With Suggestions Update notifications you can set up notifications for Suggester so they can be made aware of updates to their suggestion such as a status change (if the suggestion was approved or rejected), or if any comments were added to it.
You can also set up notifications for Approvers so they can be made aware of any new or pending suggestions, as well as any activity on the suggestions. For more details on Approvals and Suggested Edits, see the Content Approvals and Suggestions module.
Choose the Frequency
Once you select the content of the notification, you will select how often you would like the notification to be sent based on the following options:
Daily
Weekly
Bi-Weekly
Monthly
As entities are added (specific to Knowledge Graph notification for entities created via API)
As they come
Not all frequencies are available for each type of notification, but you will see the available options once you select the notification type. Additionally, when selecting weekly or bi-weekly, you will have the option to select the day (Monday-Sunday), and when you select monthly you will have the option to select the date (the 1st through the 27th).
Choose the Audience
When setting up notifications, you can select who you want to send the notification to. You always have the option to select from the following options:
Myself
All Users
Specific User Roles
Specific Users
If you select All Users, Specific User Roles, or Specific Users, you also always have the option to exclude a specific user or user role from that group.
Remember, the content of the email will only display data pertaining to the entities and features that the recipient has access to.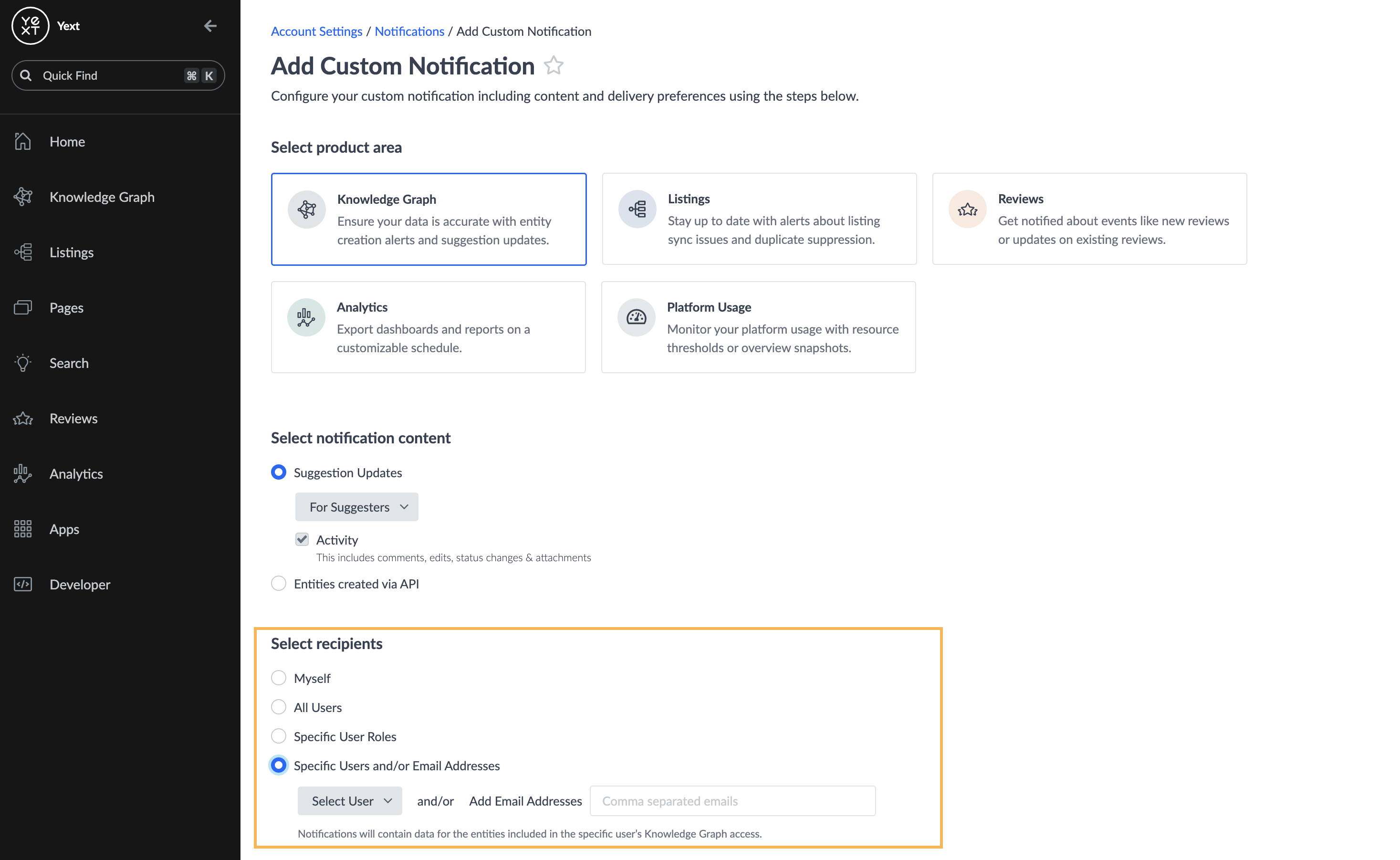 Customize the Subject Line and Body
The last step to creating your notification is adjusting the Subject Line or Body. You can choose to keep the defaults, or customize it by adding your own text.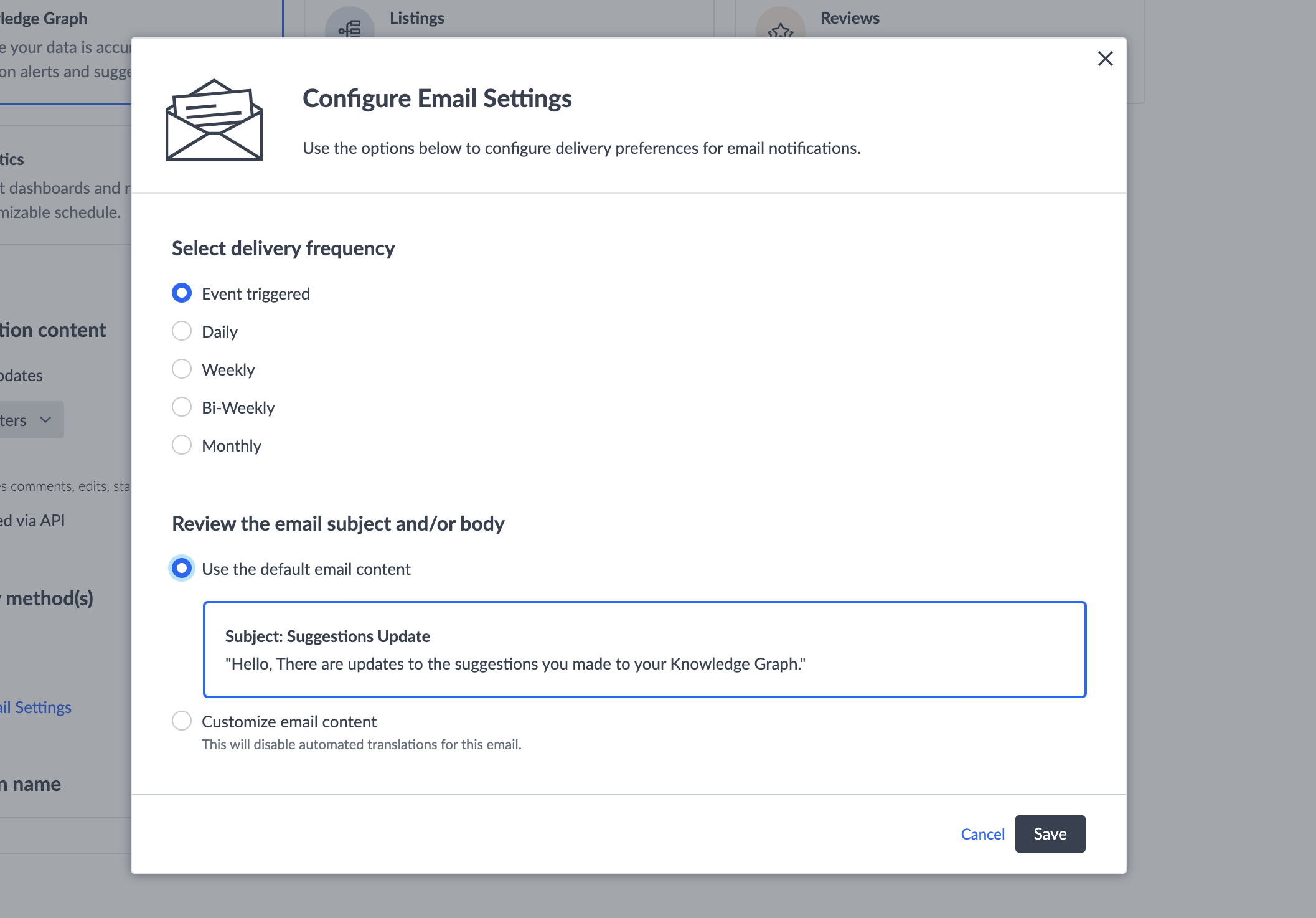 Daily Quiz Streak:
0
Quiz Accuracy Streak:
0
Question 1 of 3

Which of the following can you create notifications for? (Select all that apply)

Question 2 of 3

True or False: Information in the email will only include content for entities a user has access to.

Question 3 of 3

Where in the platform can you set up notifications? (Select all that apply)

You're a star! ⭐️

You've already completed this quiz, so you can't earn more points.

You completed this quiz in

1

attempt and earned

0

points!

Feel free to review your answers and move on when you're ready.