Ready to be your brand's hero?
Sign up to become a Hitchhiker and build skills that will enhance your career, get access to exclusive Yext resources, and be your brand's hero by driving consumer engagement.

If you're already a Hitchhiker, log in to access this content.
What is the Yext App Directory?
| Hitchhikers Platform
What You'll Learn
In this section, you will learn:
What is the Yext App Directory
How to see which apps are available
---
Overview
The Yext App Directory is a catalog of turnkey integrations (or "Apps") between Yext and various 3rd party platforms. These integrations make client processes more seamless by extending the use of Yext into the other vendors that they may use daily, like Salesforce, HubSpot, Zendesk, Tableau, and more.
Whether you're tracking customer engagement to monitor trends or syncing client data to reach out to potential leads, the App Directory creates a centralized space for you to carry out your workflows without having to jump from system to system to input the same information.
Keep in mind: In the previous module we learned about individual Apps within your account — the App Directory is really just a global library of these Apps. They are pre-built and available across all accounts!
Browsing the App Directory
Click Apps in the top navigation bar.

Scroll through the directory or filter to a specific category in the top filter bar.
Each App will have its own App Directory listing page that contains comprehesive information regarding the integration. You can find information about the Partner company, the integration itself, and even contact customer support from this page. This is also where you can choose to install Apps, launch Apps (if already installed), or uninstall Apps from your App Directory.
Note, some of our partners actually have multiple Apps within our directory (for example, Salesforce)!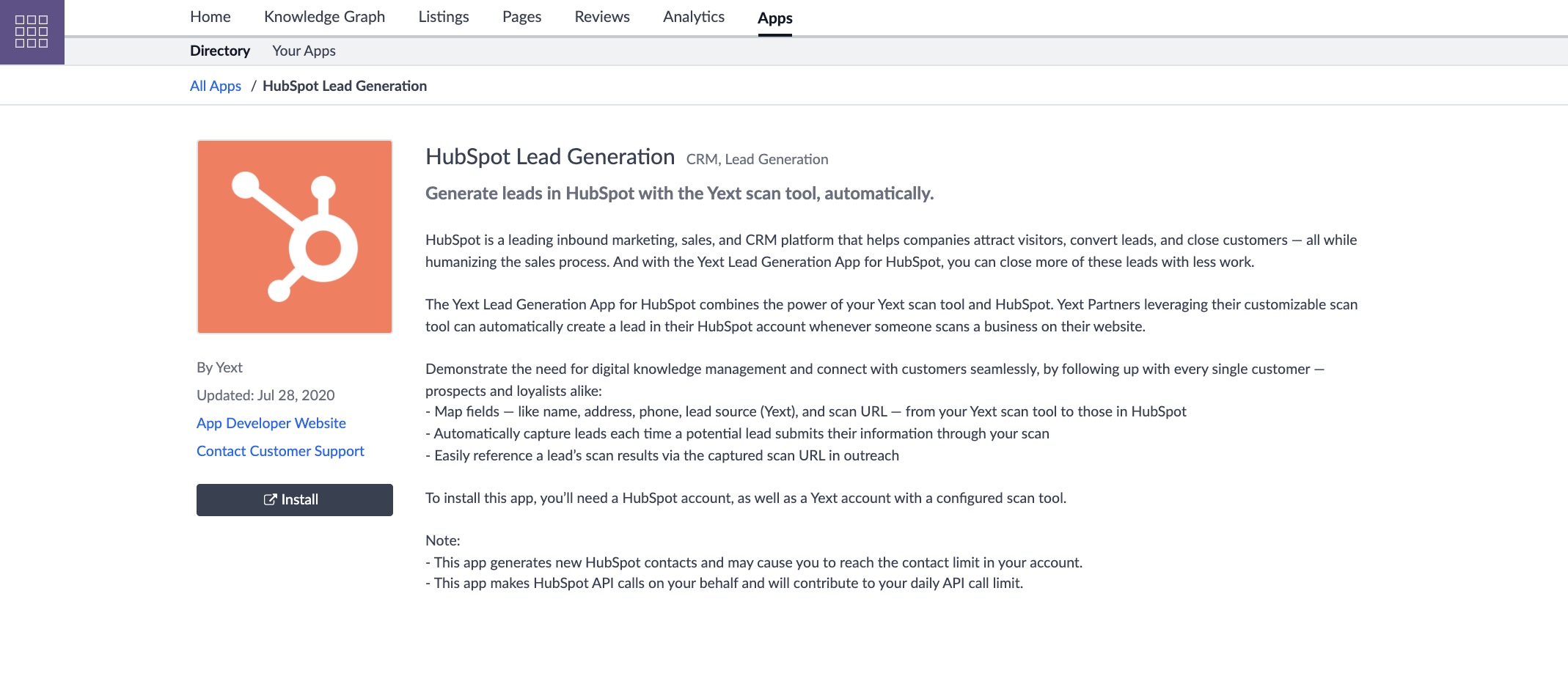 You can also browse Yext Apps by going to apps.yext.com
Daily Quiz Streak:
0
Quiz Accuracy Streak:
0
Question 1 of 2

What is the Yext App Directory?

Question 2 of 2

I want to know if Yext has any pre-built integration with ChatBot softwares - where should I go to find this information? (Select all that apply)

Soon you'll be your brand's hero! 🎓

You've already completed this quiz, so you can't earn more points.

You completed this quiz in

1

attempt and earned

0

points!

Feel free to review your answers and move on when you're ready.