Introduction to Review Labels
| Yext Hitchhikers Platform
What You'll Learn
In this section, you will learn:
What Review Labels are
The different ways you can create and manage Review Labels
---
What are Review Labels?
Review Labels are a tool that can be used to help categorize reviews with similar characteristics within your account. They can assist your reviews management by helping with organization and prioritization.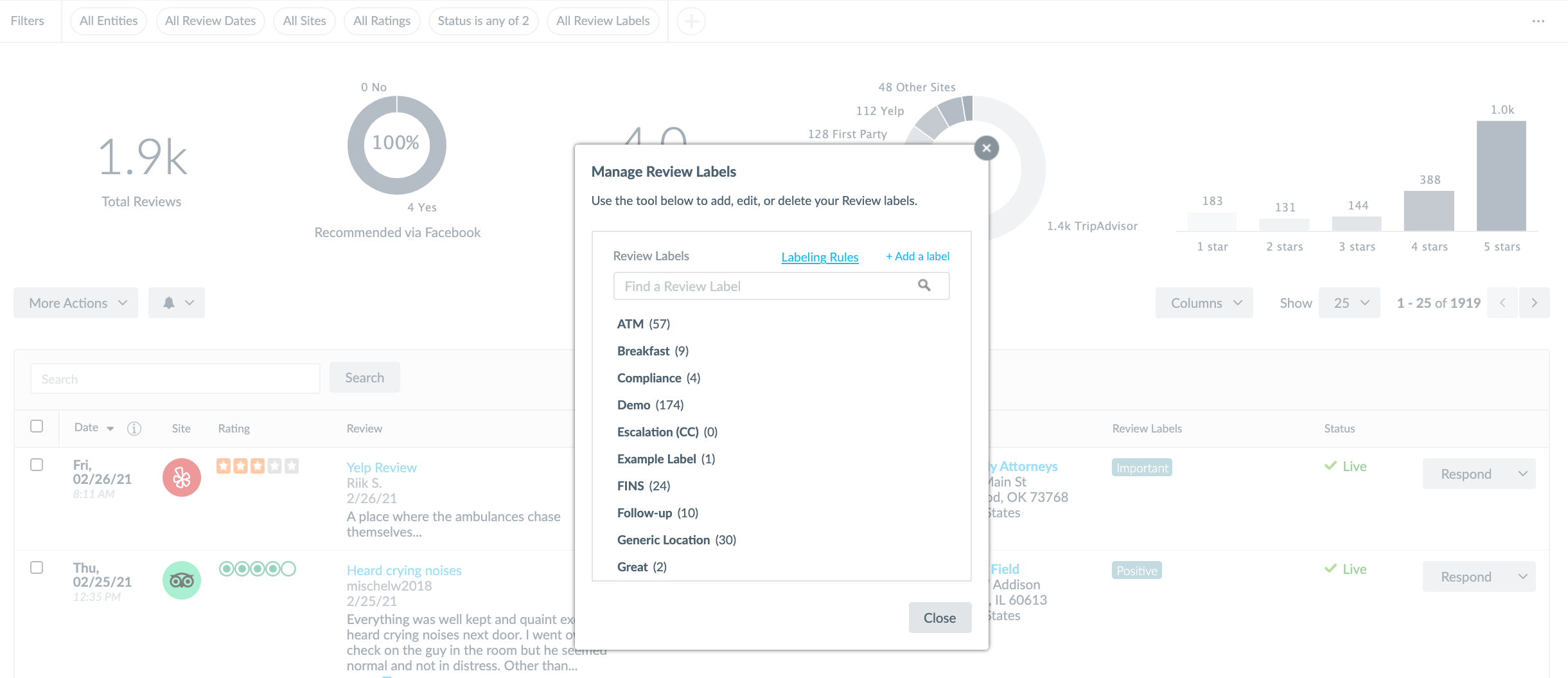 How Can I Apply Review Labels to Reviews?
Your brand is constantly receiving reviews across the web. Without proper organization the sheer number and variety of reviews can become overwhelming. Review Labels are a way to understand which to prioritize, which are alike, which should be reviewed by certain teams, and more.
Labels can vary greatly depending on a number of different factors, including your business goals, reviews processes, and industry. Examples of review labels include categories like "service," languages like "Spanish," review type like "negative," products/services like "pizza," and many others depending on how your brand chooses to organize your reviews.
Note: More than one label can be applied to a review.
What are the Ways I Can Apply Review Labels to Reviews?
To help fit your reviews processes, Yext has a few different ways you can add labels to reviews. We will provide more information on how to actually use these methods throughout the rest of this module.
Manually Apply Review Labels
Within the Yext platform you are able to easily create a label and then apply that label to a single review or in bulk to multiple reviews.
Configure Review Labeling Rules
Create a rule where reviews are automatically labeled if they meet predetermined criteria chosen by a brand which can be based on the review content, star rating, sites, responses, and more.
Daily Quiz Streak:
0
Quiz Accuracy Streak:
0
Question 1 of 3

True or False: Review Labels are a tool to show your customers what types of reviews you have.

Question 2 of 3

Which of the following could be used as a Label?

Question 3 of 3

True or False: Yext has the functionality to automatically label incoming reviews based on predetermined criteria.

A Hitchhiker in the making! 🔥

You've already completed this quiz, so you can't earn more points.

You completed this quiz in

1

attempt and earned

0

points!

Feel free to review your answers and move on when you're ready.
Sign up for Hitchhikers to start earning points!
If you're already a Hitchhiker, log in to access this content.
Feedback