Introduction to Intelligent Review Response
| Yext Hitchhikers Platform
What You'll Learn
In this section, you will learn:
The components of an effective review response
Introduction to Yext's Intelligent Review Response functionality
---
The Components of an Effective Review Response
An effective review response should have four parts: A greeting, value statement, sentiment keyword, and closing.
Greeting: A friendly opening that mentions the customer's name or username.
Value Statement: This is an opportunity to make a statement that discusses your brand in a positive light and affirms your values. State the experience that your brand strives to deliver. For example: "At [business name], we always strive to provide great customer service."
Sentiment Keyword: This is part of what makes a response feel personal. Apologize when there's a need, and echo back their emotional sentiment. (i.e., "We're so delighted that…"; "We're so sorry that X happened, and we aim to fix it with Y.") Affirm the customer's experience, acknowledging the problem when you're responding to a negative review. When engaging with a positive review, be sure to thank the customer for their support.
Closing: A polite and personal sign off. Bonus points for inviting them back to your business again — either to show them a better experience, or to continue more of the excellent service they commended you for!
Introduction to Yext's Intelligent Review Response Functionality
Combining these four components into traditional templated review response would be impossible, but manually responding to individual reviews is often not scalable for organizations. That's why Yext created Intelligent Review Response.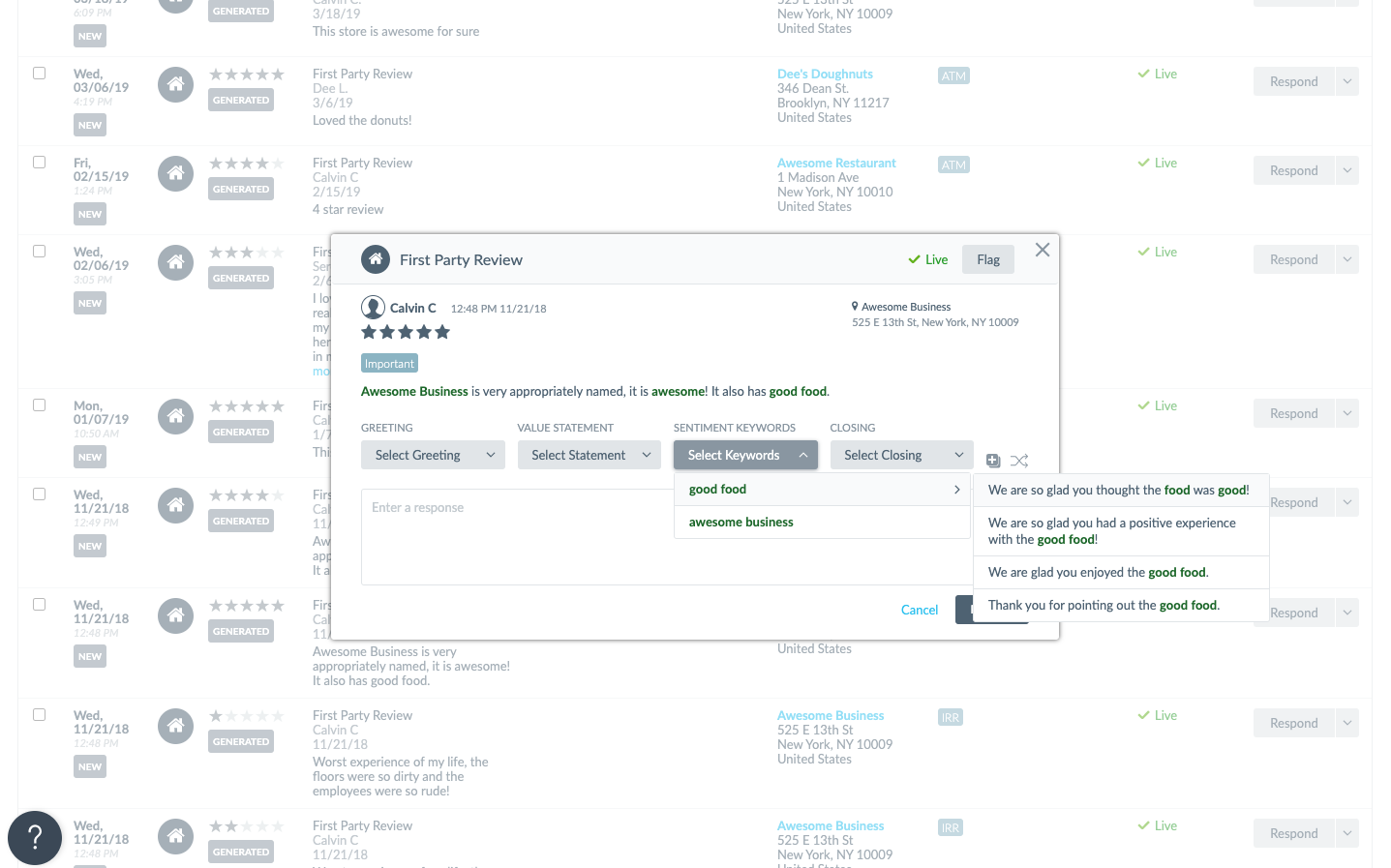 Intelligent Review Response leverages Sentiment Analysis to easily create dynamic, on-brand review responses while following Yext's best practices for building an effective response.
Users create templates for each of the core components of an effective review response (Greeting, Value Statement, Sentiment Keyword, Closing) and Intelligent Review Response helps to dynamically create the response based on Sentiment Score and Keywords in the review. As you can see above, Keywords and Modifiers from Sentiment Analysis can be pulled directly into the response.
Daily Quiz Streak:
0
Quiz Accuracy Streak:
0
Question 1 of 3

Which of the following are components of an effective review response? (select all that apply)

Question 2 of 3

True or False: The Value Statement is where you should address customer concerns.

Question 3 of 3

Intelligent Review Response leverages what other Yext technology to analyze a users review and determine important keywords and modifiers?

Way to go, you passed! 🏁

You've already completed this quiz, so you can't earn more points.

You completed this quiz in

1

attempt and earned

0

points!

Feel free to review your answers and move on when you're ready.
Sign up for Hitchhikers to start earning points!
If you're already a Hitchhiker, log in to access this content.
Feedback