How to Use Intelligent Review Response
| Yext Hitchhikers Platform
What You'll Learn
In this section, you will learn:
How to use Intelligent Review Response when responding to reviews
Intelligent Review Response best practices
---
How to Reply Using Intelligent Review Response
Intelligent Review Response is built to be fast and easy! Once you have created components they will automatically show up when you respond to reviews. All you need to do is click on the drop-down button for each review response component and select your preferred option. In the Sentiment Keyword component you will have to choose which keyword and modifier you want to respond about (you can respond to more than one!) and then choose which template to use.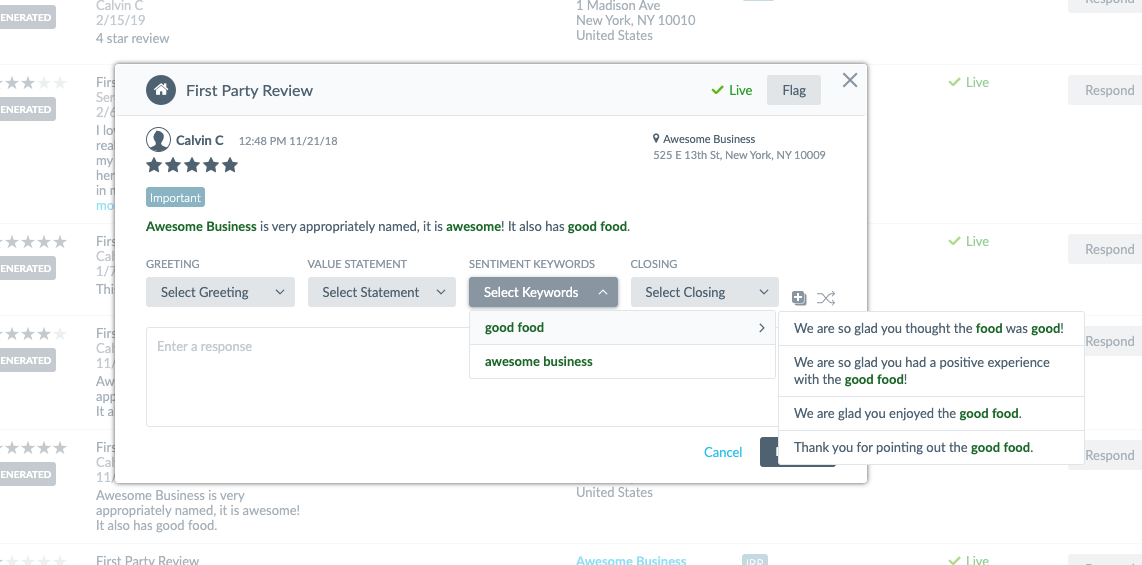 In some situations you may even want to take advantage of the Shuffle feature (to the right of the component dropdowns) where Yext automatically picks one option from each component
Note: Sentiment Keywords component will not show up until a review has been analyzed by Sentiment Analysis. This can take up to 24 hours and some reviews are not eligible for Sentiment Analysis or may not complete if the review does not fit the criteria or there is an error.
Intelligent Review Response Best Practices
Responding to reviews is very situational and may depend on the review, your brand, your industry, and many other factors. Below are some best practices that we have found to work as guidelines in many situations, however, please use Intelligent Review Response based upon your unique situation.
Keep content fresh - Keeping templates fresh is critical. We recommend updating templates 2-3 times per year as well as whenever your brand guidelines change.
Respond to the most extreme Sentiment Score - In the Sentiment Keyword component, keywords are organized by the most extreme Sentiment Score, from top to bottom. This means that the most positive or most negative part of the review should be listed first. Responding to this keyword is typically best practice since it is the part of the review that the reviewer cares about most.
Respond to both positive and negative keywords - Many times reviews will have positive and negative keywords. Ex. "The food was great but the service was awful." Each review is different but the response will depend on the review itself. Look at things like the content, tone, star rating, and Sentiment Score. In some cases it may make sense to reply with both a positive and negative template for each keyword.
Use Shuffle sparingly - The shuffle feature can save time by randomly choosing one selection from each dropdown menu. However, it should mainly be used to respond to low impact reviews such as 3 to 4 star reviews, non-extreme sentiment keyword scores, or times where there is very little content in the review. When using the Shuffle feature, it is important to review the output to make sure it makes sense and properly addresses the client review.
Daily Quiz Streak:
0
Quiz Accuracy Streak:
0
Question 1 of 3

How often should businesses update templates?

Question 2 of 3

True or False: The Shuffle feature should be used as much as possible.

Question 3 of 3

True or False: You can only use Sentiment Score to respond to a single keyword.

You're a star! ⭐

You've already completed this quiz, so you can't earn more points.

You completed this quiz in

1

attempt and earned

0

points!

Feel free to review your answers and move on when you're ready.
Sign up for Hitchhikers to start earning points!
If you're already a Hitchhiker, log in to access this content.
Feedback