Reviews Competitive Intelligence
| Yext Hitchhikers Platform
What You'll Learn
In this section, you will learn:
Why it's important to track your competition
How Reviews Competitive Intelligence helps you track your competitors
How to set up Reviews Competitive Intelligence
Where to view your competitors' star ratings
---
Introduction to Reviews Competitive Intelligence
Understanding the context of your ratings is as important as the actual ratings themselves. A star rating of 3.5 is great if your nearest competitors average 2.5 stars, but that same 3.5 may need some help if your competition averages a 4.
Your star rating plays a major impact on your customer perception and your ranking in search. In order to fully understand your reputation, it's critical to understand how your reviews stack up against the competition.
That's where Reviews Competitive Intelligence can help. Reviews Competitive Intelligence helps you to track named competitors and their star ratings on Google, Facebook, and TripAdvisor.
Yext will track up to five competitors for each location. These can be input globally if you want to track the same competitors at all locations, or you can pick different competitors for each individual location.
Note: These competitors are the same that you choose for the Search Tracker.
For each of your locations, we will find the competitor location that is the closest and pull that star rating. When looking at overall average rating for a competitor, this rating will not be the average rating for all of their locations; rather it will only include the locations that are nearest to your locations. These are the locations that are critical for your customers and search engines when choosing your brand.
Note: This review data is pulled directly from Google, Facebook, and TripAdvisor. It is not being shared within Yext accounts.
How to Set Up Reviews Competitive Intelligence
To set up your competitors you will need to enter competitors into the platform.
You can either choose to enter the competitors for an individual entity (any location-like entity such as location, restaurant, healthcare professional, hotel, etc.) or you can use the checkboxes to select entities in bulk.
Once you have navigated to the entity edit page you will need to scroll to the bottom until you reach the Competitors section.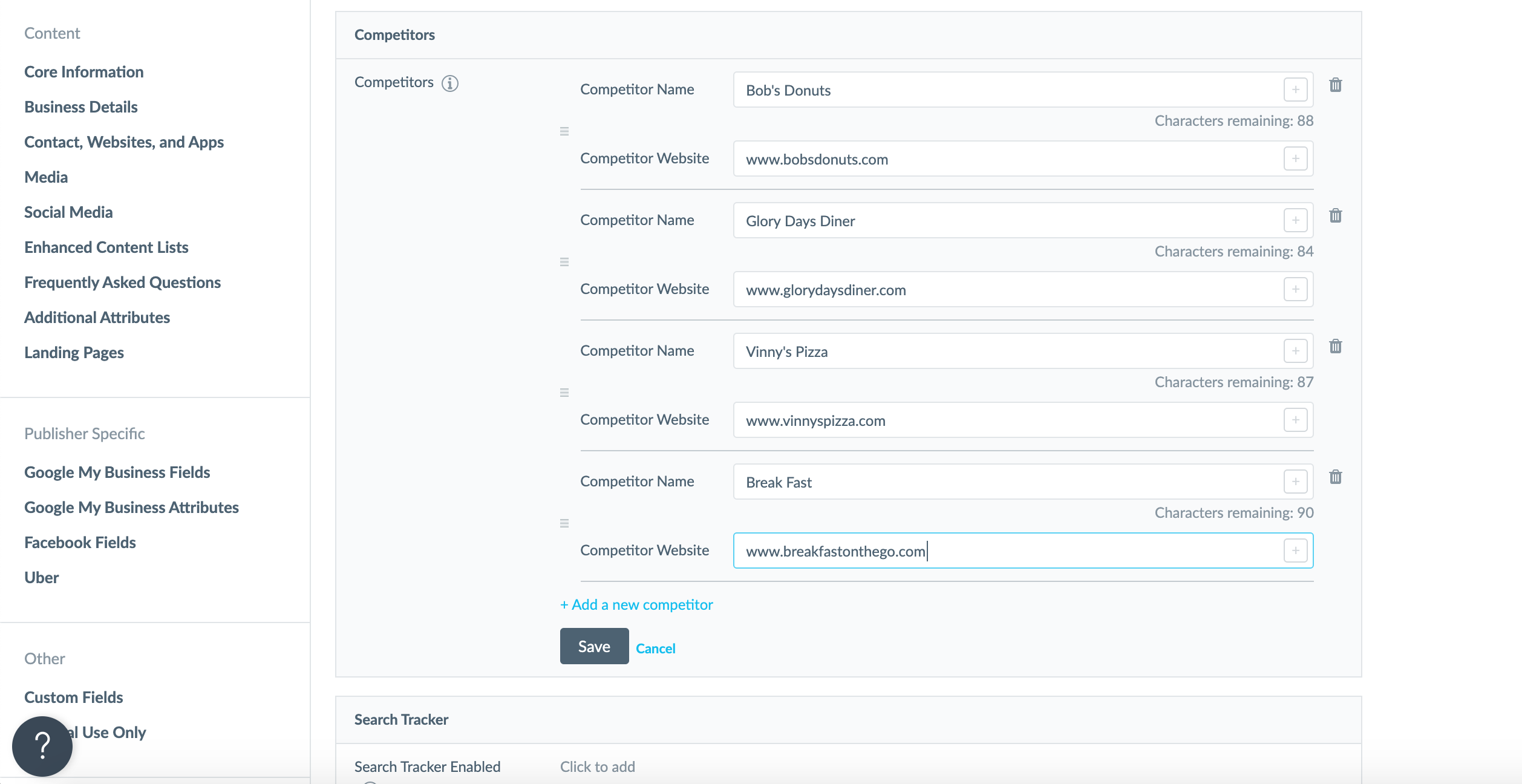 In the Competitors section, you can add the competitor name and competitor website for each competitor you want tracked for the selected location(s). The website does not need to be for any specific location, it can simply be the corporate website (for example, "www.yext.com".)
Once you have entered and saved these competitors, Yext will begin pulling the review rating for these locations. This process can take up to 2 weeks to backfill data and Yext will automatically scan for new data every 3 months.
Where to View Competitor Star Rating
There are a few different ways to view your competitors' star rating. The easiest way is in the Reviews Overview screen.
Reviews Overview
The Reviews Overview is easily filterable by entity by using the filters at the top of the page.

Analytics Dashboard Pre-built Insights
If you want to add the metrics to your own dashboard, this is easy to do using pre-built Insights. Once you are on the dashboard you want to add them to, click the Configure button in the top right corner or the Add Another Insight link at the bottom of the dashboard. From there you can select Facebook Competitor Average Rating, Google Competitor Average Rating, or TripAdvisor Competitor Average Rating.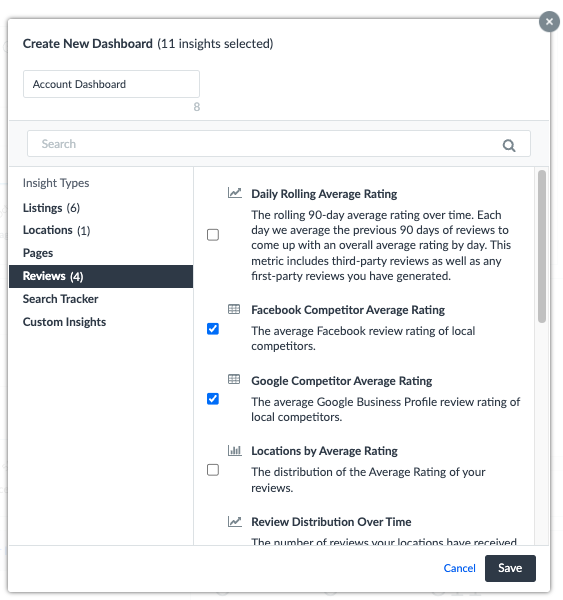 Adding these insights to dashboards is useful if you want to set up notifications or share them with other team members.
Daily Quiz Streak:
0
Quiz Accuracy Streak:
0
Question 1 of 3

Is a star rating of 3 good?

Question 2 of 3

True or False: The competitors you track per entity for Reviews Competitive Intelligence are the same as the competitors you track in the Search Tracker.

Question 3 of 3

How many competitors does Reviews Competitive Intelligence track per entity?

Way to go, you passed! 🏁

You've already completed this quiz, so you can't earn more points.

You completed this quiz in

1

attempt and earned

0

points!

Feel free to review your answers and move on when you're ready.
Sign up for Hitchhikers to start earning points!
If you're already a Hitchhiker, log in to access this content.
Feedback