Updates in Knowledge Graph
| Yext Hitchhikers Platform
What You'll Learn
In this section, you will learn:
An overview of the new Knowledge Graph features from the Summer '23 Release
---
Computed Field Value Enhancements
This release we've made some major enhancements to our Computed Field Values system.
Computed Field Values allows businesses to configure an algorithm to automatically populate the value for a particular field in the Knowledge Graph.
Below we highlight the three major updates that are now available:
Ongoing Computations
Users can now configure Computed Fields to run on an ongoing basis, based on updates made to fields used as inputs in the computation method.
This means that when an update is made to a dependent field (which is a field used in the input of a Computation Method), a recomputation is triggered, generating a new value.
For example, let's say you have a Computation Method set up to write a description for a product entity, and the prompt for writing the description includes instructions to leverage content in the Name field for the entity when generating the description. Every time the Name field is updated, a recomputation will be triggered for the computed field value on the description.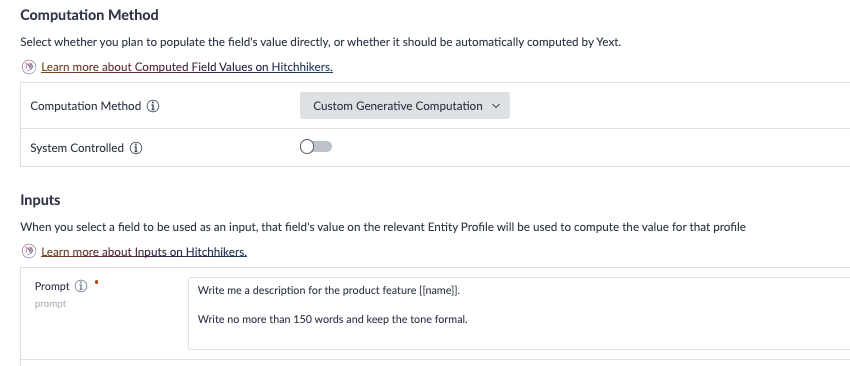 Computed Values as Suggestions
Users will have the option to configure the Write Behavior for computed field values, so that the values can be either provided as Suggestions, or applied directly to the entity profile. If computed field values are provided as Suggestions, content teams can review updates that are made asynchronously by computations, and approve them before they are reflected on entities.
This setting can be managed via the System Controlled option when editing or creating a Computation Method.
By default, all computed field values are provided as suggestions, and the System Controlled option is off, as seen below. If System Controlled is turned on, or set to true, then computed values will bypass Suggestions and will automatically be applied to fields. If a value is System Controlled, this also removes users' ability to make any edits to the field's value.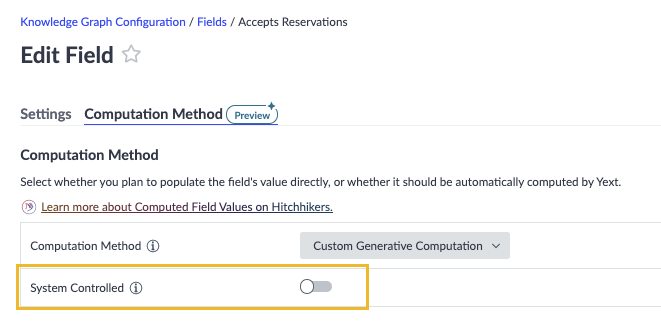 Built-in Field Support
Users will be able to configure computation methods to compute the value for built-in fields. This enables users to leverage Computed Fields more widely throughout the Yext products. For instance, computed field values can be leveraged to power built-in fields such as the Featured Message, or Description that are used to power content on listings.
How This Impacts You
Overall, these updates provide users with even more efficiency, while ensuring control over the content being created.
The ability to deliver computed fields via Suggestions provides a critical layer of control when leveraging Content Generation at scale, as it ensures that human review remains central to the content development process.
Ongoing computations ensure that generated content is kept up-to-date and is re-generating as relevant updates are made to related or dependent content.
Built-in Field Support allows you to leverage Computed Field Values more widely, and opens the door to leverage generated content on Listings, which rely on built-in fields to display content from Yext.
Feature Availability
The use of Content Generation in Yext requires the purchase of a Content Generation subscription. Please reach out to your account team to learn about Content Generation pricing.
For users with a subscription, to turn on this feature in your account, navigate to Account Settings > Account Features and select both Summer '23: Computed Field Values Improvements (early access) and Summer '23: Improved Built-in Field Configuration (early access).
Additional Resources
Entity Field Schema Updates
Previously, there was a set of subscription specific-fields that would only display on an entity if a relevant license was assigned to that entity. With this update, to help users prepare for their launches ahead of license assignment, we will show subscription-specific fields on all relevant entities if the overall account has that subscription associated with it.
For example, if your business has a subscription including the Facebook publisher, you will now see the Facebook Linked Account and Facebook Parent Page fields on your entity ahead of license assignment to that specific entity.
How This Impacts You
This update will help users prepare for launches, specifically on Listings, as you can now add the relevant content to your entities before the subscription feature is added, so everything is ready to go live.
Feature Availability
This feature was automatically enabled in accounts, so you should see these fields appear on entities today regardless of the assigned licenses.
Daily Quiz Streak:
0
Quiz Accuracy Streak:
0
Question 1 of 3

What enhancements have been made to Computed Field Values system? (Select all that apply)

Question 2 of 3

Which setting controls whether or not computed field values will be provided as Suggestions?

Question 3 of 3

What does the Entity Schema Update allow you to do?

High five! ✋

You've already completed this quiz, so you can't earn more points.

You completed this quiz in

1

attempt and earned

0

points!

Feel free to review your answers and move on when you're ready.
Sign up for Hitchhikers to start earning points!
If you're already a Hitchhiker, log in to access this content.
Feedback