Introduction
| Yext Hitchhikers Platform
What is Google Search Console?
At Yext, we receive a significant amount of Analytics data for our products from Google. For Pages, the primary source of Google search data is a service called Google Search Console (GSC).
Google Search Console (GSC) is a free service offered by Google that - among other things - provides a Performance Report detailing how a business' website is performing in Google Search results.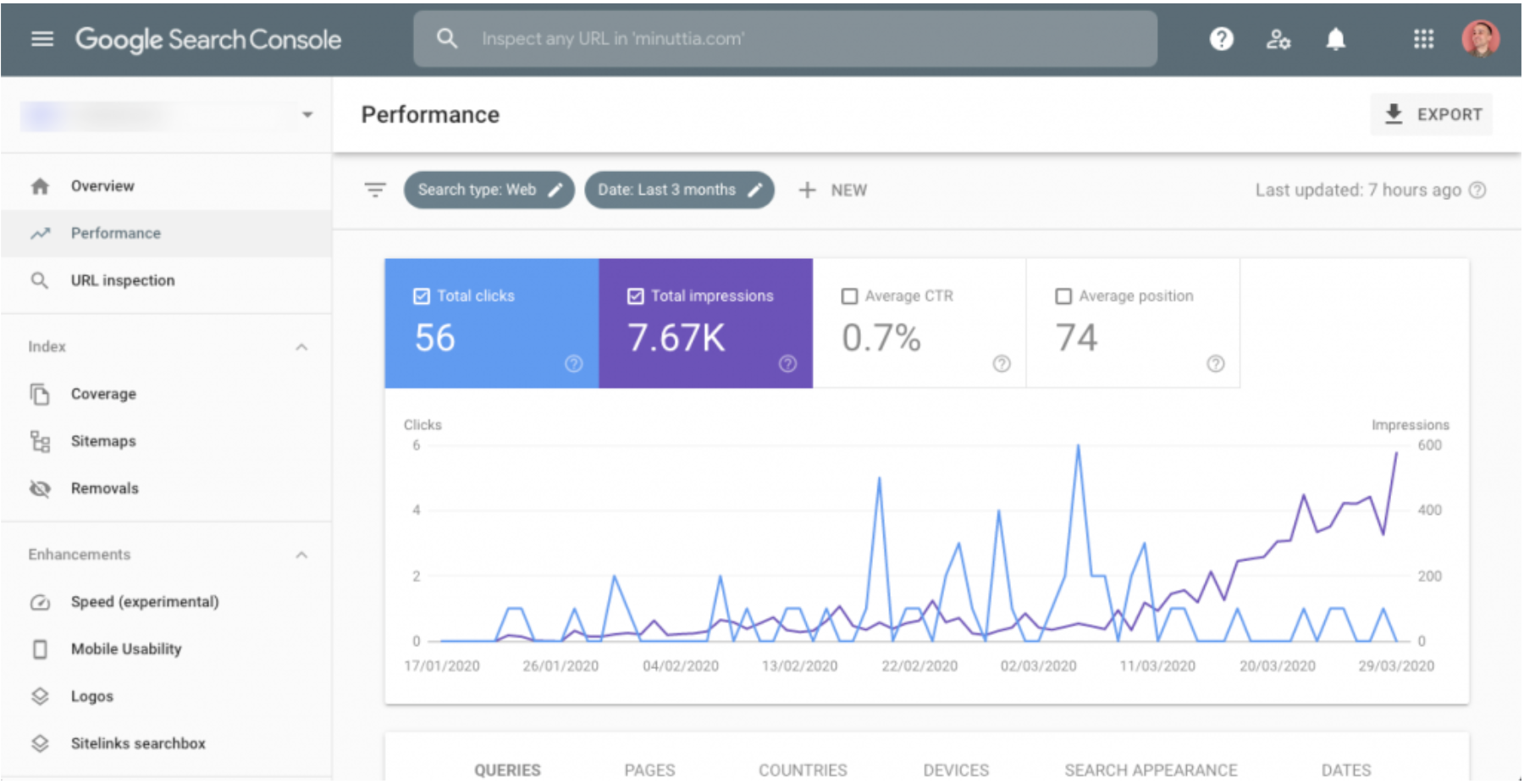 GSC Performance Reports provide a number of different analytics on a website's Google Search performance, such as how often a website appears in search, where it appears in search, and how often users are engaging with the site. GSC also allows users to slice and dice these different analytics by a variety of dimensions; for example, you can view GSC analytics by specific site, by search query, etc.
Our Yext platform pulls these analytics directly from GSC directly using the Search Console API , and displays them in the Analytics as a number of different metrics and dimensions, which are listed below.
Yext Pages - Metrics and Dimensions from GSC
All metrics and dimensions in Yext Analytics from Google Search Console include the prefix "Google Search…", and can be found under the Pages sub-menu in Report Builder.
Metrics
| Name | Description | Data Type |
| --- | --- | --- |
| Google Search Clicks | The number of times a user clicked through to your Pages from anywhere on the Google Search results page. | Sum |
| Google Search Impressions | The number of times a link to your Pages has appeared anywhere on a Google Search result page. | Sum |
| Google Search Average Position | The average position of the topmost result from your Yext Pages in search results. Position "1" represents the topmost result. The higher the number, the lower down the page the position is. | Average |
| Google Search Click Through Rate | The percentage of time users clicked on links to your Yext Pages when they appeared in search results. | Percent |
Dimensions
| Name | Description | Data Type |
| --- | --- | --- |
| Google Search Query | The exact query text a user entered to reach your Pages on Google Search. | Text |
| Google Search Query Type | The type of query that led users to your Pages on Google Search - Branded or Unbranded. | Text |
| Google Search Country | The originating country of the request. | Text |
| Platform | The type of device (Mobile, Desktop, Tablet, etc.) used to place the Google Search. | Text |
Google Search Console vs. Google Business Profile vs. Google Analytics
Google Search Console is not the only Google service that Yext uses to pull analytics data. The most common other services that you may have heard about in the context of Yext or managing your online presence in general are: Google Business Profile and Google Analytics (GA).
Below is a comparison between these three (3) Google services and the analytics they provide to Yext.
Comparison: Google Analytics Services
Google Search Console (GSC)
Google Business Profile
Google Analytics (GA)
General Description
Monitor how your site performs in Google Search results
Manage and monitor how your business listing appears on Google Search and Maps
Monitor user-focused web analytics about your site, such as conversions
Scope of Google Products
Google Search
(also Discover and News)
Google Search, Google Maps
N/A - specific to your website
Provides analytics for
Pages
Listings
None
Yext Metrics
Google Search…
Clicks
Impressions
Average Position
Click Through Rate
Google…
Customer Actions
Followers
Map Views
Phone Calls
Search Queries
Search Views
None
Yext Dimensions
Google Search…
Query
Query Type
Country
Google…
Query Type
None
For Yext, the most important difference to remember between these Google Services is the specific Yext product that they pertain to: Google Search Console (GSC) is a source of data for Pages, whereas Google Business Profile is a source of data for Listings.
Google Analytics (GA) is another tool which many businesses use, which primarily provides a business with information about users on their website, what pages they are viewing, and what actions they are taking. Yext does not receive any analytics directly from Google Analytics.
Feedback