Why are Landing Pages Important?
| Yext Hitchhikers Platform
What You'll Learn
In this section, you will learn:
How landing pages can help you optimize your brand for new trends in search
The three reasons why it is critical that businesses have landing pages
How landing pages work
---
Introduction to Landing Pages
Landing pages help to capture consumers' specific intent based on what they are actually searching for. These searches can capture any sort of intent - searches for businesses, jobs, products, services, activities, and more. The corresponding landing pages are able to provide specific information that answers the consumer's question in search.
Below you can see an illustration of some of these examples: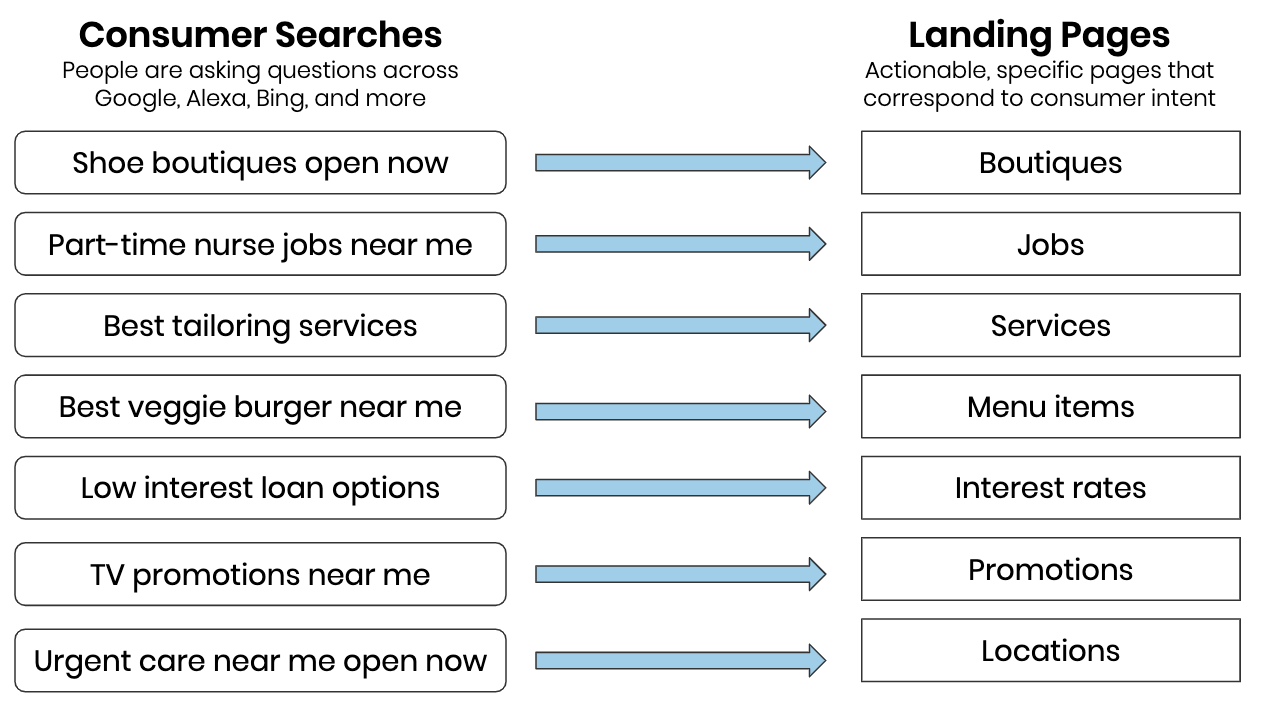 These examples highlight different consumer intent. They can be looking for a product, service, location, job, event, and more.
Now let's look at a specific example for a page: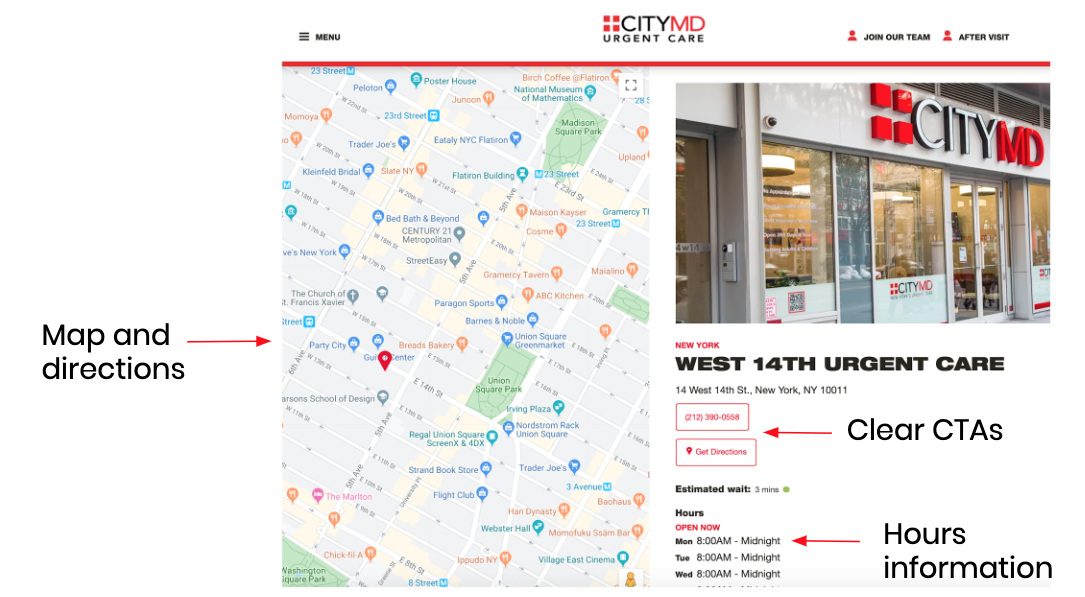 As you can see this page is built to answer a search for "urgent care near me open now" or anything similar. This page is dedicated to a specific location, clearly highlights relevant information to those specific locations, and has clear calls to action so that your customers can quickly take the action they need.
Optimized landing pages provide value in three ways:
They help your brand's performance in search. Good landing pages are built to be discoverable in search. This is critical because search drives 62% of your website traffic.
They provide a great experience to consumers. Landing pages are built to be found and provide specific information that consumers are looking for, helping streamline the customer journey and provide more answers.
They increase customer conversion. Driving a seamless consumer experience where they can find the answers they need and easily take action helps decrease bounce rates and increase conversion.
How Do Landing Pages Work?
Landing pages are search-optimized web pages that capture a consumer's intent by serving relevant content and increase conversion by providing seamless calls to action.
The standard digital journey has become long and complex. Traditionally consumers enter a complex search, are driven to a website, then need to explore the website to find what they are looking for, and then hopefully they are able to find an action to take.
To drive a better experience, consumers should be brought from search directly to a page that answers their question and provides an easy way to take the action they need.
Standard: Digital journeys are long and may lose customers before they take action.

Goal: Landing pages should lead customers directly to a point of action.

Daily Quiz Streak:
0
Quiz Accuracy Streak:
0
Question 1 of 3

Which of the following is not a value of landing pages?

Question 2 of 3

True or False: Landing pages streamline the customer journey.

Question 3 of 3

Why should you have landing pages?

Way to go, you passed! 🏁

You've already completed this quiz, so you can't earn more points.

You completed this quiz in

1

attempt and earned

0

points!

Feel free to review your answers and move on when you're ready.
Sign up for Hitchhikers to start earning points!
If you're already a Hitchhiker, log in to access this content.
Feedback