Create a Data Update Strategy
| Yext Hitchhikers Platform
What You'll Learn
In this section, you will learn:
What a Data Update Plan is
How to create one for your organization
---
Putting Together an Update Plan
For each entity type you store in Yext, you should have a plan in place for how that data will get updated and at what frequency. As you learned in the last unit on Data Cleansing, some entity types require a significant amount of reviewing or cleaning before you're ready to add into the system so make sure to reference that module before uploading your data.
For example, here's a plan for how Yext updates some of our data in the platform: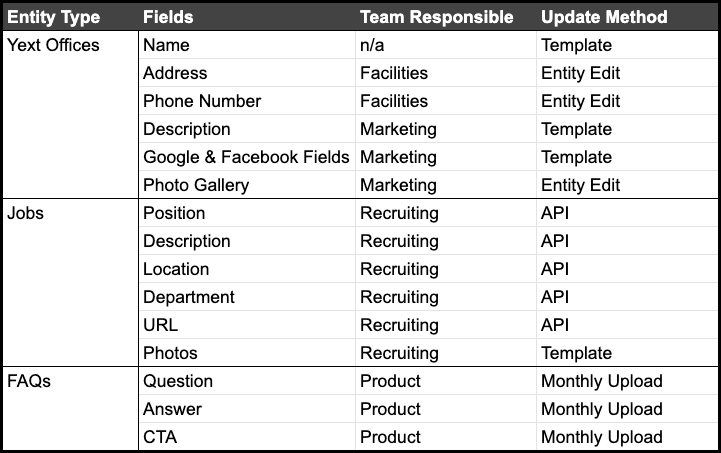 We strongly encourage you to work with your team to put together a plan like this so you know where all of your data is sourced and how you can keep it up to date.
Example Data Update Plan for Turtlehead Tacos
Turtlehead Tacos is a new customer. They have decided to add Locations and Events into the platform. They are adding Events via the Bizzabo App Directory Integration. They don't have the bandwidth to do an API integration or invest in an ETL with Yext at this time so they plan to upload their core restaurant information weekly. They'll collect delivery hours from the restaurant managers using Knowledge Assistant because they don't currently store that data anywhere centrally.

Here's their data plan:
Daily Quiz Streak:
0
Quiz Accuracy Streak:
0
Question 1 of 2

True or False: As part of your Data Update Strategy, you should engage with other teams at your organization so you know where all of your data is sourced and how you can keep it up to date.

Question 2 of 2

True or False: Even for one entity type, it is possible that specific fields may have different update methods:

You're out of this world! 🌎

You've already completed this quiz, so you can't earn more points.

You completed this quiz in

1

attempt and earned

0

points!

Feel free to review your answers and move on when you're ready.
Sign up for Hitchhikers to start earning points!
If you're already a Hitchhiker, log in to access this content.
Feedback