How to Manage Folders
| Yext Hitchhikers Platform
What You'll Learn
In this section, you will learn:
What a folder is
How to manage folders manually
How to manage folders in bulk
---
What is a Folder?
A folder is a way to organize your entities, just like in a filing cabinet. You can folder your entity so that you know how to easily find it again in the future – not just in Content, but throughout the platform. Most advanced filters in other parts of the Yext platform will allow you to filter by folder.

Best Practices for Organizing Folders
How you organize your folders is completely up to you! Many customers choose to organize by features like geography, brand, entity type, franchise group or key differentiating properties of the entity (e.g., Dine-in vs. Takeout Restaurants).
One of the main factors for deciding folder structure is often determined by user access. If you want users to be able to access a group of entities, the best way to manage this is via folders, otherwise you'll have to list out permissions on each entity individually which can become cumbersome to manage. We recommend determining your user requirements before or in tandem with determining your folder structure. But, don't worry too much – you can easily update and change both!
Keep in mind:
Entities can only be in one folder.

A good folder structure has multiple entities in each folder. You want to avoid folder structures where each entity is in its own folder, this indicates you have not picked the best way to organize your entities.

You can have 5 levels of folders, e.g.,
Whatever you decide, there are 3 ways that you can manage your folders:
Manually
In bulk
Via API (cannot create new folders, only move entities to folders)
Managing Folders Manually
To add a folder manually, you can simply click from the left-side bar in the folder section. If it's your first folder, you can click on the plus sign. If you already have at least one folder, you can click the "…" and select "Add". You want to make sure you do this on whatever folder should be the parent folder. In the example below for Add Additional Folder, this would create a folder within the California folder.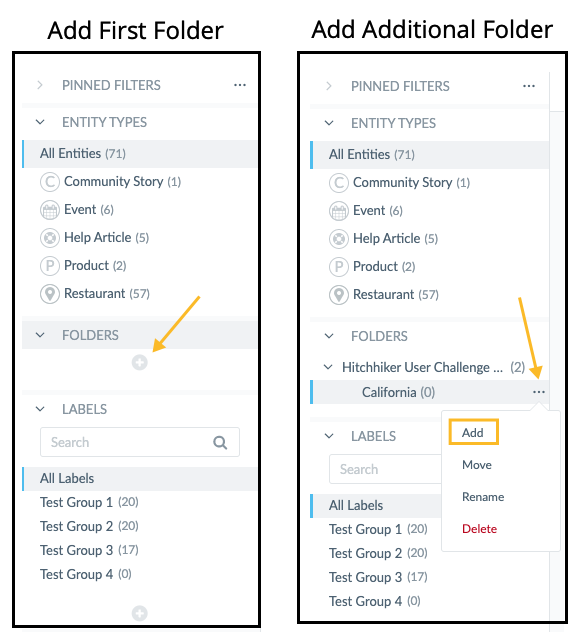 To move an entity into a folder, you can:
Select the entities and click on the More Actions button, and click Move to Folder in the drop-down
Update the folder field in Entity Edit (Internal Use Only > Folder)
Managing folders manually is fine if you only have a few or you need to make a few adjustments. Otherwise, we recommend managing folders in bulk.

Managing Folders in Bulk
Once you've settled on a folder organization strategy, you'll be able to manage your folders in bulk. With this tool, you specify which fields you want to use to organize the folders and click apply. The system will save your preferences so you can easily re-folder your entities in the future.
Within the tool, you have 2 options:
Universal Folder Structure: Use this if you want one global structure, regardless of types.

Entity Type Specific Folder Structure: This allows you to set up separate organization structures by entity types. For example, you could organize Locations by Country > Region and Jobs by Department at the same time. These per-entity structures use different fields and depths of folders.
Here's how it works:
To access the tool, navigate to Content > Configuration > Folders.

If it's your first time setting up your Folder Structure, you'll need to click to Create Initial Structure.

Choose whether you want to organize via Universal Structure or Entity Type Specific Structure.

Click Save.

Click into the Structure field to start mapping which fields to use to folder your entities. You can add up to 5 sub-levels.

We recommend previewing your changes.

Once you've previewed your changes, click Reorganize Folders to update your folder structure and reorganize the entities in your account to follow that structure.

Read the disclaimer and click Reorganize Folders again to confirm your changes.

The system will create any necessary folders, delete any folders that are no longer in use, and move entities around.
You can also move entities to a folder in bulk using the Entity Upload tool. You can choose which locations (all, new only, missing only, updated only) are moved to a folder in the Configure File step.
If you only want to folder a subset of entities in bulk, you can do so by going to Entity Search, filtering to the entities you want to folder, clicking More Actions > Move to Folder. Common use cases for this are if you've just added a set of new entities and want to put them in the proper folders or if you have some entities that don't follow the full foldering structure.
Note
Since this could impact user permissions, we strongly encourage you to do this with care. Deleting folders will delete any Access Permissions users had for those folders. It can be difficult to fix this, so if you're not sure, reach out to Support for assistance.
Daily Quiz Streak:
0
Quiz Accuracy Streak:
0
Question 1 of 3

If you have one level of folders, how many additional levels can you nest as sub-folders?

Question 2 of 3

True or False: Changing folder structure in bulk can be a risky operation?

Question 3 of 3

If you want to have different ways of structuring folders for each entity type, what should you select?

High five! ✋

You've already completed this quiz, so you can't earn more points.

You completed this quiz in

1

attempt and earned

0

points!

Feel free to review your answers and move on when you're ready.
Sign up for Hitchhikers to start earning points!
If you're already a Hitchhiker, log in to access this content.
Feedback