Content Approvals Overview
| Yext Hitchhikers Platform
What You'll Learn
In this section, you will learn:
What content approvals are
Overview of the workflow
Common approvals use cases
---
What are Content Approvals?
Content Approvals allow you to add a workflow to the data management in the Knowledge Graph. You can empower users to suggest content changes to certain fields / entities and then have Corporate users review and approve/reject that suggestion. This workflow ensures that more people can add knowledge to the graph but at lower risk – nothing will get published publicly until someone approves the content to make sure it is on-brand and compliant.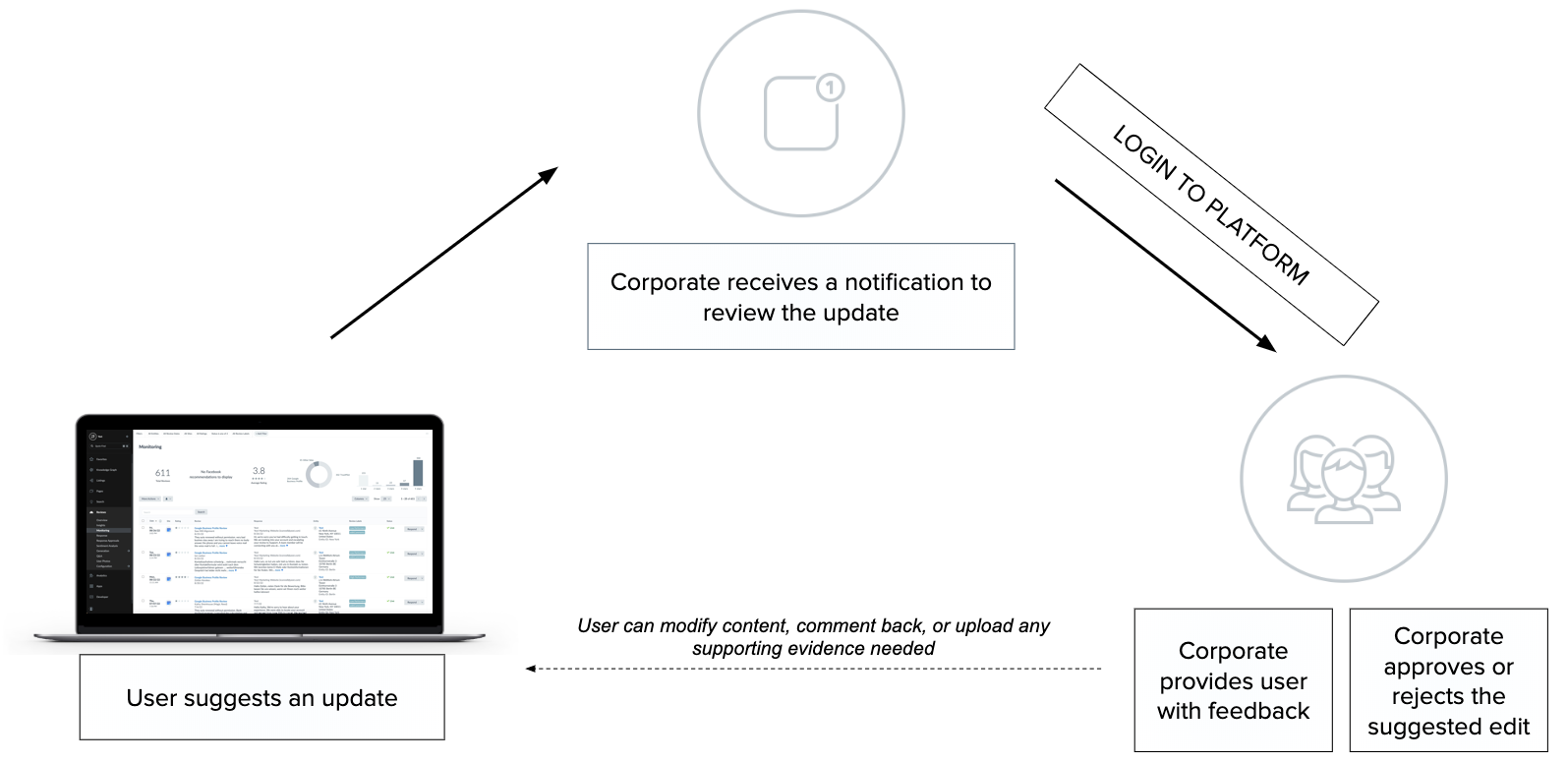 When should I use Content Approvals?
Content Approvals are great if you want to empower more users in your account to add data, but at low-risk.
Here are some of the most common use cases for using Content Approvals:
Professionals - If you have professionals, like doctors, insurance agents, or wealth advisors, it's great to give them access to the platform so that they can make the content personal to them and their clients.

Compliance heavy industries - If you're in a highly regulated industry like healthcare or financial services, you'll want to make sure that you have content approvals turned on to make sure that your brand is not at risk. Our approvals are fully auditable and you can choose to sync all logs to a WORM (Write Once Read Many) database if needed.

Local photos - If you want to crowdsource local photos like storefront photos or event photos, you might want to have these go through approval workflows to make sure that the image quality and content is on-brand.
How it all works
When a suggested edit is created, it enters the Suggestions system while it waits for review. Until it is actually approved, the edit is not made to your Knowledge Graph and it is not published anywhere publicly.
By default, the Suggestions page is filtered to show Suggestions assigned to the user who is viewing the page, or any groups which that user is a member of. Additionally, depending on the user's permission, the page will also display any unassigned Suggestions.
When a user reviews an edit, they have a few options:
Approve
Reject
Comment
Modify
Assign
Re-assign
For more details on these actions, visit the Suggestions Unit .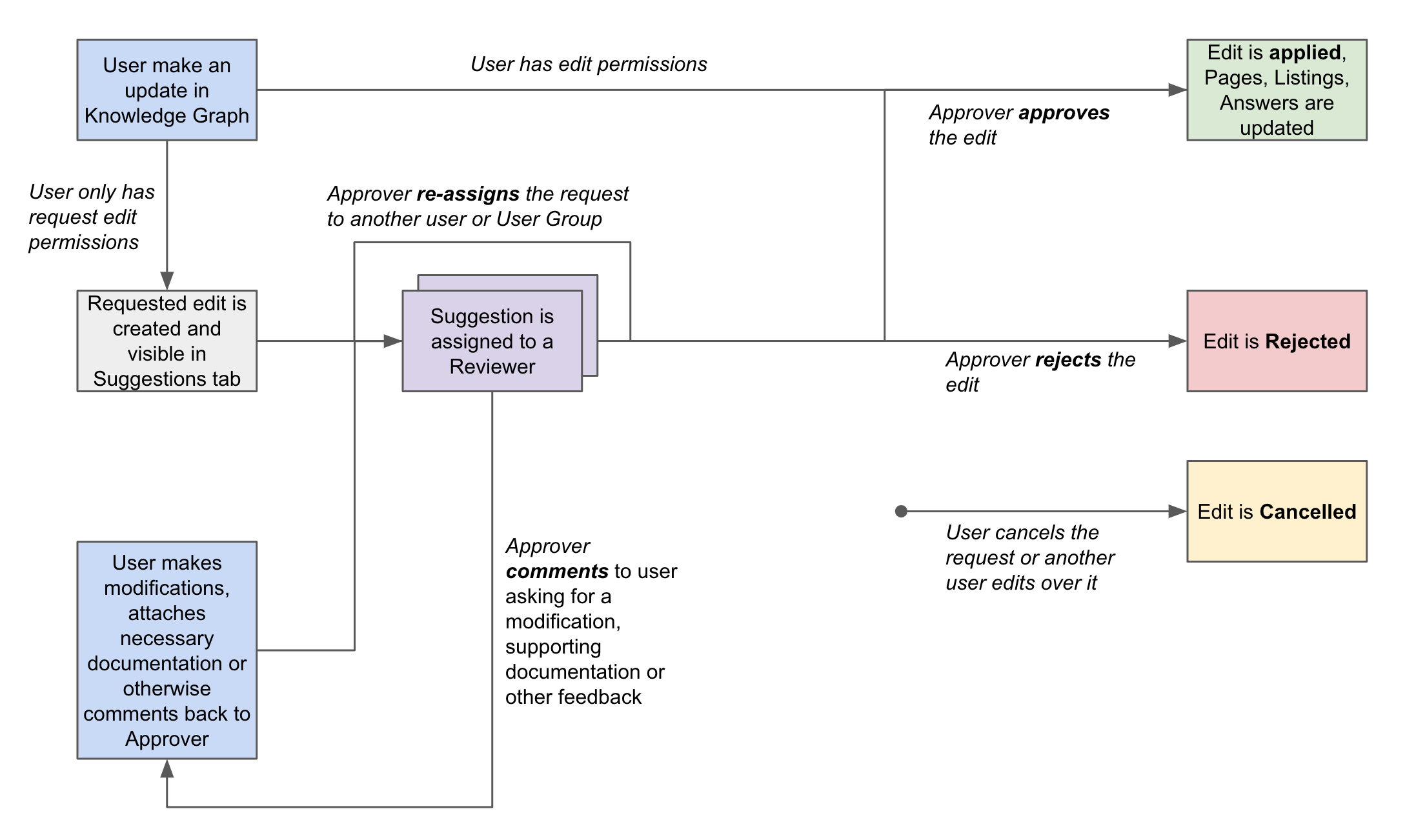 Talk to your Success Manager about how Yext's Professional Services Team can build out workflow automation for any of the above steps for you.
How do you determine whether a user can only Edit with Approval vs. Administer Approvals?
For all fields in Knowledge Graph, you can control whether a user can:
View only
Edit with assets only
Edit with approval
Edit
Hide the field entirely from the user
You can use built-in roles like "Content Requester" which will give the user only the ability to Edit with Approval for all fields, or you can make a custom role if you want to vary the behavior by field or hide any fields. When you apply the role to a user, you can also determine the scope of that role – whether it's for a specific entity, a folder of entities, a type of entity or the entire account. To learn more about users, permissions and custom roles, visit the Users Module .
If a user has the permission to edit a field on an entity, then the user can be assigned the suggestion, and take action on suggestions for that field.
Daily Quiz Streak:
0
Quiz Accuracy Streak:
0
Question 1 of 2

What do content approvals allow you to do?

Question 2 of 2

What are some reasons to use content approvals with your brand? (Select all that apply)

You're a star! ⭐

You've already completed this quiz, so you can't earn more points.

You completed this quiz in

1

attempt and earned

0

points!

Feel free to review your answers and move on when you're ready.
Sign up for Hitchhikers to start earning points!
If you're already a Hitchhiker, log in to access this content.
Feedback