How to Set Up Content Approvals
| Yext Hitchhikers Platform
What You'll Learn
In this section, you will learn:
How to turn on approvals
How to update approval settings
How to create users that can request edits and administer approvals
How to set up approval groups
---
How to Get Started with Content Approvals
In order to get started with content approvals, you'll need to make sure the Suggestions feature is configured to expect Suggestions from users in your account. To do so, go to Content > Configuration > Suggestions Settings. Make sure that "User" is selected under "Suggestions Sources".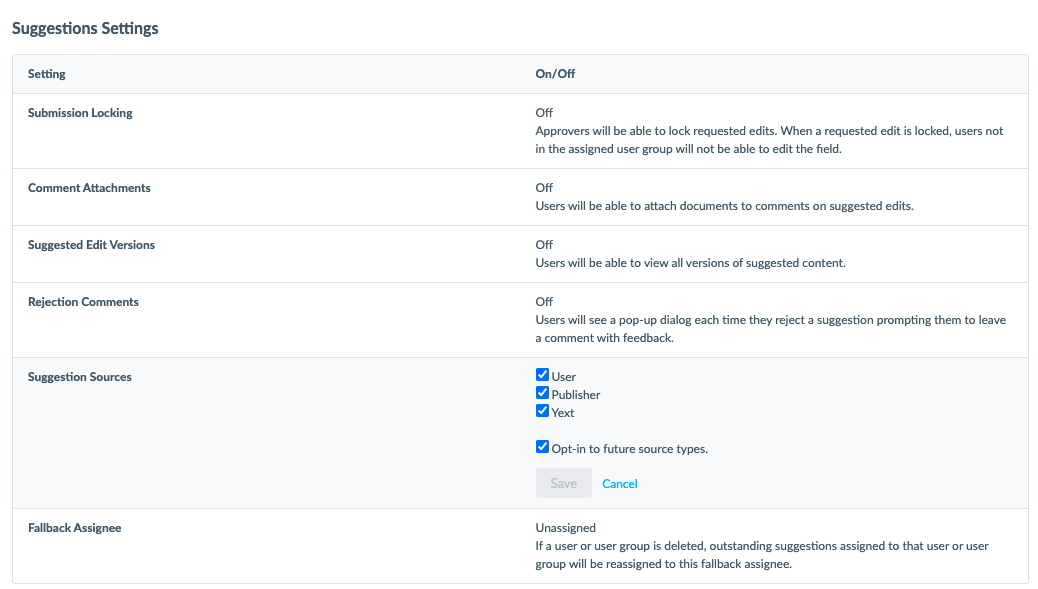 Additional Settings
You have a few additional Suggestions settings that you can turn on, all of which were covered in the Content Approvals Unit :
Submission Locking
Comment Attachments
Suggested Edit Versions
Approval Versions
Rejection Comments
Fallback Assignee
You can update these settings now or change them on/off at any later point.
Create User Groups
User Groups should reflect a tier of approvals needed. If you only have one team reviewing approvals, you only need one group. But, if you have multiple teams that need to review requests, you should create separate user groups for each. User Groups are not required, but can help you manage suggestions, and split up assignments across multiple users, as pending suggested edits can be assigned to individual users, or a group of users. We recommend using User Groups if you want to further restrict who should be able to approve suggestions.
In Account Settings > User Groups, you have two options for adding groups:
Add each group manually by clicking "Add Single Group"
Upload a spreadsheet with many groups by clicking "Bulk Upload Groups"
We recommend using the upload option only if you have a large number of groups or users for each group to make the process faster. You can find upload instructions and a sample file on the upload screen. If you only have one group and a handful of users, it's probably easiest to do this manually.
Creating Users for Suggesting Edits & Actioning Suggestions
You'll need to make sure that users have the right permissions to either suggest edits or action suggestions.
Suggest Edits User: You'll need to make sure that at least one user can suggest edits. We recommend using the built-in role Content Requester if you want the user to be able to suggest content for any field. If you want to limit it to specific fields, we recommend creating a custom role. Note that you will need to add the View Suggestions permission to enable the user to see the Suggestions tab.
Action Suggestions User: You'll need at least one user with the permission to View Suggestions to view the Suggestions screen. If a user has that permission, the user will then be able to action suggestions based on their edit permissions – if the user can edit a field, they can action a Suggestion for that field. If you are using custom roles, just make sure that the View Suggestions permission and any desired edit permissions are added.
Testing Your Setup
It's always important to test the setup from both the suggester and administrator viewpoints. To test that you set up Content Approvals properly, we recommend:
Review all the steps listed in this unit and make sure they're completed.
Create a test user for someone that will suggest edits. Make sure they have the right role/permissions.
Login as the suggesting user. Try suggesting at least 3 edits to fields.
Make sure that you have the right role/permissions to Approve suggestions and that you are a part of the Approval Group (if one exists). You can always remove these later if you are not supposed to have these capabilities – this is just for testing.
Navigate to Content > Suggestions.
Try commenting on or updating a suggestion.

Try rejecting a suggestion with a rejection message.
Try approving a suggestion.
Daily Quiz Streak:
0
Quiz Accuracy Streak:
0
Question 1 of 3

Where do you turn on Content Approvals?

Question 2 of 3

What is a User Group?

Question 3 of 3

What is the built-in role you can assign to someone that you want to suggest content in the Graph?

A Hitchhiker in the making! 🔥

You've already completed this quiz, so you can't earn more points.

You completed this quiz in

1

attempt and earned

0

points!

Feel free to review your answers and move on when you're ready.
Sign up for Hitchhikers to start earning points!
If you're already a Hitchhiker, log in to access this content.
Feedback