Updates in Search
| Yext Hitchhikers Platform
What You'll Learn
In this section, you will learn:
An overview of the new Search features from the Spring '23 Release
---
New Release Features
For a full list of features, visit the
Spring '23 Release Notes
.
Sign up for our upcoming webinar for a roundup of the new features!
Improvements to Experience Training
Rich Text Featured Snippets
Users can now choose segments of rich text fields to be returned as a Rich Text Featured Snippet in search results, or select a passage from the rich text to be returned as an Extractive QA-style snippet.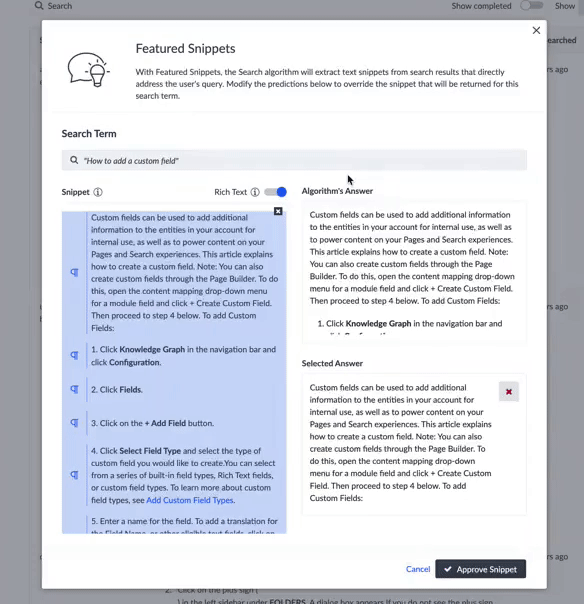 Modify NLP Filters
In addition to approving and rejecting NLP Filters, you can modify NLP FIlters that are inferred from a given search query. Once a user opts to review NLP Filter predictions made for a query, a modal pops up with the option to override them by removing, adding, or selecting different filters. Options include selecting filters by vertical, field, and value for any given search term.
For example, when a user searches "jobs in New York" the algorithm may apply the filters Entity Type = Jobs and Location = York. While the location of York may be implied since it is part of the query, users are actually looking for jobs in the New York area. You will be able to override this result by selecting the proper vertical (i.e., Jobs) in the modal and then editing the Location filter to equal New York.
How This impacts You
These improvements to experience training allow you to have more control over your search results!
Modifying NLP Filters in experience training allows you to train the algorithm and ensure that the correct filters are being applied to a query in order to return the best entity results at the top of the page.
With the ability to also modify rich text featured snippets, you can now choose to better display featured snippets that contain formatting like bullet points, bolded text, and more. This makes longer form content, such as multi-step instructions, more digestible and easy to follow.
Feature Availability
To turn this feature on in your account, navigate to Account Settings > Account Features and select Spring '23: Modify RTFS in Experience Training (early access), and Spring '23: Modify NLP Filters in Experience Training (early access) accordingly.
Additional Resources
Search Platform: Key Improvements
We've made several incremental, but meaningful improvements to various parts of the Search platform that will enable users to more easily build impactful search experiences, including:
Improved page load speed of the Experience Training table
Improved visibility for Merchandiser in Test Search
"Random Relevance" sort criteria to treat "Relevant" as an additional, separate filter
Improved popular query filtering of Cross Site Scripting (XSS) attack tags
A new configuration property called popularQueriesBlacklistRegex
Improvements to Italian and German semantic search
Improved clustering accuracy
How This impacts You
With features that improve page load speed, increase language support, and allow for further customization of the Search config (and more!), you have greater power and flexibility when it comes to building and analyzing search experiences.
Feature Availability
To turn this feature on in your account, navigate to Account Settings > Account Features and select Spring '23: Search Platform: Key Updates & Improvements (early access).
Additional Resources
Daily Quiz Streak:
0
Quiz Accuracy Streak:
0
Question 1 of 2

What updates were made to Experience Training (Select all that apply)?

Question 2 of 2

As part of this release, popular queries will automatically filter out queries that contain what?

Way to go, you passed! 🏁

You've already completed this quiz, so you can't earn more points.

You completed this quiz in

1

attempt and earned

0

points!

Feel free to review your answers and move on when you're ready.
Sign up for Hitchhikers to start earning points!
If you're already a Hitchhiker, log in to access this content.
Feedback