Ready to be your brand's hero?
Sign up to become a Hitchhiker and build skills that will enhance your career, get access to exclusive Yext resources, and be your brand's hero by driving consumer engagement.

If you're already a Hitchhiker, log in to access this content.
Content Strategy and Design
| Hitchhikers Platform
What You'll Learn
In this section, you will learn:
How to arrange the content of your page for SEO benefits
Examples for how to leverage modules to display content for different verticals
---
Building Content for Search
One of the most important components to effectively optimizing your SEO is the actual content that you build. It is critical to expand what search engines know about you so that they are confident in how to interpret that information, and when to surface it. When done well, it can be more valuable than any single tactical optimization — and it's how search engines have evolved to continue to be relevant to users over time.
For example, a traditional SEO expert might complain about having a vegan menu page for every location — why? Because it's the "same content" and Google "deprioritizes duplicate content" — except, in the context of a user looking for a vegan menu in that specific location, it's exactly the right answer to their question, in that moment of space and time. The Yext Search Experience Cloud is built to enable this content expansion in order to answer the specific questions consumers are asking.
Content & Structuring Best Practices
Search engines and users alike will prioritize the content that is immediately visible on landing, referred to as above the fold content. As such, it's critical that you place important information about the entity, as well as prominent calls-to-action above the fold. You also should consider the mobile experience as well.
On the page below, you can see that the address, contact information, hours of operation, and important CTAs (Log in, Choose a Specialist, and Get Directions) are immediately visible on landing. This helps the user get the information they need faster, and drives clicks on your calls to action. Other popular CTAs vary by industry and business but can include things like: Order Pickup, Book an Appointment, Click to Call, Order Delivery, Sign Up Now, and more.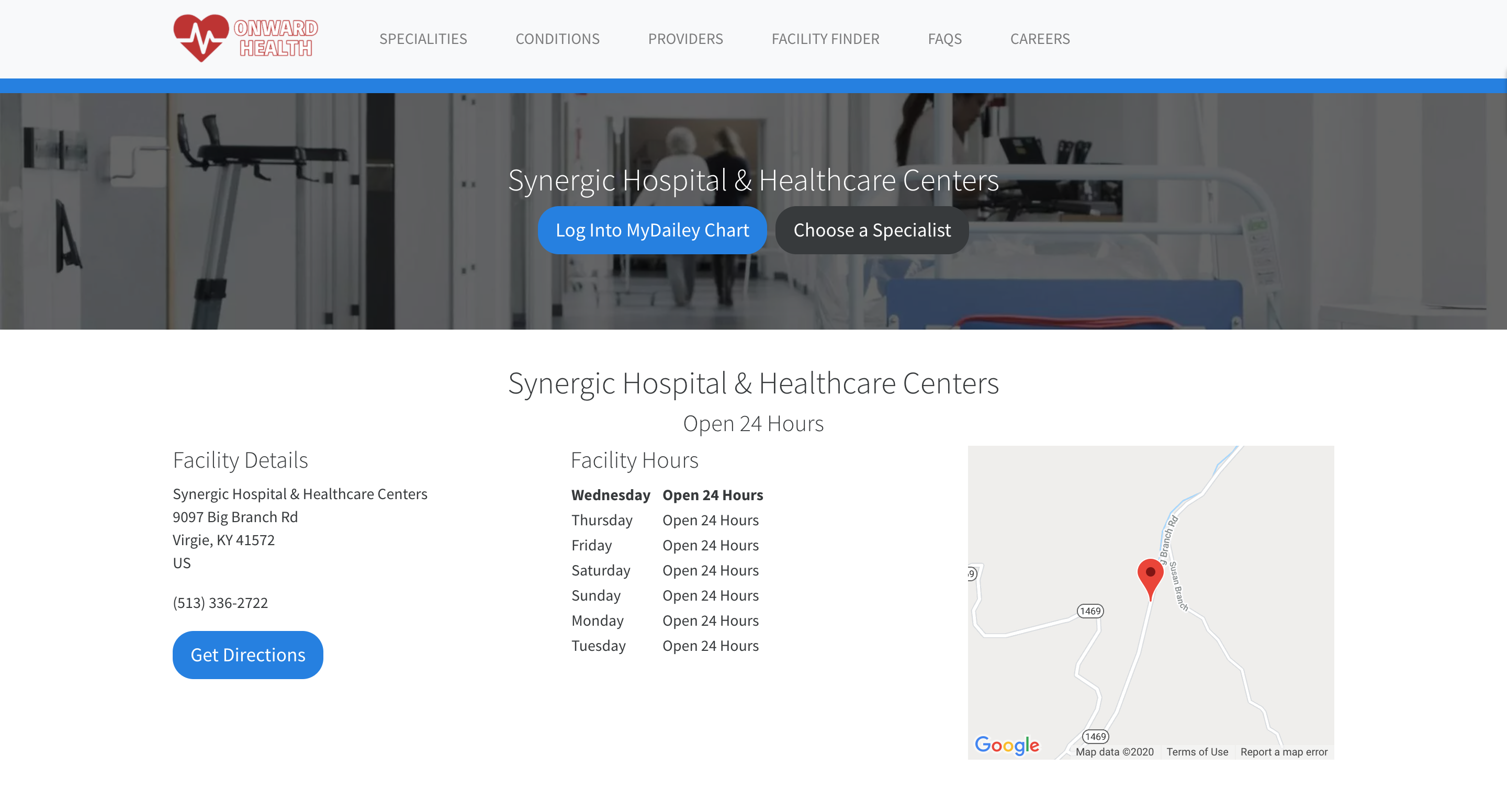 Content Recommendation Examples: Food

Content Recommendation Examples: Healthcare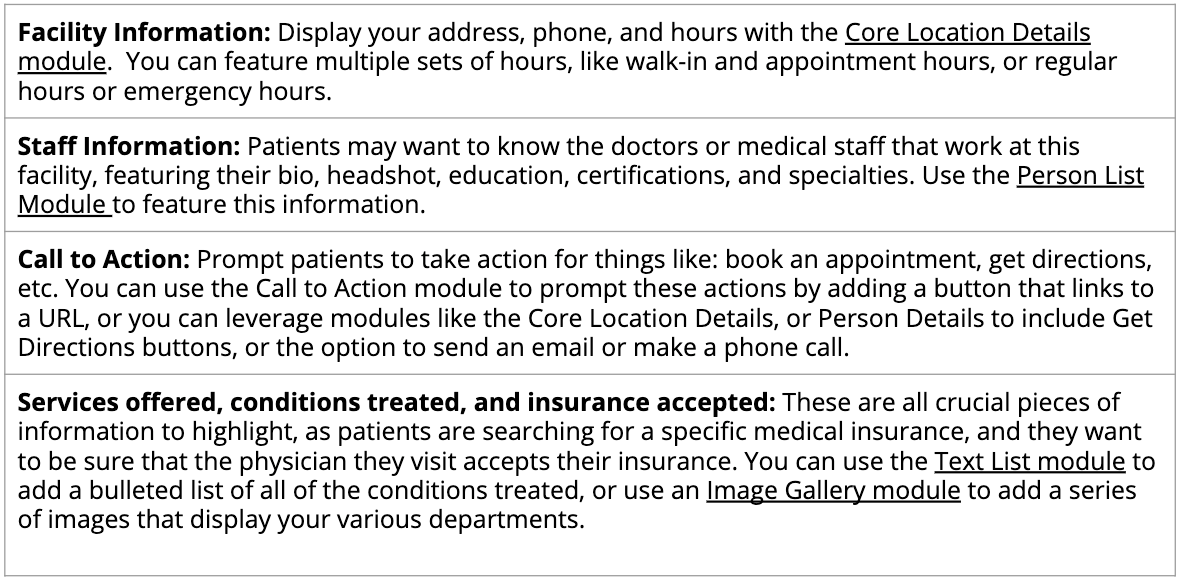 Content Recommendation Examples: Financial Services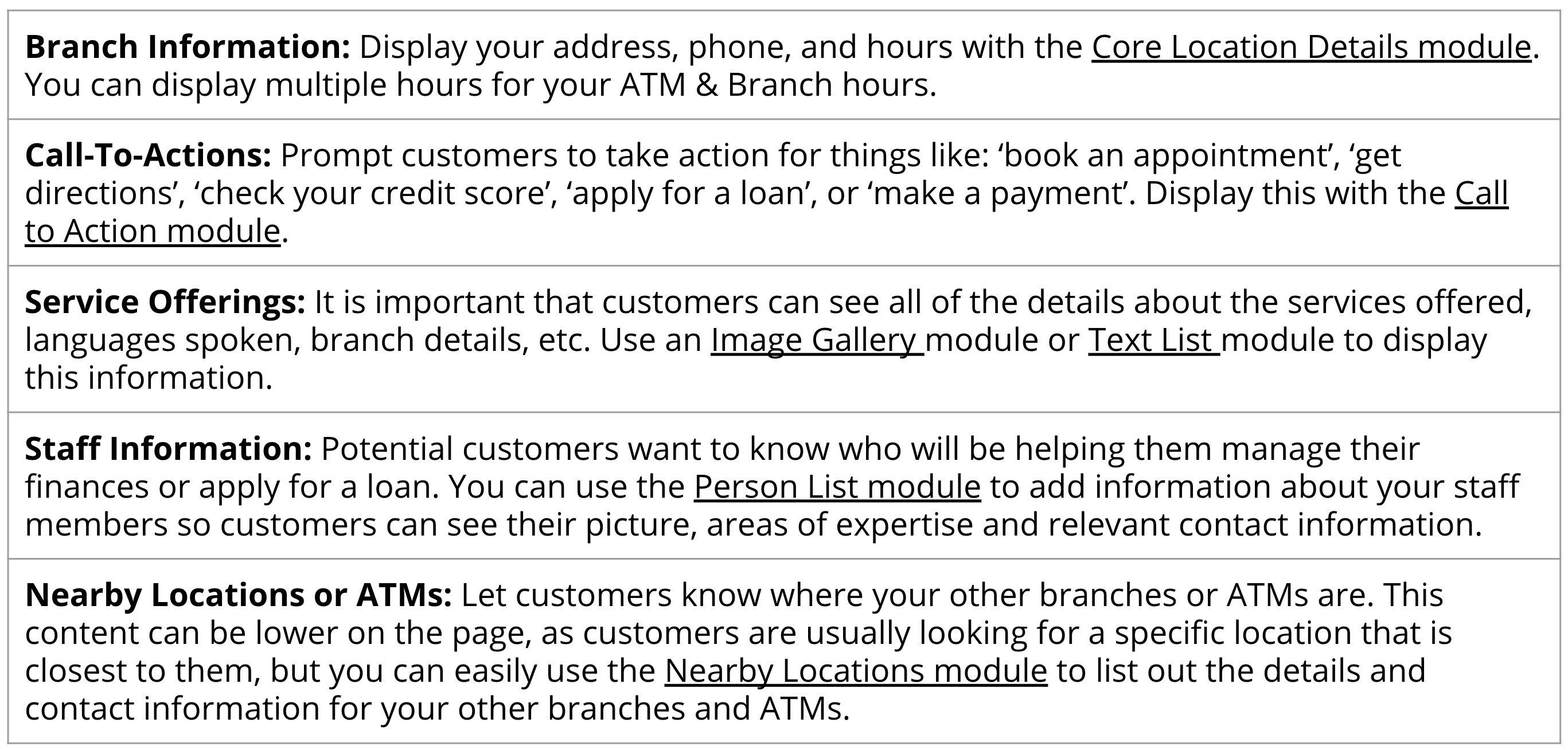 Daily Quiz Streak:
0
Quiz Accuracy Streak:
0
Question 1 of 3

What kind of content is important to include 'above the fold' on a page? (Select all that apply)

Question 2 of 3

True or False: Having a Gluten-free menu page for every one of your locations is a bad SEO practice

Question 3 of 3

Which of the following is NOT a call to action?

You're out of this world! 🌎

You've already completed this quiz, so you can't earn more points.

You completed this quiz in

1

attempt and earned

0

points!

Feel free to review your answers and move on when you're ready.