How to Manage Modules to Construct Pages
| Yext Hitchhikers Platform
What You'll Learn
In this section, you will learn:
How to add, delete, and rearrange modules
---
Overview
Each page you create comes with a default set of modules to help you get started adding content. However, you have the ability to add, reorder, or delete modules from your pages to customize the pages as you need. As you further customize modules with your brand's branding and information stored in entities, the pages should start to reflect your brand's identity and voice. We will go into details below on how to perform each of these actions.
All module updates happen on the Content tab of the Page Builder.
Add Modules
There are two ways to add modules to your pages:
You can click on the + Add Module link at the bottom of the module list. This will add the module below all of the existing modules, meaning this module will display at the very bottom of the page.
You can also click on the plus sign next to the name of a module that has already been added to the page. This will add the new module directly below that module.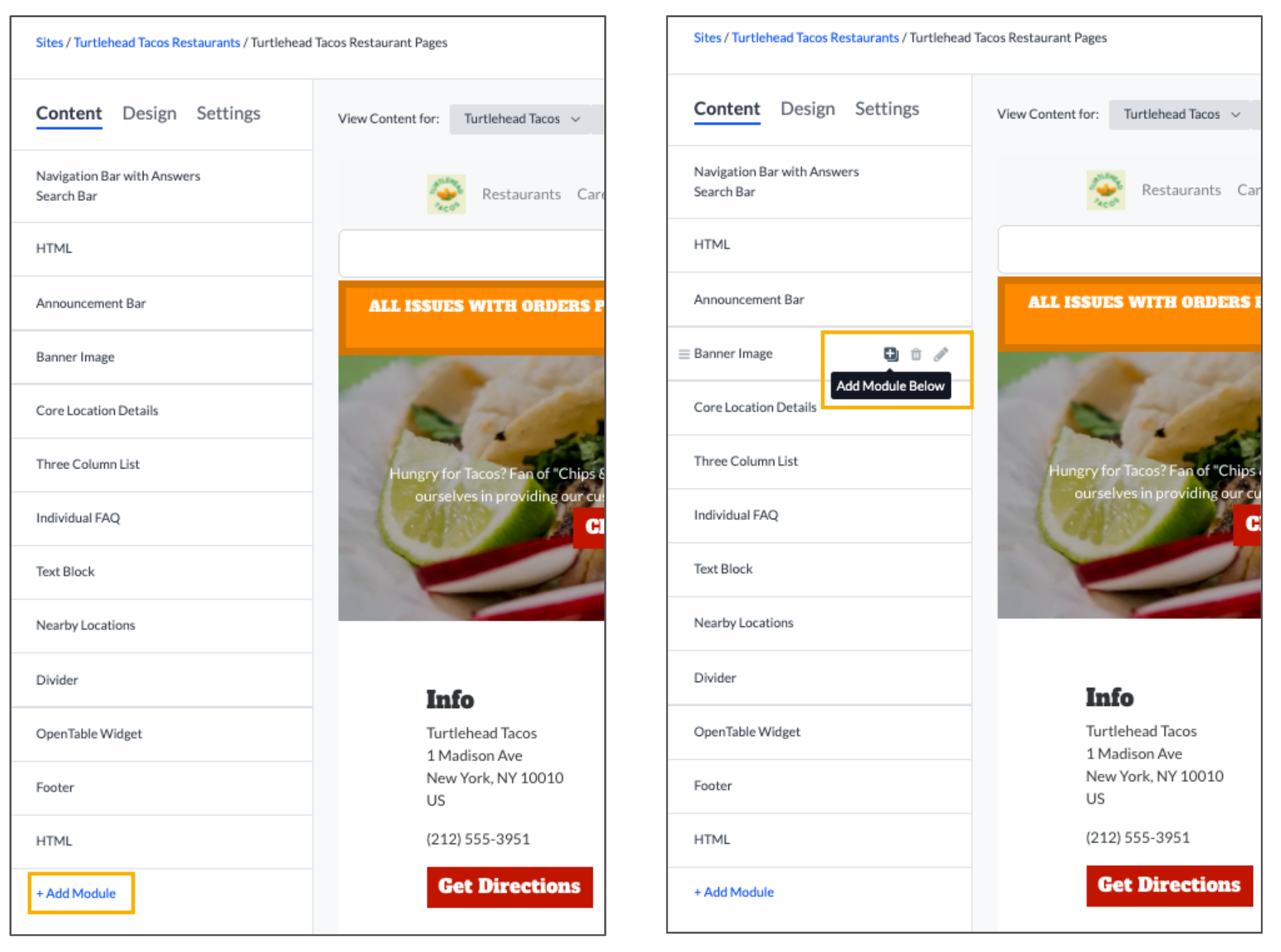 Delete Modules
Just like adding modules, there are also two ways to delete modules:
You can click on the trashcan next to the module name.
You can also click on the pencil icon next to the name of the module you want to delete, then click on the Delete Module link from within the module.
Rearrange Modules
Modules can be dragged and dropped so content is displayed on the page in the desired order. To do this, click on the three lines and drag the module into the desired order.
Daily Quiz Streak:
0
Quiz Accuracy Streak:
0
Question 1 of 2

How can you add modules to your pages? (Select all that apply)

Question 2 of 2

What tab in Page Builder will you visit to add and adjust the Modules on your Pages?

High five! ✋

You've already completed this quiz, so you can't earn more points.

You completed this quiz in

1

attempt and earned

0

points!

Feel free to review your answers and move on when you're ready.
Sign up for Hitchhikers to start earning points!
If you're already a Hitchhiker, log in to access this content.
Feedback