Introduction to Sentiment Analysis
| Yext Hitchhikers Platform
What You'll Learn
In this section, you will learn:
What Sentiment Analysis is
How Sentiment Analysis helps you gather feedback
Why Sentiment Analysis is valuable
---
What is Sentiment Analysis?
In order to provide an excellent customer experience, it is critical to understand the experience that you are currently providing. Knowing what is going well and what is going poorly can be the difference between a thriving brand and one that is struggling to keep up.
Your customers are already giving you feedback about your customer experience through reviews, you just need to listen. Sentiment Analysis is a tool to help you understand and analyze those reviews that customers are already leaving about your brand.
Sentiment Analysis uses natural language processing to identify important keywords in your customers' reviews and assigns a positive or negative score based upon the modifiers describing the keywords.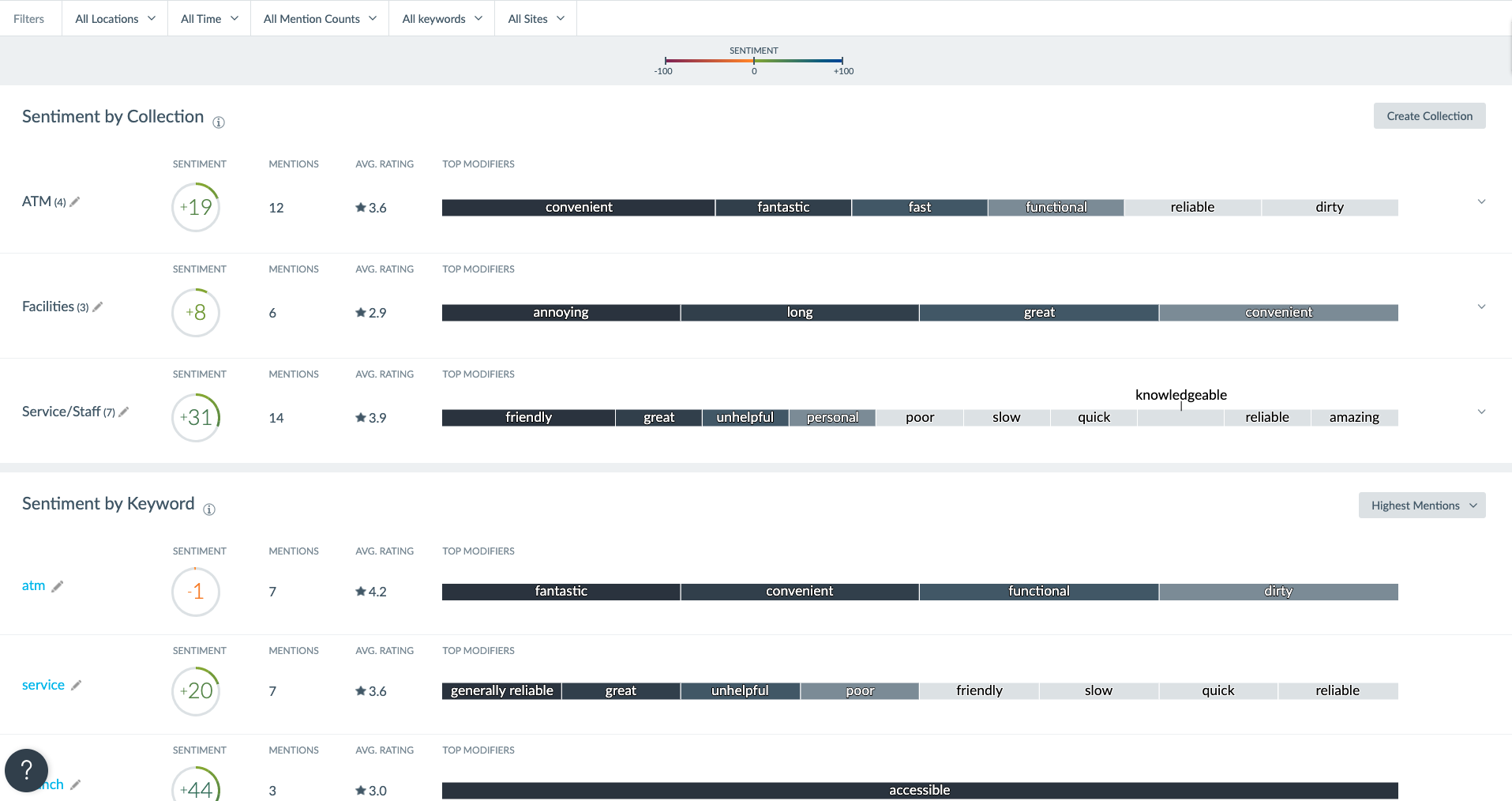 How does Sentiment Analysis break down review content?
There are two key components that Sentiment Analysis looks at when breaking down a review, the keyword and modifier.
A keyword is the object, or one of the objects, being discussed in a review. Typically these are nouns. Examples can include "service," "doctor," "taco," "food," and "ATM"
A modifier is what is describing that keyword. Typically modifiers are adjectives and adverbs and give context to the keywords. Examples can include "friendly," "helpful," "nice," "rude," and "amazing"

Without modifiers, it would be extremely difficult to understand the sentiment of a keyword, but together they can showcase valuable sentiment data. Phrases like "friendly waiter" or "broken ATM" are very powerful statements in a review.
How can Sentiment Analysis help you?
Yext's Sentiment Analysis takes reviews that are left on one of Yext's monitored sites (including your website), and runs them through a natural language processing algorithm. The algorithm identifies important keywords in the review and then based on the context of the review is able to determine a Sentiment score.
This analysis is extremely valuable because it saves you time and helps you to uncover new insights.
Sentiment Analysis can help you to uncover your most common keywords, and the associated sentiment score, without having to manually comb through reviews. Reviews are more than just a star rating. Simply looking at a review that has 3 stars without analyzing the content doesn't tell you much, but looking at the copy can unlock hidden insights.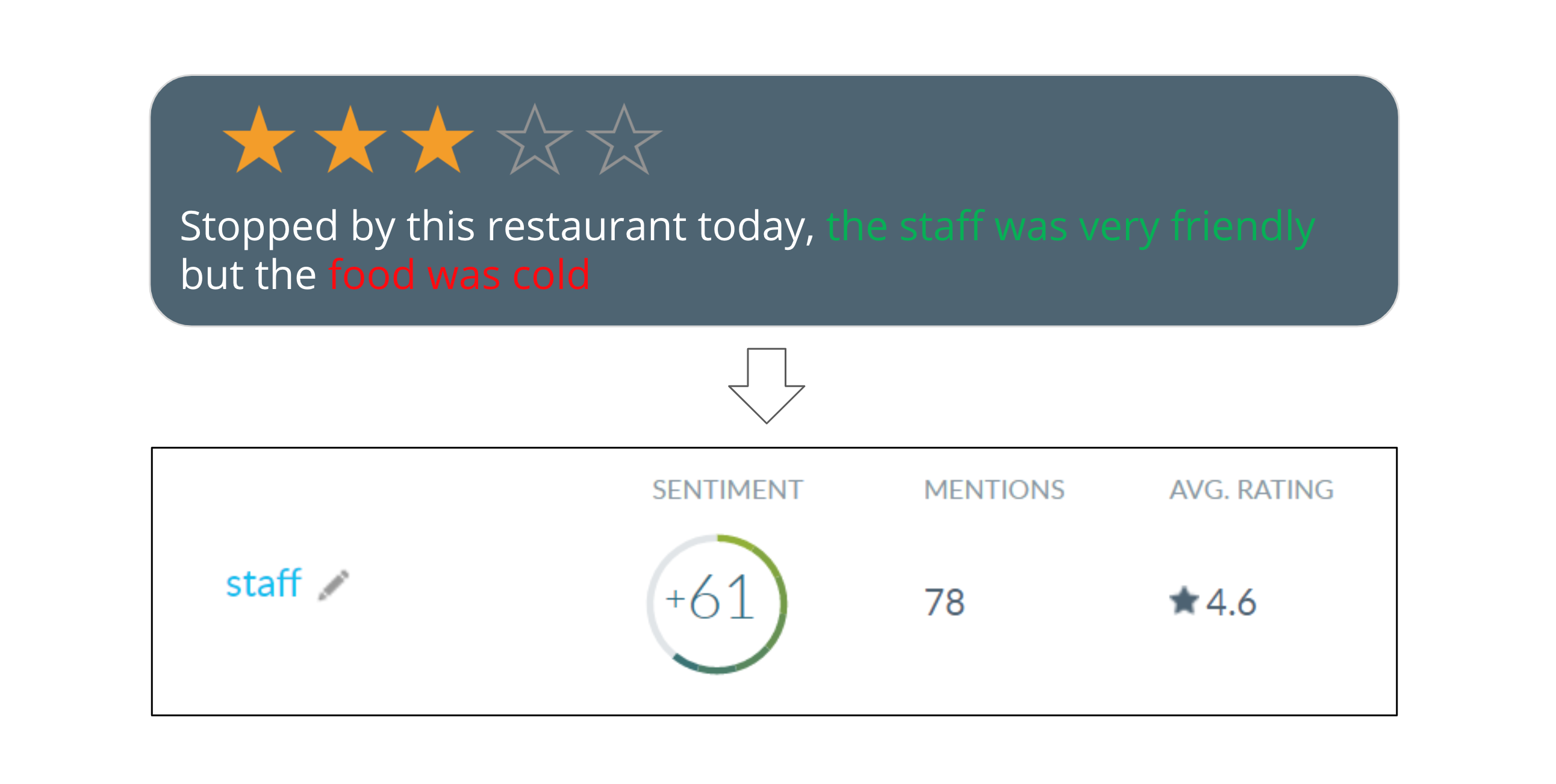 Many times brands don't know what they should be looking for or don't realize that there may be a major factor impacting their customer journey and review ratings. Sentiment Analysis gives you that functionality to pinpoint products/services/locations/departments that can be improved upon, and those which are operating successfully, so that you can make informed business decisions.
Note
Not all reviews will be able to be analyzed, depending on the site, content, language, and more.
Daily Quiz Streak:
0
Quiz Accuracy Streak:
0
Question 1 of 3

True or False: Sentiment Analysis helps businesses to understand their customer experience at scale.

Question 2 of 3

What does Sentiment Analysis use to analyze reviews?

Question 3 of 3

Which word is a Keyword in the following review: "Best tacos I have ever had"?

Wahoo - you did it! 🙌

You've already completed this quiz, so you can't earn more points.

You completed this quiz in

1

attempt and earned

0

points!

Feel free to review your answers and move on when you're ready.
Sign up for Hitchhikers to start earning points!
If you're already a Hitchhiker, log in to access this content.
Feedback