Ready to be your brand's hero?
Sign up to become a Hitchhiker and build skills that will enhance your career, get access to exclusive Yext resources, and be your brand's hero by driving consumer engagement.

If you're already a Hitchhiker, log in to access this content.
Introduction to Yext's Review Monitoring
What You'll Learn
In this section, you will learn:
How to navigate the Review Monitoring tab
Quick filtering techniques
Analytics available in the Review Monitoring tab
---
Yext's Review Monitoring Tab
The Review Monitoring tab can be found within the Reviews tab. It contains all of the reviews that have been pulled into the Yext platform, along with functionality to filter/sort the reviews, and high level analytics.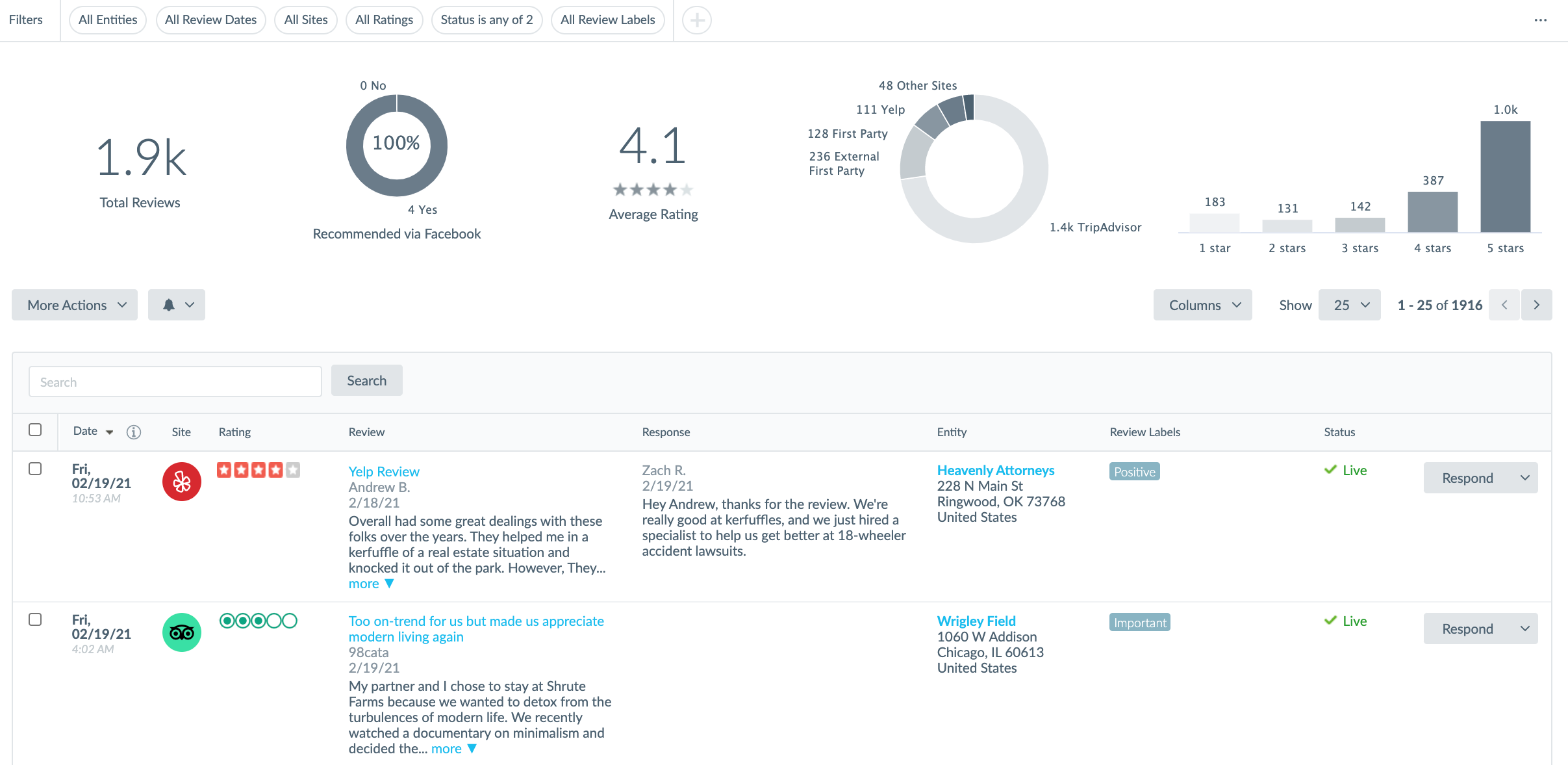 The main content of the page is in the reviews table. This is where you can find every review that has been pulled into the Yext platform. For each of these reviews (where applicable) you will see Date, Location, Site, Rating, Response, Review Labels, Language, and Status.
The page is defaulted to show 25 reviews but you can change that to show 50 or 100 reviews per page and paginate to see the rest.
The columns shown are customizable by clicking on the Columns menu above the review table.
By default you will see:
Date (the more recent of the date the review was last updated or the comment date)
Site
Rating
Review
Response
Entity (updated from location)
Review Labels
Status
You are able to easily remove any of those columns, as well as add Language (the language determined by Sentiment Analysis).
For certain columns such as Date, Location, Site, and Rating, you will also be able to click on the column header and sort those columns alphabetically or from highest to lowest value.
How to Filter the Review Monitoring Tab with Basic Filters
There are a few different methods throughout the Review Monitoring tab to filter the reviews that are shown. One is by using the Advanced Filter functionality, which we will walk through in the next unit, the others are basic filtering methods which you can find around the tab depending on what you are looking for.


The filter bar on the top contains six different ways to filter reviews:
By Entity - The first filter is an entity picker. By clicking on the dropdown you will be able to choose one or more entities. You can view these sorted by Entity Type, Folder, or Label (these are entity labels, not review labels). After clicking Apply, the review list will automatically filter to only reviews left for those entities.
By Date - This filter allows you to choose before and/or after dates to choose as parameters for the visible reviews. Note: This is the original date of the review as provided by the publisher.
By Site - The Sites filter allows you to choose which sites reviews you would like to see. You have the option to select any sites by typing the name(s) in and filtering to either view only reviews from those sites or only to hide reviews from those sites.
By Rating - The ratings filter allows you to select which ratings you would like to view. The options are "equal to", "less than or equal to", or "greater than or equal to".
By Status - This filter allows you to view any combination of reviews that are Live, Quarantined, or Removed.
By Labels - This filter allows you to view reviews that have a specific label, or set of labels, applied to it.
Note: This does not include Advanced Filters which we will cover in the next unit.
Analytics in the Review Monitoring Tab
At the top of the Review Monitoring tab you will notice a few high level reviews metrics. These are just a few of the many reviews insights that you can get within Yext, but they are useful for understanding the high level rankings of your reviews.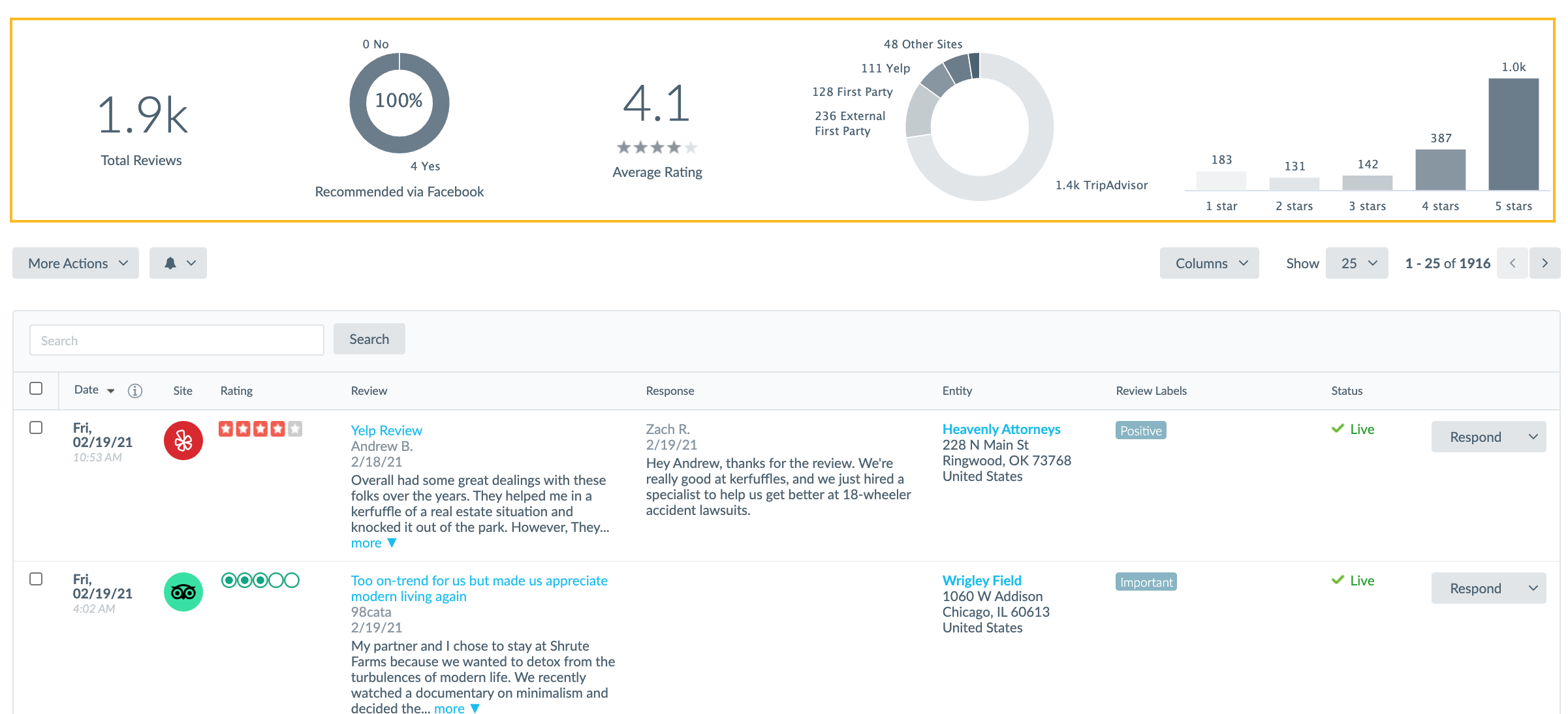 The metrics you will see include:
Total Reviews - Number of total reviews
Recommended via Facebook - Percentage of Facebook Recommendations that are "Recommended" vs "Not Recommended"
Average Rating - Overall Average Review Rating
Breakdown of Sites - Breakdown of the most popular sites your brand is reviewed on
Breakdown of Star Rating - Breakdown of the number of reviews received per star rating
Note: These metrics will update dynamically when you filter the page to a different subset of reviews.
Tip
Clicking on certain areas of the metrics will automatically filter the reviews in the tab. For example, clicking on one of the bars in the star rating bar chart will filter to only view reviews of the corresponding star rating.
Daily Quiz Streak:
0
Quiz Accuracy Streak:
0
Question 1 of 4

Which of the following will you NOT see in the reviews table for applicable reviews?

Question 2 of 4

What are the options for the number of reviews you can see per page in the Review Monitoring tab? (select all that apply)

Question 3 of 4

Which of the following are available basic filters in the filter bar of the Review Monitoring Tab? (Select all that apply)

Question 4 of 4

Which publisher has Recommendations rather than Ratings?

High five! ✋

You've already completed this quiz, so you can't earn more points.

You completed this quiz in

1

attempt and earned

0

points!

Feel free to review your answers and move on when you're ready.