Introduction to Yext's Review Monitoring
| Yext Hitchhikers Platform
What You'll Learn
In this section, you will learn:
How to navigate Review Monitoring
How to use basic filtering
How to see high-level review analytics
---
Review Monitoring Tools
Review Monitoring is found under Reviews > Monitoring in the navigation bar. This page contains all of the reviews that have been pulled into Yext, along with functionality to filter/sort the reviews, and high level analytics.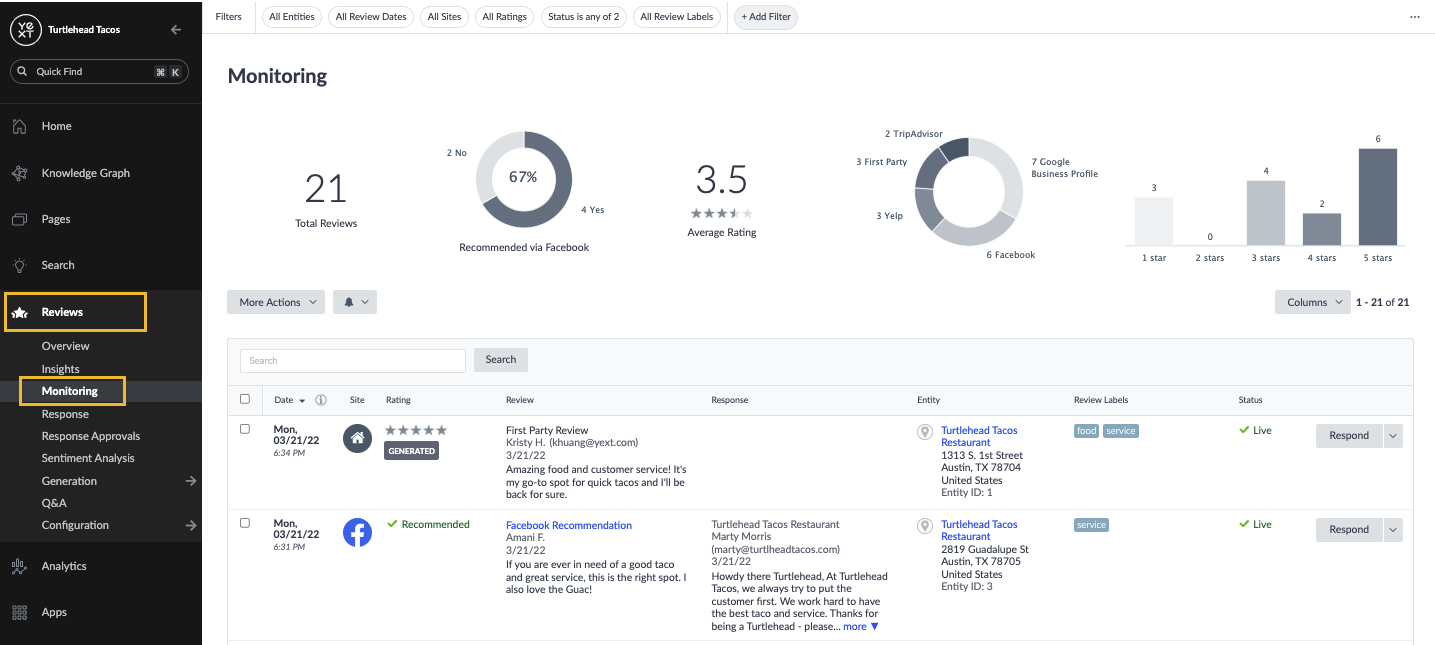 The main content of the page is in the reviews table. This is where you can find every review that has been pulled into the Yext platform. For each of these reviews (where applicable) you will see Date, Location, Site, Rating, Response, Review Labels, Language, and Status.
The table will show 25 reviews per page by default, but this can be changed to 50 or 100 reviews per page.
The columns shown are customizable by clicking on the Columns drop-down above the review table.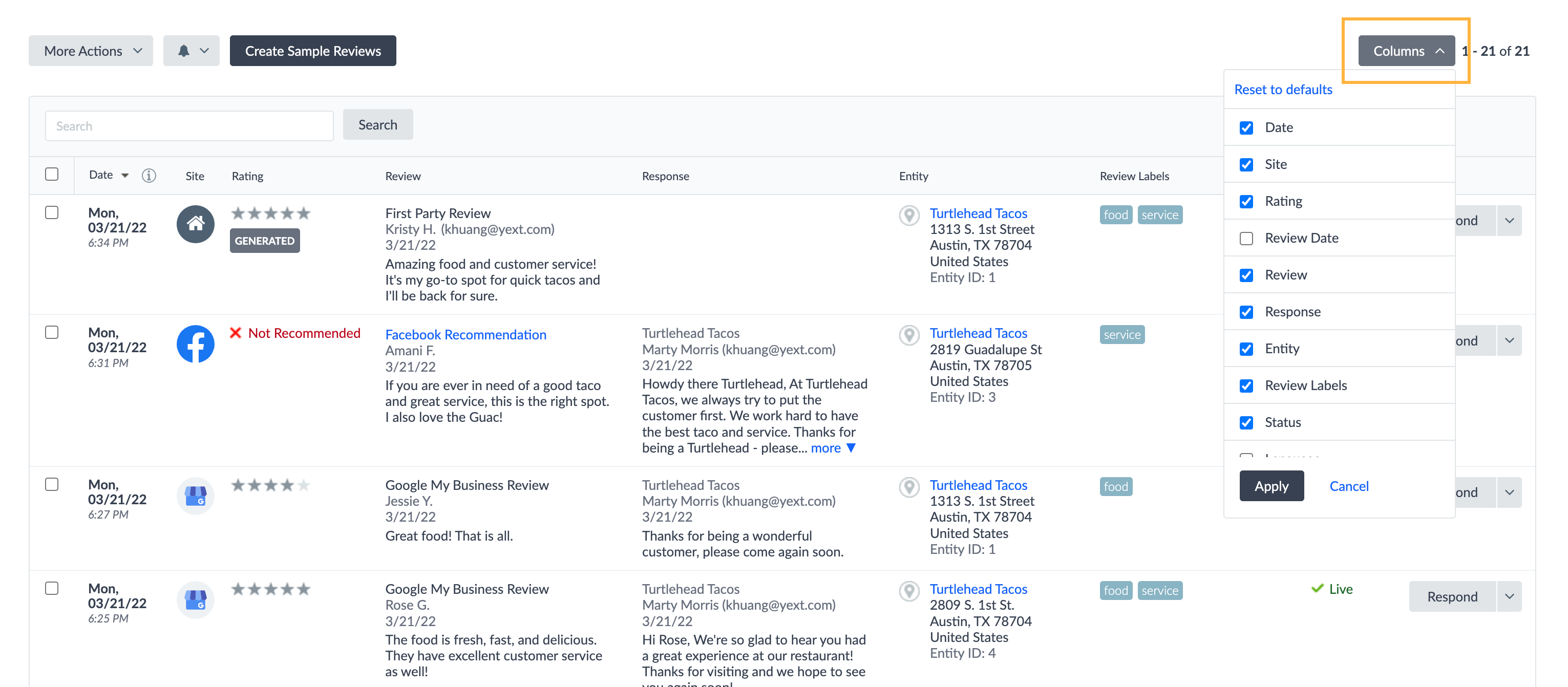 By default you will see:
Date (the more recent of the date the review was left or was last commented on)
Site
Rating
Review
Response
Entity
Review Labels
Status
Any of these columns can be removed. You can also add the Language column (the language of the review determined by Sentiment Analysis).
For certain columns such as Date, Location, Site, and Rating, you will also be able to click on the column header and sort those columns alphabetically or from highest to lowest value.
Using Basic Filtering
There are two methods to create filters in Review Monitoring. One is by using the Advanced Filter functionality, which we will walk through in the next unit. The other is by using the basic filtering options at the top of the page.


There are six basic filtering options:
Entity: Click this option to filter for reviews by entity. You can select individual entities, or an entity folder or label.

Review Date: Filter reviews by a set date range. This is the original date of the review as provided by the publisher.

Site: Choose to see reviews for specific sites, or to exclude a specific site from your filtered results.

Rating: Filter for reviews above, equal to, or below a certain rating.

Status: Filter for reviews that are Live, Quarantined, or Removed.

Label: Filter for reviews by Review Label (which we will cover in the Review Labels module ).
Analytics in the Review Monitoring Tab
At the top of the page, you will see high-level reviews metrics.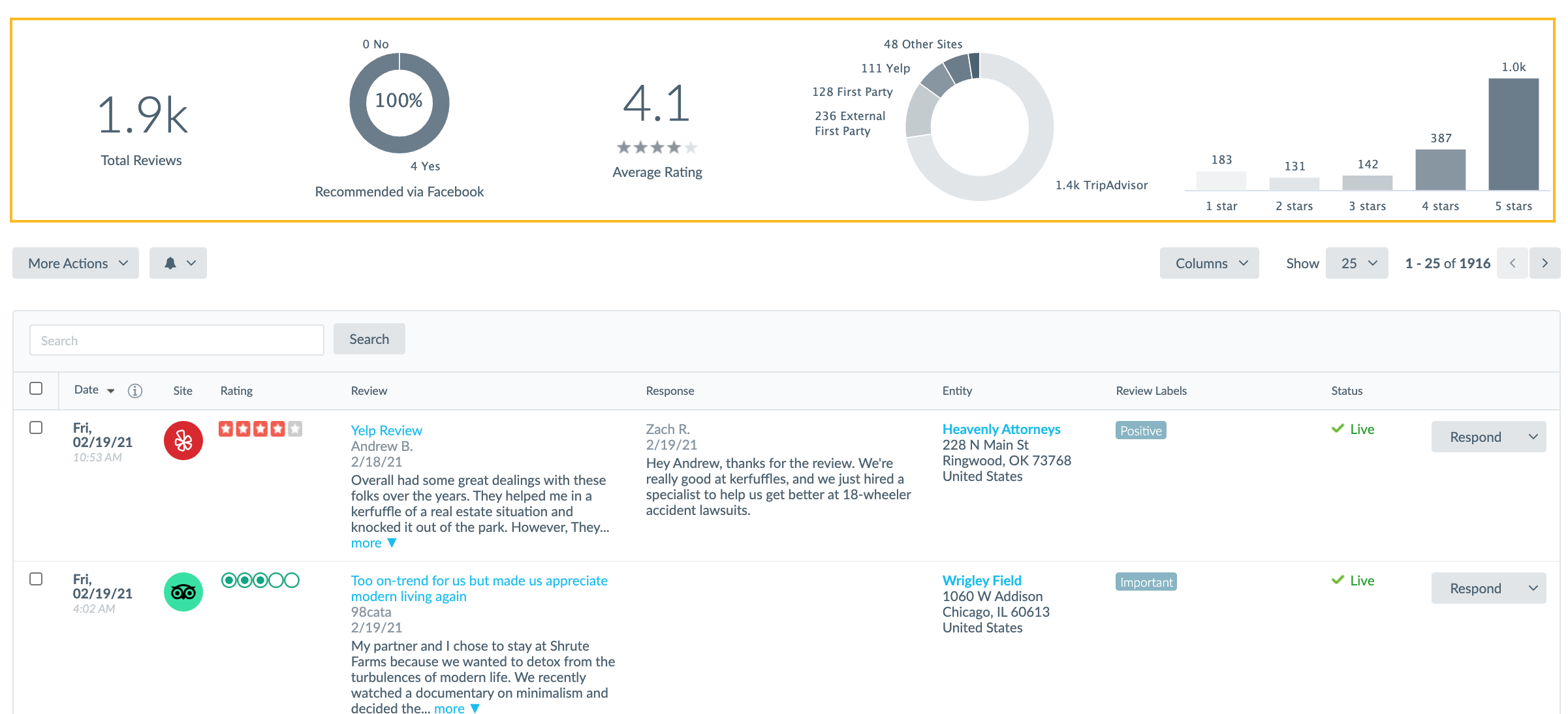 These metrics will update dynamically based on any filters you apply. Metrics include:
Total Reviews: Number of total reviews
Recommended via Facebook: Percentage of Facebook Recommendations that are "Recommended" vs. "Not Recommended"
Average Rating: Overall average review rating
Breakdown of Sites: Breakdown of the most popular sites where your brand has been reviewed
Breakdown of Star Rating: Breakdown of the number of reviews received per star rating
These metrics are interactive, and you can drill down by clicking on different areas of the visualization. For example, clicking on one of the bars in the Star Rating chart will filter to only view reviews of the corresponding star rating.
Daily Quiz Streak:
0
Quiz Accuracy Streak:
0
Question 1 of 3

What actions can be taken on the Review Monitoring page? (Select all that apply)

Question 2 of 3

Which of the following are available basic filters in Review Monitoring? (Select all that apply)

Question 3 of 3

Which publisher has Recommendations rather than Ratings?

Climbing that leaderboard! 📈

You've already completed this quiz, so you can't earn more points.

You completed this quiz in

1

attempt and earned

0

points!

Feel free to review your answers and move on when you're ready.
Sign up for Hitchhikers to start earning points!
If you're already a Hitchhiker, log in to access this content.
Feedback