Ready to be your brand's hero?
Sign up to become a Hitchhiker and build skills that will enhance your career, get access to exclusive Yext resources, and be your brand's hero by driving consumer engagement.

If you're already a Hitchhiker, log in to access this content.
Advanced Review Monitoring Functionality in the Yext Platform
What You'll Learn
In this section, you will learn:
How to apply an Advanced Filter
How to create a Review Notification
Common filtering and notification use cases
How to manage reviews that have been deleted off of 3rd party sites
---
How to Apply an Advanced Filter
Advanced Filters are a great tool to use to easily view a subset of reviews that match specific criteria. There are a number of different advanced filters to choose from, and these filters can be combined to get even more targeted.
The filters available include:
Author Name
Awaiting Response
Date (the date the review or one of its comments was last updated)
Generated
Languages
Recommendation (only applies to Facebook Recommendations)
Responses
Review Content
Sentiment Keywords
Sentiment Modifiers
Update Status
To apply an Advanced Filter begin by clicking on the plus sign button in the filter bar at the top of the page.
Next you will see the options for available filters. At the top will be Default Filters and then below you can click click on the + Add Filter drop-down menu and select the filter(s) you would like to apply.
Select the comparison option that matches your needs (e.g., contains, is equal to).
Enter your search criteria, or select from the criteria options.
If you are interested in adding additional filters click + Add Filter below. (Remember, applying multiple filters will only filter to reviews that satisfy all criteria).
Click Apply Filter.
Tip
After you have applied a filter, if you click the three dots button to the far right of the filter bar you can automatically create a Notification or a Review Labeling Rule directly from the filter.
How to Create a Review Notification
Review Notifications are very useful if you want to be notified of reviews that have been pulled into the Yext platform and satisfy specific criteria.
There are two ways you can create a new notification:
Option 1: The Manage Notifications Screen
Navigate to Account Settings or click on the bell button above the reviews section and select Manage Notifications.
If you have no notification built click on the Create New Notification link in the middle of the screen. If you have already created notifications click on the Create New Notification button in the upper right hand corner.
Select "Reviews".
Select if you would like this notification to apply to only new reviews, or if you would like it to apply to new reviews, updates on existing reviews, or new or updated Facebook comments.
Add criteria the same way that it is selected for an Advanced Filter — Click on the drop-down button that appears on the left and select what you'd like to filter by. Next select the comparison option that matches your needs (e.g., contains, is equal to). Then enter your search criteria, or select from the criteria options.
Click Next.
Select the format you would like to receive the reviews in. You can choose to have the reviews directly in the email, reviews delivered in a spreadsheet, or both. Note: You can choose to have the reviews put directly into the email but have them put into a spreadsheet if there are more than 25, 50, or 100.
Next, choose the frequency you would like to receive the emails. You can choose: As the reviews or updates come, daily, weekly, Bi-Weekly, or Monthly.
If you choose Weekly, Bi-Weekly, or Monthly select the day of the week or month you would like to receive the updates.
Select the recipients of the notification. You can choose: Myself, All Users, Specific User Roles, or Specific Users and/or Email Addresses.
Review email subject/body and choose default or customize it.
Create an internal name for the notification.
Save.
Option 2: Creating a Filter and Applying it to a Notification
The second way to create a new notification is by creating an Advanced Filter and clicking on the three dots button on the far right of the filter bar and selecting "Notify me of all reviews like these."
Then to create a notification, follow the same steps as option 1 above.

Common Review Filtering and Notification Use Cases
Review Filtering and Notifications will vary depending on the organization's goals and processes. Below are some examples of common use cases:
Reviews with ratings less than or equal to 3 stars
Reviews with Review Content that contains [Keyword]
Reviews are on any sites of Google, Facebook, or Yelp
Review Labels include any of [Label], [Label], or [Label]
Reviews Awaiting Response
Reviews Awaiting Response where Date is on or Before
Reviews with ratings less than or equal to 3 stars AND site is Google
Reviews that have been Updated Since Last Response
New Generated reviews
More Actions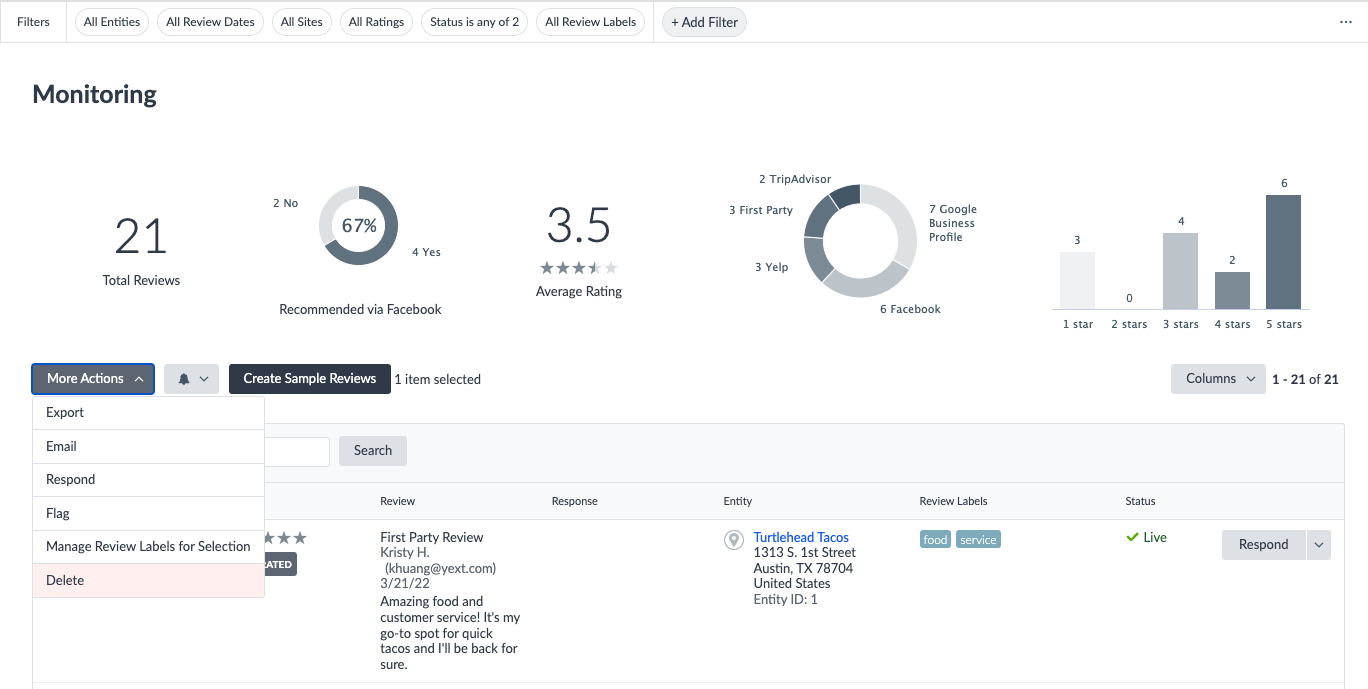 Clicking on the More Actions button above the reviews section reveals a few options for actions you can take:
Export: Export reviews as a CSV or Excel file (Note: Some publishers are not supported)
Email: Email selected reviews to any email address (must select reviews by clicking checkboxes)
Respond: Respond by selecting an individual review
Flag: Flag first-party reviews to be reviewed (more on this later in the Review Generation Module)
Manage Review Labels: Manage review labels in bulk (for more details please see the Review Labels module)
Note: A few of these actions will not be selectable unless you have selected one or more reviews using the checkboxes on the left.
Deleting Individual Third-party Reviews from the Yext Platform
Users can delete individual third-party reviews from the Yext platform by clicking on the combo button to the right of a review and clicking Delete. This does not delete reviews from the publisher; if the review still exists on the publisher, it will be re-pulled into the Yext platform.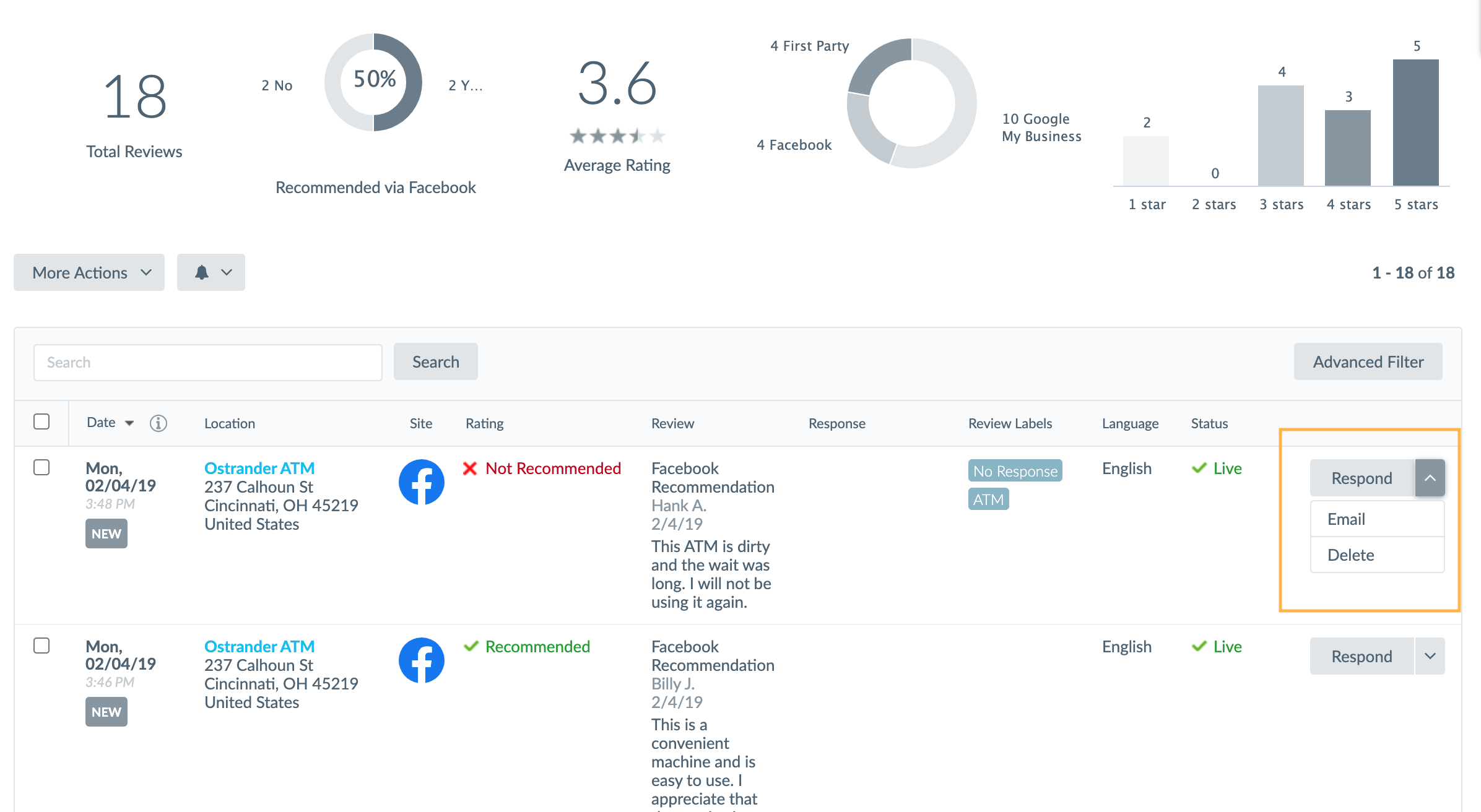 Removed Review Behavior
Consumers often delete reviews that they had previously posted on a publisher listing. Yext can automatically determine which reviews have been deleted from publishers and mark those reviews as removed in the platform. Businesses can then determine whether they would like to keep deleted reviews in the platform with a "Removed" status, or have them permanently deleted from the platform.
This provides businesses with more accurate reviews analytics, as customers can easily examine how review metrics vary when including and excluding removed reviews.
To manage deleted reviews behavior, businesses can go to Account Settings and select Compliance Settings.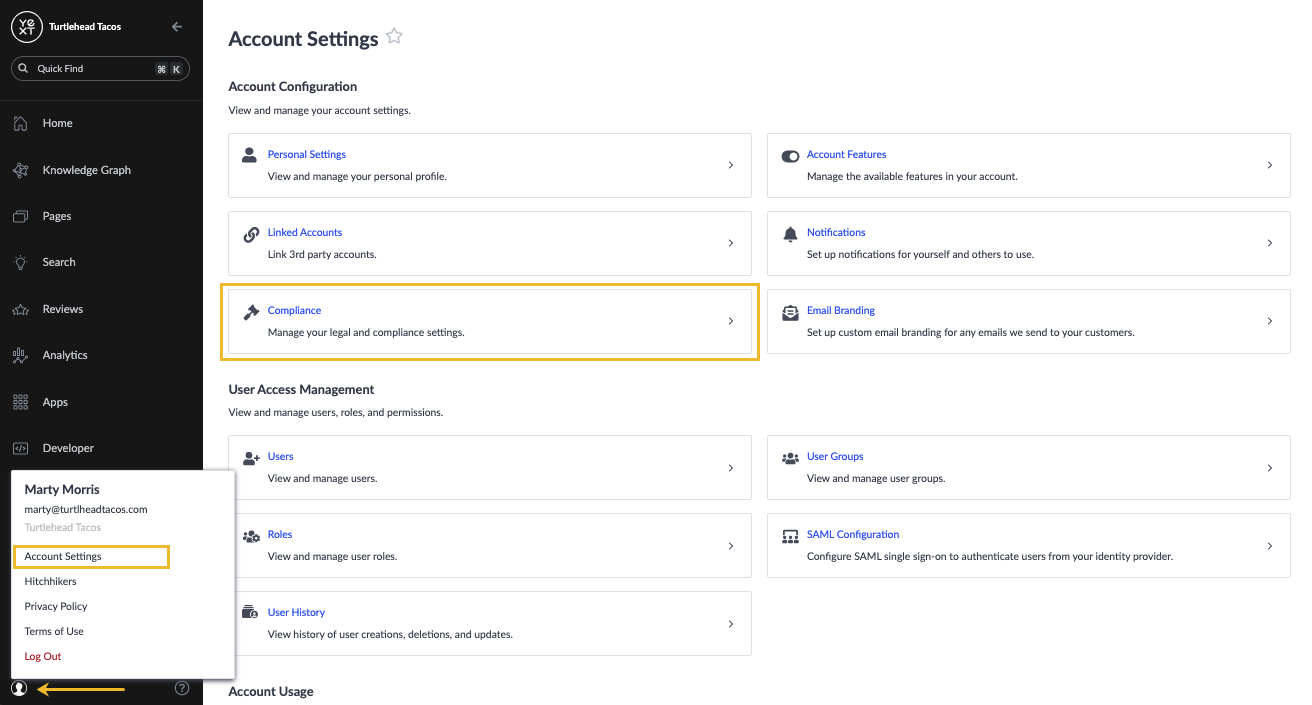 Note: If an entity is subject to GDPR, removed reviews on that entity will always be deleted from the platform immediately. GDPR countries include Austria, Belgium, Bulgaria, Croatia, Republic of Cyprus, Czech Republic, Denmark, Estonia, Finland, France, Germany, Greece, Hungary, Ireland, Italy, Latvia, Lithuania, Luxembourg, Malta, Netherlands, Poland, Portugal, Romania, Slovakia, Slovenia, Spain, Sweden, Switzerland, and United Kingdom.
Daily Quiz Streak:
0
Quiz Accuracy Streak:
0
Question 1 of 4

True or False: Advanced filters are used to easily view a subset of reviews that match specific criteria

Question 2 of 4

Which of the following people would you be able to send a notification to? (select all that apply)

Question 3 of 4

True or False: If you apply multiple criteria to a filter a review only has to satisfy one of those criteria to be included.

Question 4 of 4

Which of the following is not a Review Deletion option?

Wahoo - you did it! 🙌

You've already completed this quiz, so you can't earn more points.

You completed this quiz in

1

attempt and earned

0

points!

Feel free to review your answers and move on when you're ready.