Introduction to Reviews
| Yext Hitchhikers Platform
What You'll Learn
In this section, you will learn:
Introduction to reviews and why they are important
Key reviews terms
The components of an effective reviews management strategy
---
Reviews in Today's Customer Journey
Most consumers are familiar with reviews for one reason or another. Whether it's the ability to post online reviews after visiting a location or browsing reviews to determine which products to buy, reviews have become increasingly prominent in our lives.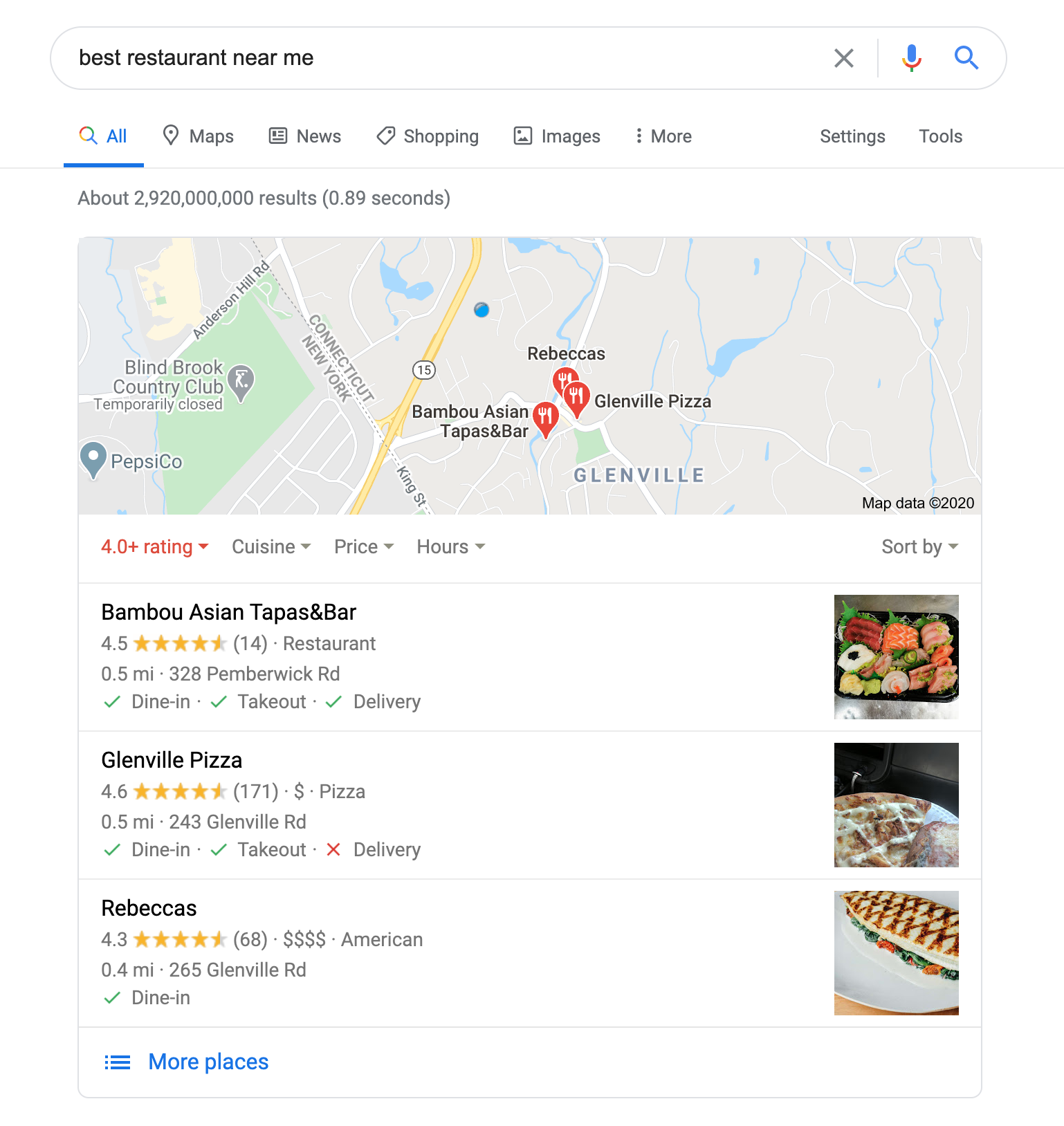 There are a few key reasons why reviews are an increasingly important part of the customer journey:
Search - Google released the 3 key factors that they take into account for how they determine local rank: Distance, Relevance, and Prominence. Prominence factors in the quality (star rating), quantity (number of reviews), and recency (date) of reviews. Changes like these have made reviews an important factor in local rank. As a consumer, wouldn't you prefer seeing highly ranked businesses in search?

Consumer Trust - Reviews reflect how your business is performing, and they tell potential customers what they can expect. Consumers are more likely to trust a business with a high volume of recent positive reviews, leading to increased store visits and conversions on your own website. Do you trust a 4 star business more than a 2 star business?

Operational Insights - Your customers are already providing valuable feedback about your brand around the web through reviews. If you are monitoring and analyzing that feedback properly, it can highlight areas of success as well as opportunities for business improvement. Wouldn't it be helpful to learn about the poor experiences your customers encounter so that you can improve those shortcomings?
Key Terms
Below are a few key terms we will reference throughout various Hitchhikers units.
First-Party Reviews - User reviews that are collected by a business, rather than left on a review site (like Google, Facebook, or Yelp). The content of these reviews is owned by the business, and the reviews are often displayed on a business' owned properties such as their website or app.
Third-Party Reviews - User reviews that are written on third-party websites such as Google, Facebook, or Yelp.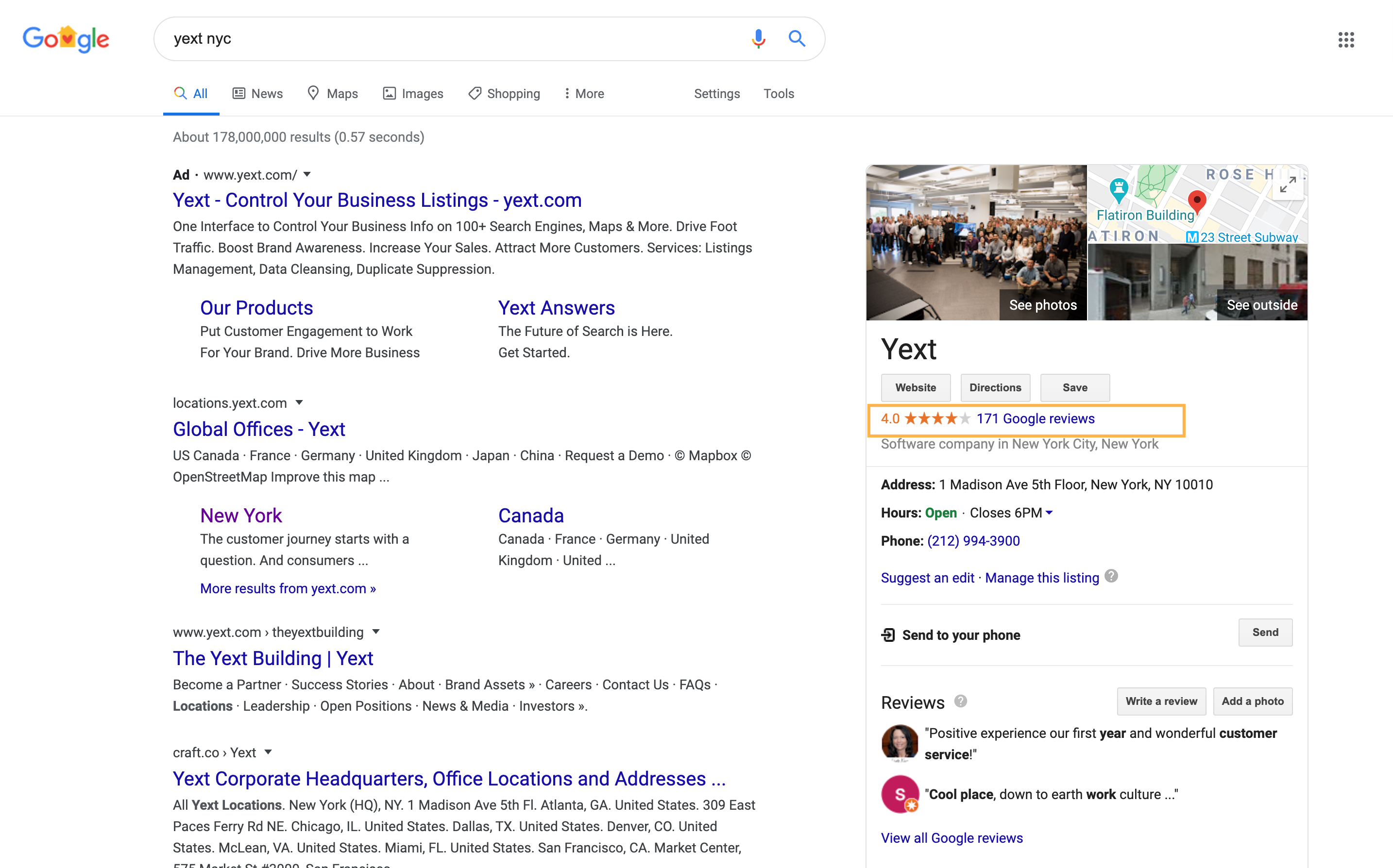 Location vs. Brand vs. Product Reviews
Often the reviews for different types of entities (such as locations, brands, or products) are treated differently. This can vary from which sites those reviews are hosted on to how they are visually shown on the site.
Location Reviews - Reviews for locations such as an office, a restaurant, a store — or location-like entities — such as an ATM or a professional like a doctor or insurance agent.

Brand Reviews - Reviews for an overall brand, such as reviewing a restaurant chain as a whole, rather than the restaurants themselves.

Product Reviews - Reviews for individual products, such as an article of clothing.
Organically Occurring Reviews - Organically occurring reviews are left by customers without being asked by the brand or by a publisher.
Generated Reviews - Generated reviews occur when a brand or publisher proactively reaches out and asks a customer to leave a review via SMS, email, or other methods.
Facebook Recommendations - As of 2018, Facebook now calls reviews "Recommendations." Instead of a star rating, each review is classified as "Recommended" or "Not Recommended." Facebook then uses their own algorithm to calculate an overall star rating for the entity.
Components of an Effective Reviews Management Strategy

Listen to your customers - Reviews provide a great opportunity to understand your customer experience so you can make informed improvements.
Engage your customers - Responding to reviews is a great way to reach out to your customers and improve their experience. Response is also proven to increase your star rating, as users who leave negative reviews will often update or remove their reviews once they receive a response.
Ask for more feedback - Your customers are an incredible source of feedback. When you have a great handle on your review monitoring and response strategies you should reach out for more feedback!
Daily Quiz Streak:
0
Quiz Accuracy Streak:
0
Question 1 of 3

True or False: Reviews have an impact on search

Question 2 of 3

Which of the following is NOT a reason why reviews are an important part of the customer journey?

Question 3 of 3

True or False: Generated reviews are left by customers without being asked by the brand or by a publisher

Wahoo - you did it! 🙌

You've already completed this quiz, so you can't earn more points.

You completed this quiz in

1

attempt and earned

0

points!

Feel free to review your answers and move on when you're ready.
Sign up for Hitchhikers to start earning points!
If you're already a Hitchhiker, log in to access this content.
Feedback