Introduction to Review Generation
| Yext Hitchhikers Platform
What You'll Learn
In this section, you will learn:
A quick overview of review generation
Why review generation is important
How Yext helps you optimize your review generation strategy
---
What is Review Generation?
Your customers are the best source of feedback about your brand. Their feedback provides insight into their experiences with your brand, from a single interaction to a global trend. Review generation is the functionality to solicit feedback from customers and generate first-party reviews.
Why is Review Generation Important?
Customers leave reviews about your brand across the web every day. However, this feedback is limited to organically occurring reviews on third-party sites from customers that felt compelled to leave a review. This also doesn't capture the feedback from all of your customers. As it turns out, consumers are more than willing to leave reviews for your brand if you just ask. Review generation gives you the functionality to cast a wider net to gather even more valuable feedback from your customers that provides great benefits.
Hear From All of Your Customers - Consumers often don't feel compelled to leave you a review unless they have a negative experience. Reaching out to every customer who has had a recent interaction with your brand is a great way to collect more reviews and understand your true brand reputation.
Build Brand Trust - Consumers are increasingly using reviews to make decisions throughout the customer journey. Generating reviews and placing them on your local pages can build trust by providing consumers with the feedback they need to make decisions and help increase on-page click through rates.
Generate More Content for Marketing and Operations - Use customer feedback across digital marketing, such as marketing emails, paid ads, check-out flows, and social posts to increase click-through rates.
How Yext Helps You Optimize for Review Generation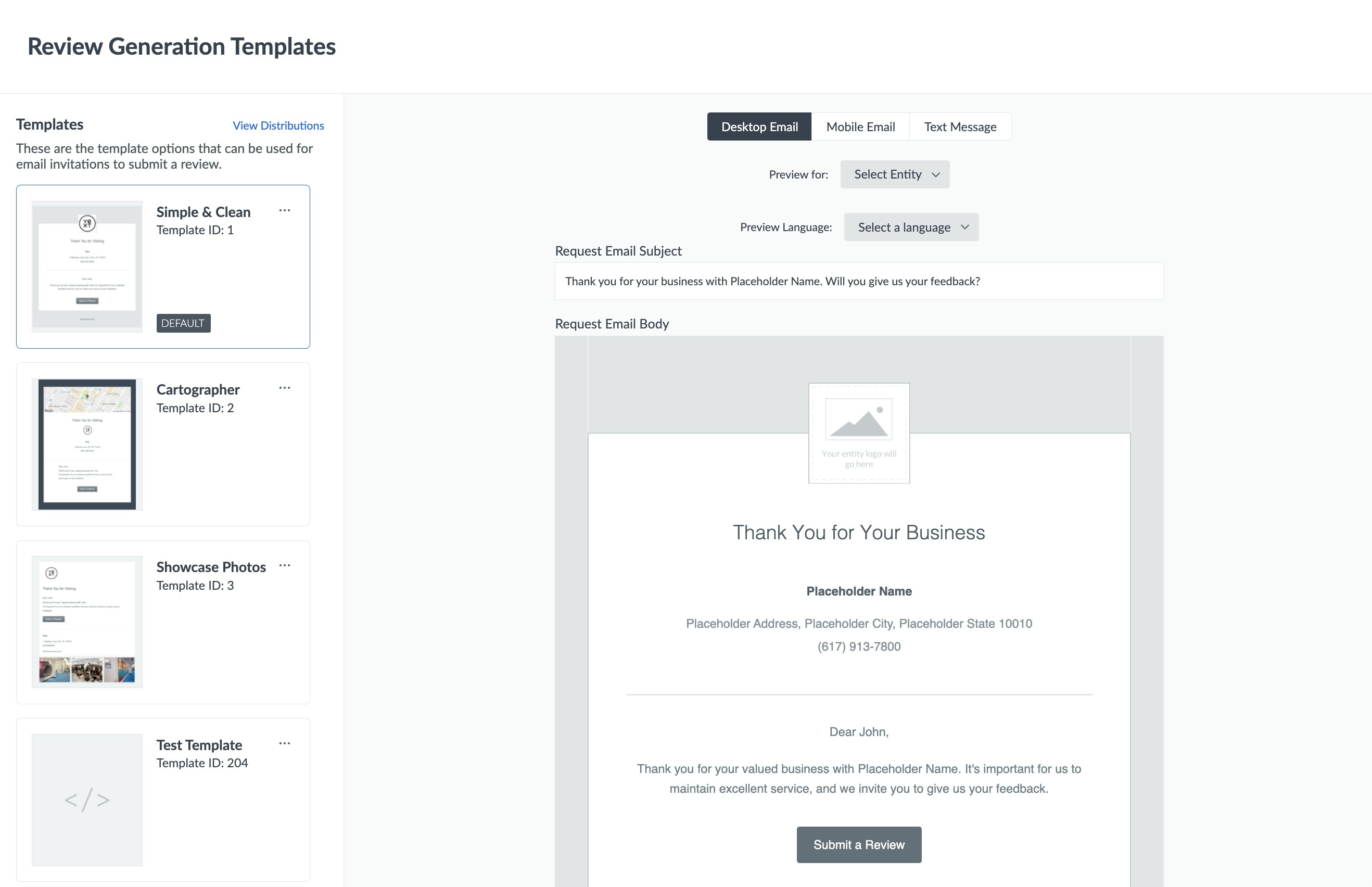 Review generation is an important step in the maturity model of a fully optimized reviews management program. When generating reviews, it is important to build a seamless process to help ensure that you are quickly and easily able to request feedback from all customers who have had a recent experience. Yext provides the tools and best practices to optimize your review generation strategy. Below we have highlighted some of the key functionality available. We will be diving deeper into each of these areas throughout the Reviews track.
In-platform first-party generation.
Build generation templates in the Yext platform to send first party invitations to your customers via text or email.
Flexible options to gather contact information.
Import contact information through CSV, API, or pre-built App Directory integrations with partners such as Salesforce or Hubspot.
Publish reviews to your website.
Easily publish reviews to your entity landing pages in real-time as you receive those reviews to drive increased click-through rate, and provide consumers with the feedback they need to make decisions.
Daily Quiz Streak:
0
Quiz Accuracy Streak:
0
Question 1 of 3

True or False: Review generation is the functionality to solicit feedback from customers

Question 2 of 3

True or False: Brands see a 5% click-through rate increase when reviews are included in digital marketing versus not

Question 3 of 3

Which of the following is NOT a benefit of review generation?

A Hitchhiker in the making! 🔥

You've already completed this quiz, so you can't earn more points.

You completed this quiz in

1

attempt and earned

0

points!

Feel free to review your answers and move on when you're ready.
Sign up for Hitchhikers to start earning points!
If you're already a Hitchhiker, log in to access this content.
Feedback