Introduction to Yext's Review Monitoring
| Yext Hitchhikers Platform
What You'll Learn
In this section, you will learn:
A quick overview of review monitoring
Why review monitoring is important
How Yext helps you optimize your review monitoring strategy
---
What is Review Monitoring?
Reviews are being left about your brand all around the web on places like Google, Facebook, TripAdvisor, Yelp, Zillow, and many more depending on your industry and geography. Review monitoring refers to the functionality to pull in those reviews left on various sites into a single platform.
Why is Review Monitoring Important?
Your review ratings tell the story of how your brand is performing. Bringing those reviews from around the web into a single platform saves time by allowing you to perform analysis across sites, receive notifications for high priority reviews, and more.
It takes time to check Google, Facebook, Yelp, and any other places where you may have reviews. Imagine the amount of time it would take to determine the average rating of all of your locations across 10 publishers. Now think about the extra effort required to take it a step further and look for any trends in the review data. Monitoring reviews from all of those sites into one platform provides a huge efficiency gain.
The context of your reviews is just as important as the ratings themselves, so after you have pulled those reviews into a single platform it is important to analyze those reviews. You want to understand how your entities compare to one another, how they compare to their past performance, and how they compare to the competition. You can answer questions like:
Is 4 stars a good rating?
Which of my locations is performing the best/worst?
On which sites am I ranking poorly?
Where am I beating the competition?
Monitoring your reviews helps you to understand which aspects of your business are contributing to positive and negative customer experiences. With the right strategy and analysis, review monitoring can provide the insights you need to make informed business improvements.
How Yext Helps You Optimize for Review Monitoring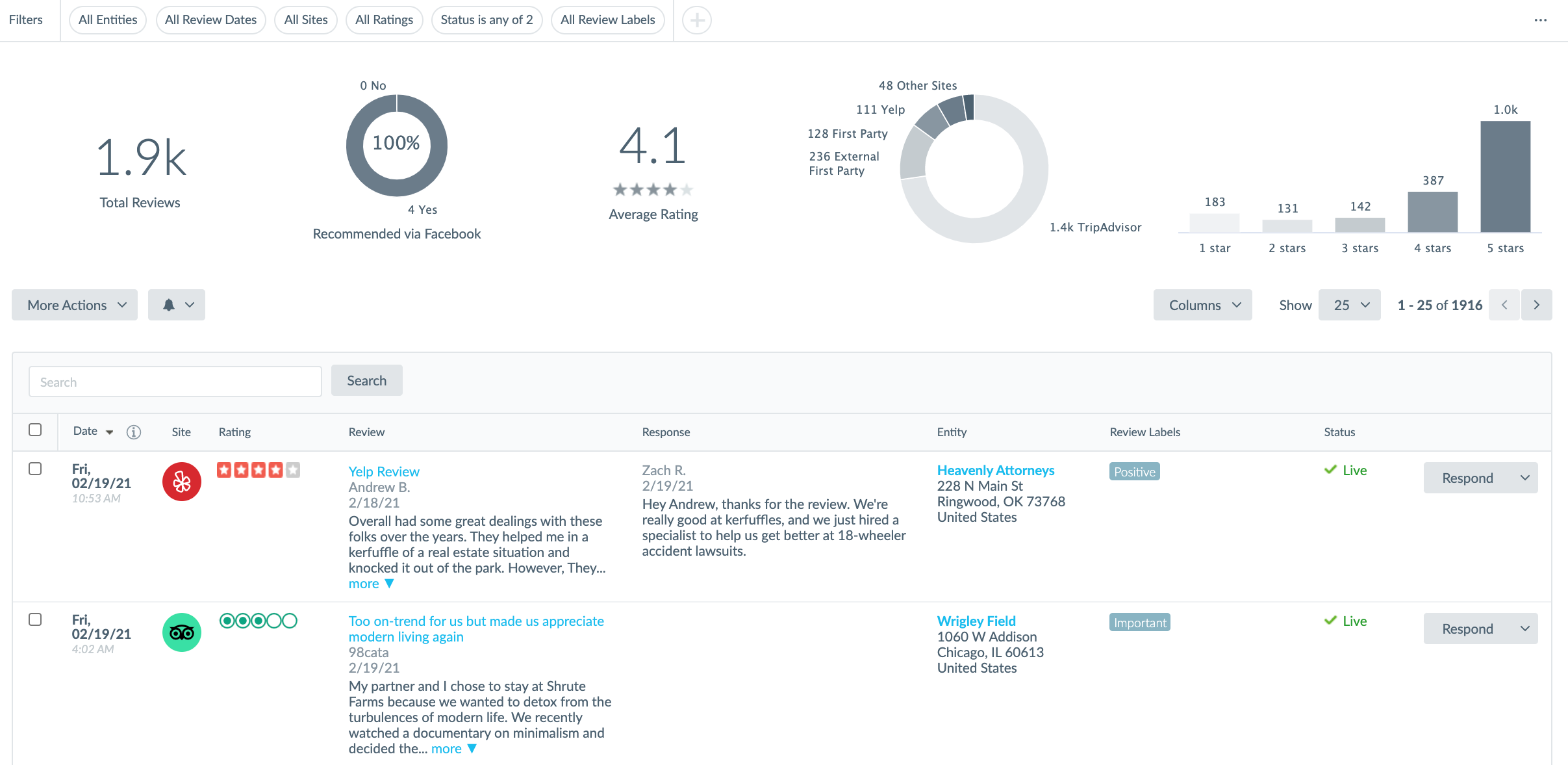 Yext's Review Monitoring provides the tools you need to get a great picture of your brand performance. Below we have highlighted some of the key functionality available. We will be diving deeper into each of these areas throughout the Reviews track.
Reviews from around the web.
Yext helps you pull reviews from around the web into a unified platform. This is done through direct API integrations which enable you to pull in reviews from different sites from around the world, in real time.
Deep dive review analysis.
Yext provides the necessary tools to dig into reviews and identify what parts of your business are contributing to positive and negative customer experiences. Utilize tools like Sentiment Analysis, Competitive Intelligence (we will discuss these later), and more to see how your brand is being perceived and how you stack up.
A flexible platform.
Get the right reviews in front of the right people by leveraging filters, dashboards, notifications, and pre-built integrations with partners such as Zendesk, Salesforce, and Hootsuite. If your teams are used to viewing customer feedback on a certain platform or on the go, make sure you have the built in flexibility to get them that data.
Daily Quiz Streak:
0
Quiz Accuracy Streak:
0
Question 1 of 3

True or False: Review monitoring pulls reviews from around the web into a single platform

Question 2 of 3

Review monitoring helps you to: (Select all that apply)

Question 3 of 3

Which of the following is a way Yext helps you optimize review monitoring?

Climbing that leaderboard! 📈

You've already completed this quiz, so you can't earn more points.

You completed this quiz in

1

attempt and earned

0

points!

Feel free to review your answers and move on when you're ready.
Sign up for Hitchhikers to start earning points!
If you're already a Hitchhiker, log in to access this content.
Feedback