Facebook Overview
| Yext Hitchhikers Platform
What You'll Learn
In this section, you will learn:
An understanding of Yext's integration with Facebook
How to launch locations on Facebook
---
Overview
Facebook Pages help businesses, brands, people, causes, and organizations reach new audiences and communicate with fans or customers across the social media platform. For businesses, Facebook allows two types of pages:
Brand Page (or Main Page): a brand page acts as a parent page to which all location store pages of a brand will link to. Brand pages have no address information.
Location Page: a location-specific business page.
A Location Structure consists of one brand page and multiple location pages linked to the brand page in a parent-child structure. Brands can have multiple location structures for their sub-brands.
Location pages in location structures have additional features to ensure streamlined brand experience and management.
Yext will help businesses with multiple locations set up Location Structures. Yext helps link location pages to the brand page, and then we help you sync to the location pages within the location structure.
This is an example of Yext's brand page, and one of Yext's location pages for a specific office.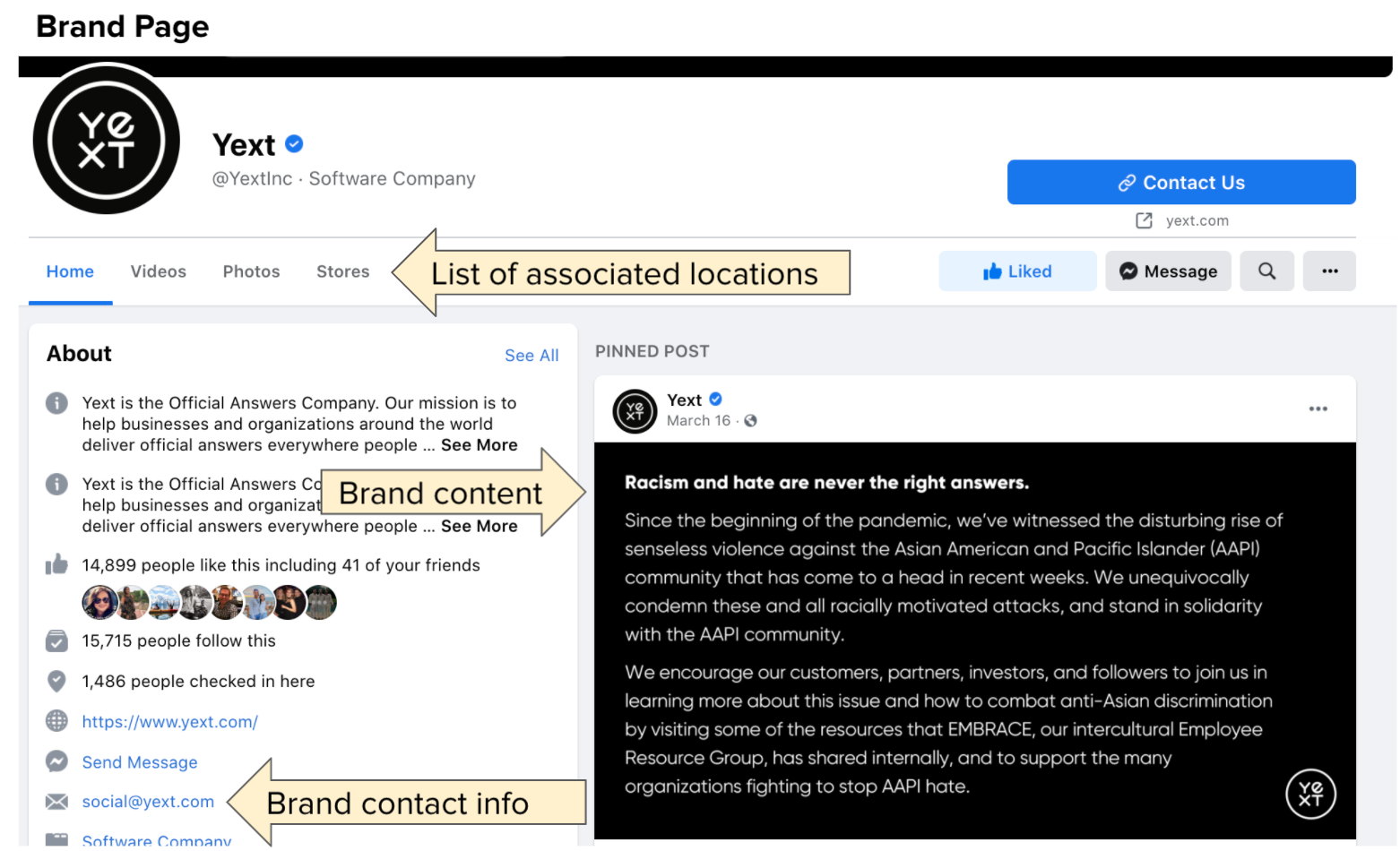 When you link your Facebook user account with Yext, Yext syncs your managed Facebook location pages with the content in Yext. Yext does not sync or update information on brand pages.
Facebook Events
Once you have a Facebook account linked with Yext, you can also sync events to these pages so users are aware of events that you have taking place at your locations, or events that your brand may be hosting.
Daily Quiz Streak:
0
Quiz Accuracy Streak:
0
Question 1 of 2

Which type of Facebook pages does Yext update?

Question 2 of 2

True or False: Yext can help you sync events to Facebook?

A Hitchhiker in the making! 🔥

You've already completed this quiz, so you can't earn more points.

You completed this quiz in

1

attempt and earned

0

points!

Feel free to review your answers and move on when you're ready.
Sign up for Hitchhikers to start earning points!
If you're already a Hitchhiker, log in to access this content.
Feedback