Ready to be your brand's hero?
Sign up to become a Hitchhiker and build skills that will enhance your career, get access to exclusive Yext resources, and be your brand's hero by driving consumer engagement.

If you're already a Hitchhiker, log in to access this content.
Connecting with the Community
| Hitchhikers Platform
What You'll Learn
In this section, you will learn:
How to access the Community
How to search posts
How to engage with the Community
Posting best practices
What else you can expect from the Community
---
Forum Community
Does anyone else have that co-worker who won't stop asking you questions about how things work? Great news - they can start asking the Yext community instead!
The Yext Community is designed to allow people to ask questions about how things work and to learn best practices about building and maintaining search experiences. No question is "dumb" or "silly". This is a judgement-free zone, folks!
You'll get responses from all walks of life – Yext Product Managers, Yext Engineers, Yext Administrators, Yext Support, but better yet also from Hitchhikers just like you.
How to Access the Forum
There are a few ways to access the community.
The community lives at https://hitchhikers.yext.com/community/, so clicking that link will always take you to the right place!
From this page you're on right now, you can also click on the Community tab at the top of the page to jump directly to the community's home page.
Additionally, from this page, if you have a question or topic in mind that you want to search for in the community, you can enter a question or topic in the search box at the top of the page. This will pull in relevant community posts, and you can click View Post to dive right into a community post.
How to Search Posts
The goal of the community is to encourage people to ask questions, and learn from one another, so it is a living, breathing resource that will constantly evolve. Because of this, we always recommend searching first!
It's possible that your question has already been asked by someone else, so no need to post it again when you can follow along or add to an existing thread. Content may also have been added since your last visit, so it never hurts to check!
To search for posts in the community, simply enter your question or topic into the search box at the top of the page. Searches will return results from across all resources – Community Posts, Modules, and Help Center articles to help you find all of the relevant content.
If you find what you're looking for, click View Post to check it out! Otherwise, click on the Community tab at the top of the page to add a new question or topic.
How to Engage with the Community
This is where you get involved!
There are a variety of ways you will be engaging with content in the community:
Add New Topic: Ask a new question, or start a new thread about a new topic.
Reply: You can add a response to an existing topic thread.
Like: Give a thumbs up to a post that provides you with helpful insight.
Mark as Solution: If you solve your issue, or receive the correct answer to a question, click on the checkmark icon on the bottom of the post to mark it as solved so other users are aware.
Add a New Topic
To start a new topic, click on the New Topic button. This button will be visible on the Community Home Page, or a Category Page. It will not be visible if you are already clicked into a specific topic.
Reply to a Post
Once you find a topic that you would like to contribute to, click Reply either next to the post or at the bottom of the thread. This will open the composer panel where you can create your response.
Like a Post
If a topic is helpful, you click on the thumbs up icon to acknowledge that you like it!
Mark a Post as the Solution
If you receive a response that answers your question, we encourage you to mark it as the solution so other viewers are aware that the thread has an answer. To mark a post as the solution, click on the three dots underneath the post, and click Solution.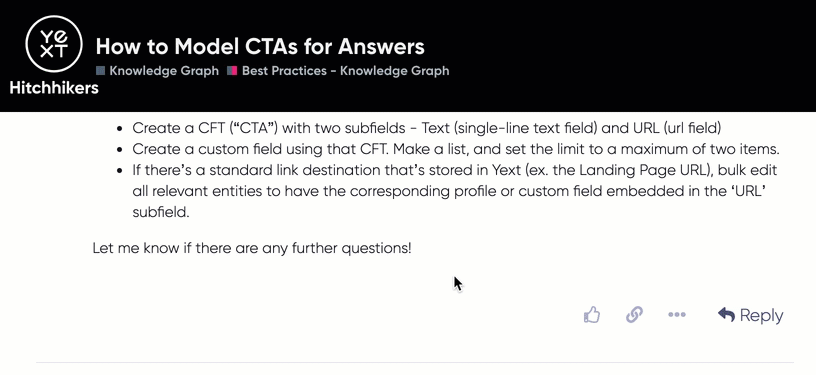 The first post in the thread cannot be marked as the Solution, so keep that in mind as not every post will have this option.
Posting Best Practices
Add to Relevant Topics
If a topic similar to yours already exists, add a new post to that thread instead of posting a new topic. This will prevent other users from sifting through multiple similar threads, help keep similar content together, and make it easier for users to find answers.
Threads Should Focus on a Single Topic
You don't want to post on someone else's topic if you have a different problem, or if they have already marked their question as solved. In these instances, you should start a new topic instead.
Add a Helpful Title
Optimizing your post's title helps it show up in related searches, and allows other members to understand what your post is about, at a glance.
E.g., 'How do I format phone numbers on Answers result cards?'
Be Mindful of Linking Images
Visuals are always helpful to demonstrate a point. However, we recommend being as descriptive as you can via text before leaning on images.
Add Context When Pointing to External Resources
Pointing to external resources is also a helpful option. However, over time links can break or certain people may not be able to access them. While you can include links to external resources, make sure you include the name of the resource so users will still be able to understand the context or search for it on their own.
Categorize your Posts
If your topic fits into one of the listed categories, add the category to your post so it will automatically be visible in the corresponding section of the community. That said, if your post doesn't fit into one of the categories, or you're not sure where to put it – no need to categorize! Community moderators will monitor uncategorized content to make sure it ends up in the right place!
What Else to Expect from the Community
The Community is an amazing forum to get your questions answered and read through best practices but we'll be doing much more than that. What else can you expect?
Office hours. Have a question on how to do something but think it may be a little more in depth than a post? No problem. We'll be hosting recurring office hours where anyone can sign on and ask a question. We will create a forum to gather an agenda for each session so be sure to check out the community.
Exclusive webinars. We will host a series of ongoing webinars exclusively for Hitchhikers members. These webinars will include topics like release previews, opportunities to hear from the Yext experts, hot topics, how to get the most out of Hitchhikers, and more.
Local user groups and events. What's a community without some local events?! Hitchhikers will host local events such as user groups so that you can meet with your fellow power users and to network and share best practices.
The Hitchhikers Blog. The Hitchhikers site will be home to a blog that is purpose built for power users. The Yext experts will use this blog to explore advanced topics, common questions, new functionality, and more.
And yes, swag. Who doesn't love some branded gear, especially when the community is as cool as Hitchhikers? Amiright? As a Hitchhiker you'll have the opportunity to get exclusive swag at events or have it awarded as a high performing user in the learning platform or community.
Daily Quiz Streak:
0
Quiz Accuracy Streak:
0
Question 1 of 3

Which of the following actions can you take in the community? (Select all that apply)

Question 2 of 3

When you have a question for the community, what do we recommend you do first?

Question 3 of 3

What is important to do when posting in the community (Select all that apply)

You're out of this world! 🌎

You've already completed this quiz, so you can't earn more points.

You completed this quiz in

1

attempt and earned

0

points!

Feel free to review your answers and move on when you're ready.