Ready to be your brand's hero?
Sign up to become a Hitchhiker and build skills that will enhance your career, get access to exclusive Yext resources, and be your brand's hero by driving consumer engagement.

If you're already a Hitchhiker, log in to access this content.
What is Hitchhikers
| Hitchhikers Platform
What You'll Learn
In this section, you will learn:
What is the Yext Hitchhikers Program and what's included
Why Yext created Hitchhikers
The Hitchhiker lifecycle
What Hitchhikers can do for you
The types of skills you'll learn as part of the program
---
Introducing Hitchhikers
Welcome to the Hitchhikers Program!
We couldn't be more excited that you've decided to embark on this journey with us. In this (admittedly very meta) track, we'll teach you all about what the Hitchhiker Program is and what it means to be a Hitchhiker.
Let's get started!
What is the Hitchhikers Program?
The Hitchhikers Program is designed to train power users to optimize search experiences and develop solutions on top of Yext's technology, especially the Knowledge Graph, Pages and Answers.
There are 2 main components to the program:
Learning Platform - A comprehensive platform to train you on how to get the most out of the Yext Search Experience Cloud.

Community - A place to ask questions, learn best practices and connect with peers. The community will include an online forum as well as offline activities and opportunities.
Everything you need to know about Hitchhikers is on this site, so you're in the right place. All you need is some time and an eagerness to learn new things. We'll be here to help you along the way.
Who are Hitchhikers?
A Hitchhiker is anyone that is engaging with the learning platform or community. Anyone who is eager to learn how to optimize their search experience. Anyone who wants to drive transactions and conversions.
Hitchhikers can be:
Employees working at large brands or small businesses, looking to find ways to improve their own brand search experience.
Partners at agencies, system integrators, or consulting firms that are looking to build optimized solutions for their customers.
Employees at Yext who are committed to delivering high-quality search experiences.
Anyone else who is excited to learn more about the possibilities of search.
No matter where you work, there are a few key personas and skill sets that align with being a Hitchhiker.
The Yext Administrator: A jack-of-all-trades responsible for implementing the solution, and managing ongoing optimization such as solution updates and data analysis.
The Yext Architect: An integration wiz with a strategic mind, responsible for architecting a solution that fits an organization's business goals.
The Yext Developer: An experienced developer who knows how to use Yext's APIs, Command Line Interface, and developer tools to create highly customized experiences.
The Yext Project Manager: An organizer who isn't afraid to hold the clipboard and keep the team in line. The Project Manager is responsible for business timelines and maximizing the value of Yext.
The Hitchhikers Lifecycle
Fundamental to the Yext philosophy is that search experiences require continuous optimization to be successful. You cannot set up a search experience and then tap out, expecting it to run in perpetuity successfully. You need to be reactive. You have to see what consumers are searching for, how the search experience changes, what consumers expect, and adapt. Agility is key.
Throughout the training program, you'll learn how to think like a Hitchhiker — constantly coming up with new, creative, thoughtful, and success-driven optimizations for search experiences.
We call this the Hitchhiker Lifecycle: Strategize, Build, Optimize. Rinse and repeat.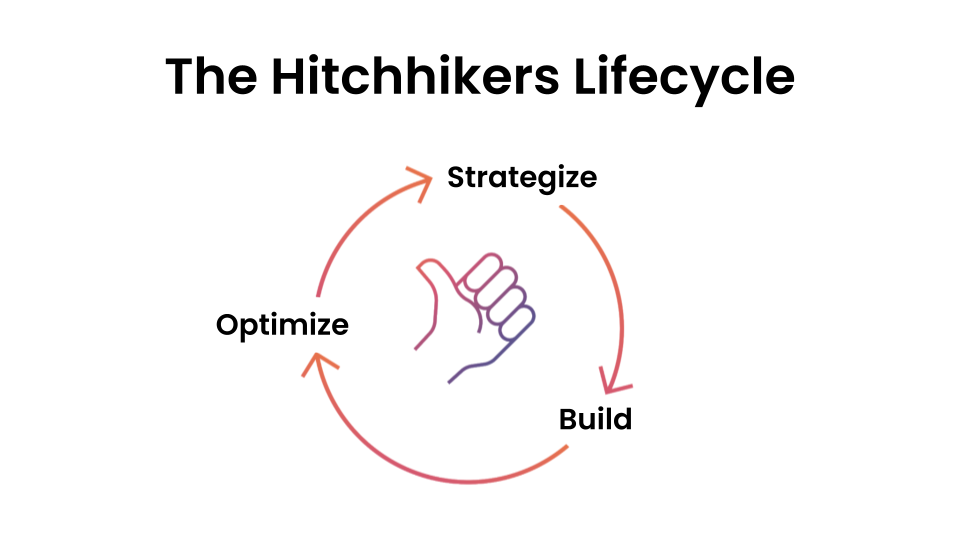 For example, maybe you work at or with a primary care healthcare company. You have both Pages and Answers live. It's September and you start seeing a number of queries come in about the flu. You don't have any information about the flu in your Knowledge Graph, Pages or Answers experiences. That's OK! You don't have to have everything expressed in your graph to get started. As a Yext Admin, you would identify this opportunity for improvement and easily add new entities around the flu like FAQs or conditions treated. Before you know it, you'll be answering your consumers' questions about the flu via Pages and Answers.
(Not sure what Knowledge Graph, Pages and Answers are? Don't fret – you'll learn about these later!)
Why become a Hitchhiker
This program is designed not only to make you a Search Experience Cloud expert but also to help you develop skills to take you further in your career. How, might you ask?
Learn technical skills. At this point it seems that most people who work in technology know "how to code" or have an aspiration to do so. The hardest part is getting over the hump. Through Hitchhikers, you'll learn some basics of things like HTML, CSS, Javascript, and JSON. Just enough to do what you need to make successful search experiences. But also enough that we hope you take those learnings and continue to hone those skills. The easiest way to learn is in context. The Hitchhikers who work at Yext, for example, started off with absolutely no experience in HTML, CSS or Javascript. Six months later, the team is full of experts, teaching each other how to do advanced data mappings and transform pages using CSS — skills we used to have to ask developers to help with. Plus, if you ever have a question, just ask the community! There are many people out there eager to help you learn.
Learn industry knowledge. The search industry is one of the fastest growing, but also mission critical, parts of the marketing stack. Throughout the Hitchhikers Program you'll learn about how the industry works, why each product is critical to a brand's success, and additional marketing fundamentals like SEO (search engine optimization). This will help you speak more intelligently in meetings with management and impress your team members as you climb that career ladder.
Build experiences that drive conversion. They say that not all heroes wear capes. The Hitchhiker Program will give you the tools you need to become your brand's hero — whether that brand is where you work or a customer of yours. Your search experiences will increase visibility, drive conversion, decrease support costs, and improve the overall customer experience. As you adapt the Hitchhiker Lifecycle, you'll wow your stakeholders with your forward-thinking approaches to tackling business challenges.
How to get started
It's easy – finish the quick quiz below and then click Submit. Once you (successfully) answer the questions, you'll be taken to the next unit where we'll deep dive into how the learning works.
Congrats on finishing your first unit! Onward & Upward!
Daily Quiz Streak:
0
Quiz Accuracy Streak:
0
Question 1 of 4

What are some of the benefits of the Hitchhiker Program? (Select all that apply)

Question 2 of 4

What are the different parts of the Hitchhiker Program?

Question 3 of 4

What steps are part of the Hitchhiker lifecycle? (Select all that apply)

Question 4 of 4

Who is the Yext Hitchhiker program for? (Select all that apply)

You're out of this world! 🌎

You've already completed this quiz, so you can't earn more points.

You completed this quiz in

1

attempt and earned

0

points!

Feel free to review your answers and move on when you're ready.