Review Generation Metrics
| Yext Hitchhikers Platform
What You'll Learn
In this section, you will learn:
Invitations Table overview
Review Generation metrics to monitor
---
Invitations Table
On the View Invites page under Reviews > Generation, there is a table of all invitations which have been sent. This includes the contact info of the recipient of the request. The columns in the table are defined below:
Request Date: The date & time the invite was requested
Sent: The date & time Yext's system actually sent the request
Opened: The date & time the recipient opened the invitation (this data is not available for SMS invitations)
Clicked: The date & time the recipient clicked the link in the invitation
Reviewed: The date & time the recipient actually submitted a review via the link in the invitation
Site: The site where the review was left
Review ID: The review ID associated with the review the recipient left
In the Invitations Table you have the ability to bulk select invitations by checking the boxes on the left.
By clicking on the "More Options" dropdown above the Invitations Table you will see that you have the ability to Download a CSV of invitations, View Pending Invites, Download the list of Opt-outs, and Retry Invitations.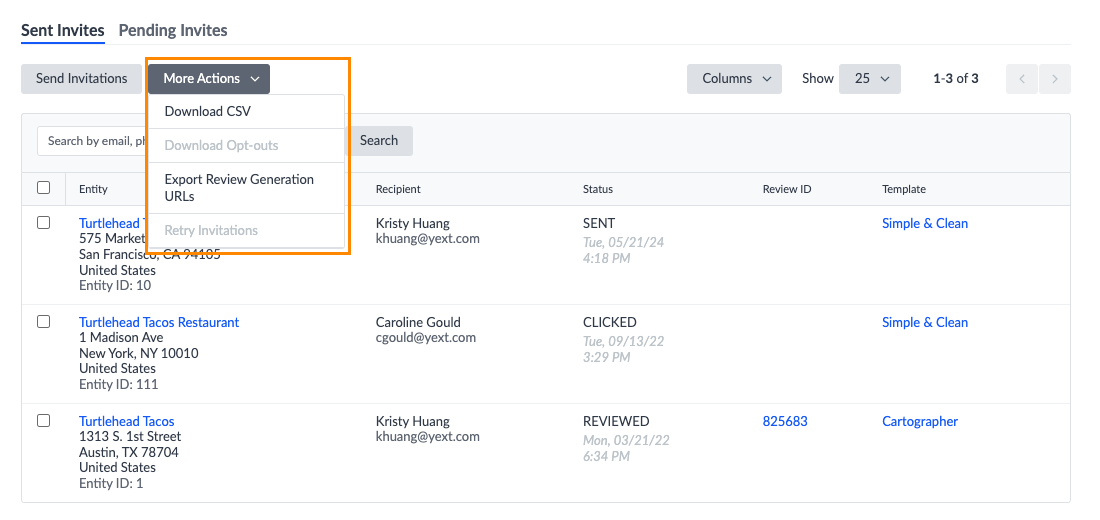 Metrics to Monitor
There are a number of generation specific metrics available in the Review Generation tab, here are a few you should monitor.
Success Rate - The success rate refers to the percent of invites sent which resulted in a review. Obviously, the higher the better here, you want as many customers leaving reviews as possible. 2% is a standard conversion rate for invitations but this may vary greatly depending on how high-touch the business is.
Average First Party Rating - The average first party rating is also important to monitor, as it may be interesting to compare how the average rating of your first party reviews differs from those reviews left on other sites.
Conversion Rate - The conversion rates at different stages of the email and text invitations is critical to monitor if you want to optimize your success rate. Understanding where in the journey your customers drop off before leaving invitations could help to let you know when to ask, how to ask, what to include in body copy, what to use as a subject line, and more.
Daily Quiz Streak:
0
Quiz Accuracy Streak:
0
Question 1 of 3

Which of the following is not available in the Invitations Table?

Question 2 of 3

Which metric would you use to see where your customers dropped off before clicking?

Question 3 of 3

True or False: Users can download a list of Opt-outs directly from the Invitations Table.

Wahoo - you did it! 🙌

You've already completed this quiz, so you can't earn more points.

You completed this quiz in

1

attempt and earned

0

points!

Feel free to review your answers and move on when you're ready.
Sign up for Hitchhikers to start earning points!
If you're already a Hitchhiker, log in to access this content.
Feedback