Apple Delegation
| Yext Hitchhikers Platform
Note
Apple delegation is currently only available for customers with 25 locations or more.
Overview
By default, any entities added to the platform with an active Listings subscription will be synced to Yext's Apple Business Connect Account via Apple's API. Because Yext is such a strong data provider to Apple, it is extremely likely this data will appear on Apple Maps. This setup is easy and built-in — no additional steps are required.

Additionally, Apple has an alternative setup where you can leverage your own Apple Business Connect account and delegate Yext access to the account. In doing so, Yext will have access to add and update entity data within the Apple Business Connect Account on behalf of your business. Yext will no longer send data to the Yext Apple Business Connect Account for that business.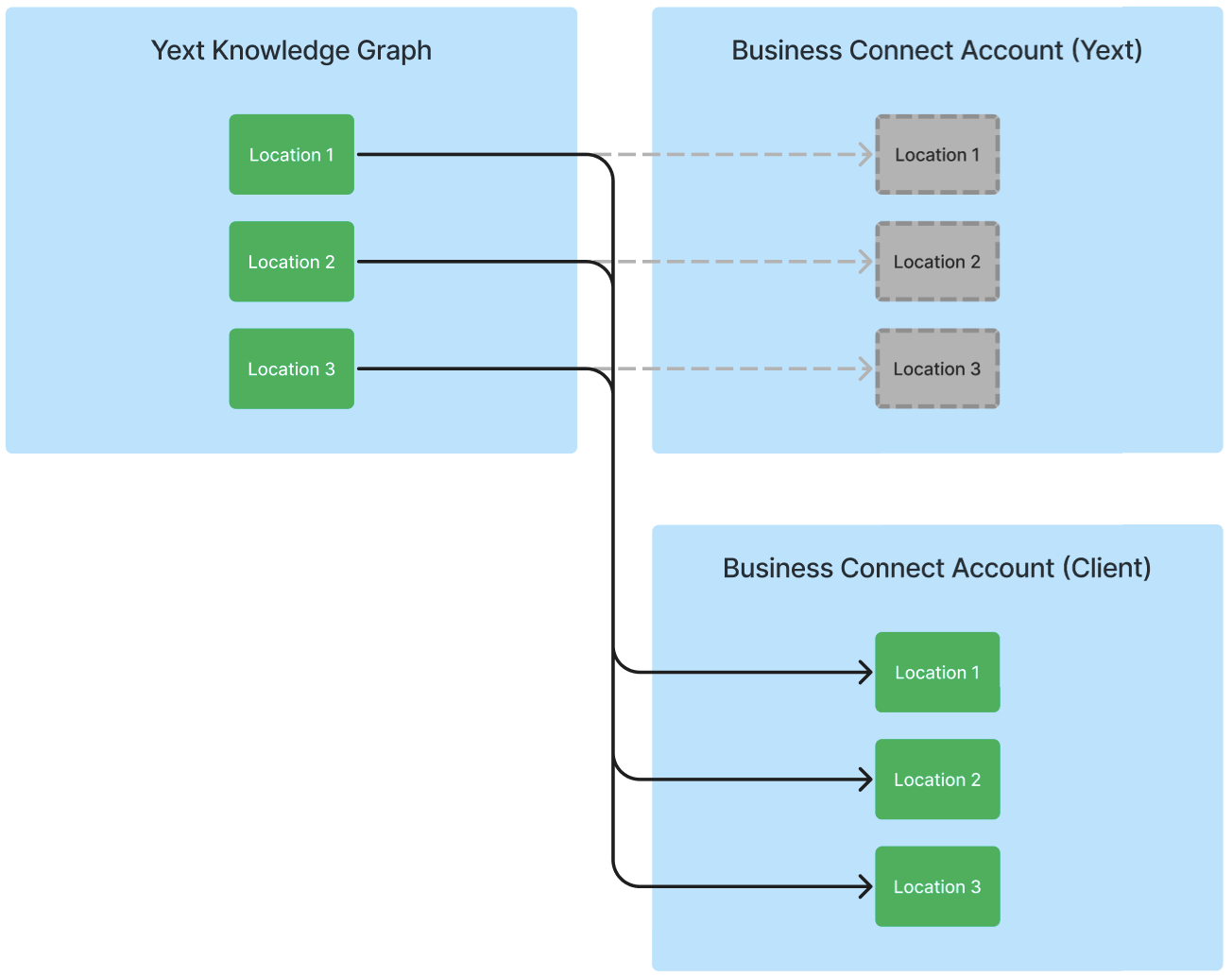 Benefits of Delegation
There are a few benefits of leveraging your own Business Connect account that may lead you to want to delegate to Yext
First, data in a delegated Business Connect account will likely take precedence over data in a partner Business Connect account, like Yext's. This means that if Apple received data for a given entity from two sources, Apple would give preference to the business' data over the partner data (even if the data is the same). By creating your own Business Connect account and delegating access to Yext, your data has a better chance of appearing on Apple Maps exactly how you want it.
Second, delegation is a prerequisite for features like Apple Showcase Posting or cover photo syncing. To create Apple Showcase posts within the Yext platform via Apple's API, you must delegate account access to Yext.
Finally, delegation keeps accounts tidy, especially in the case of the end of an agreement. Should a business decide to end its relationship with Yext and manage Apple on their own, having a clean Business account set up with all of your entities makes that transition more seamless.
Delegation Process
For full steps to delegate Yext as an agency within the Apple Business Connect account, visit the Delegate Yext as an Agency in Apple Business Connect Account guide.
Delegation Levels and Recommendations
One key point to understand is that delegation can occur at multiple object levels within Apple: a business can delegate access to their entire account (company level delegation) or a folder of locations within their account (business level delegation). If your business is a single brand or Yext manages all of your brands, company level delegation is preferred. If you operate many brands and only a subset of those brands work with Yext, consider business level delegation.
For more details on the object hierarchy, visit the Apple Integration Overview documentation.
Timeline and SLAs
One day SLA for approval by Apple on the creation of a new Business Connect account.
One day SLA to link the brand to the new account.

Once approved, users can delegate and create Apple Showcase posts. However, Yext has to wait for Apple to link the brand to the new account in order to add locations to the Apple Business Connect account.
Once the approvals are complete, your account is considered delegated, and you can take advantage of all Apple-related features through Yext.
Feedback